In landscapes, hedges have a wide range of use. They can be used to define a border, create privacy, add color, spruce up an entryway, or to block unwanted views. Whether you're looking for a formal or informal look, Moon Valley Nurseries has a wide range of "Hollywood Hedge" varieties that can be used for many landscapes.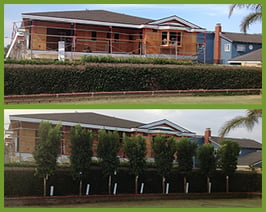 Privacy
Whether you're looking to block an unwanted view or looking for a way to keep those pesky neighbors from peering down at your backyard, the best privacy hedge is one that is an evergreen that grows thick and tall with minimal maintenance. Because we live in such a wonderful climate with nearly year-round growth, the Ficus Nitida is an excellent pick for any landscape seeking instant and massive privacy with a "Hollywood Hedge". These fast growing trees are ideal for privacy and they can be trimmed into any shape. Ficus columns are the key to building your classic, style looking hedge.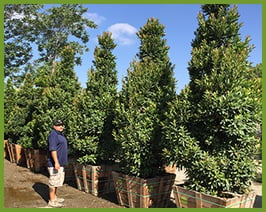 Sound and Wind Barrier
Sound and wind can penetrate through the majority of hedge materials, which is why it's important to look for an extremely thick hedge that can block out the sound and wind. A great pick for this type of "Hollywood Hedge" is the Japanese Blueberry, which is sought out for their thick and hardy canopies that are highly resistant to the elements, creating a dependable sound and wind barrier. As a bonus, the leaves on this tree change color according to their individual lifecycle. New flushes of growth emerge in shades of bronze, peppering the rest of the glossy-green foliage, and mature leaves turn bright red.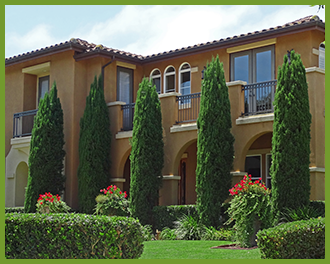 Entryway
A great choice for a formal entrance is the sentinel of the Mediterranean, the Italian Cypress. Italian Cypress can be used in a variety of ways and are commonly used in rows, as a statement of grandeur and formality, or used separately or in small clusters. Italian Cypress add a statement of class and character to most any home landscape situation. Another tree to consider for a fantastic looking entryway is the Japanese Privet. This evergreen looks great in courtyards and entryways due to its small to medium-sized growth and showy white blossoms in the spring for an added splash of color to any entryway.
Wall of Color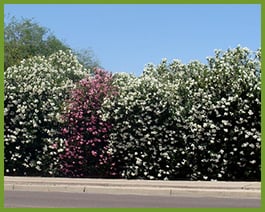 A very common and popular thought is that most hedges are just green with no coloring. We are here to dispel that thought. There are many colorful trees and shrubs that make for ideal "Hollywood Hedge" application. Evergreens like the Oleander and Bottlebrush add a wonderful splash of color with seasonal blooms. Oleander blooms come in red, white, and pink while the Bottlebrush produces thick red flowers. Another option to consider is the Crape Myrtle. It is a deciduous tree, but it's eye-catching blooms that range in color from white to pink to red in summer through the fall make this a wonderful tree for a hedge.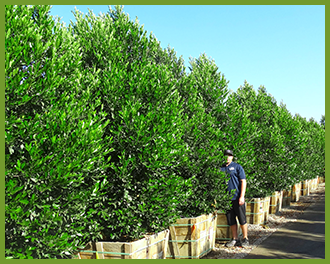 Border
Walls around our properties can keep us safe. They can also look unsightly at times. A great way to feel safe and add some value to your property is to plant a living border. A great pick for this is the Carolina Cherry. They are naturally upright with a conical shape. They maintain their foliage all year long and grow very fast. They are easy to maintain and they produce a seasonal white spring flower for a splash of color.
From dense shade to flowering hedges, we're sure to have the perfect evergreen hedge for your landscape. If you have any questions regarding proper care of these hedges, be sure to contact one of our nursery pros at any of our Moon Valley Nursery locations.