Create a Plan

Add New Plants into the Landscape

Fertilize your Trees and Shrubs

Add Color with Flowers and Shrubs

Trim your Trees and Shrubs

Mulch your Landscape

Remove all the Weeds
Ways to Improve Your Yard in One Day
While some landscape design projects, like a complete redesign, can be tedious, it doesn't take much to make a big difference around your home. There are many ways to improve your yard that you can start and finish in less than a day.
Not only will you upgrade your yard in a day, but you also get some fresh air and quality time with the family (they are helping, right?). From adding color, spraying weeds, planting new trees, and more, we have some excellent recommendations below from our nursery pros to improve your landscape in 24 hours.
If you're up for the Weekend Warrior challenge, try to complete all these projects in ONE day!
Create a Plan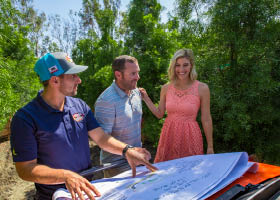 Determine what needs to be done in your yard, from reseeding the lawn to adding more plants around your property. Once you have ideas of quick projects, you can get done in your yard, start making rough drawings, supply lists, and anything else you might need!
Once a plan is set, you can head over to Moon Valley Nurseries and get started. Our nursery pros can help answer any questions you have about your landscape. They are ready to help the customer find the best plants, use the perfect fertilizers for their landscape, and even design your landscape from start to finish.
Add New Plants into the Landscape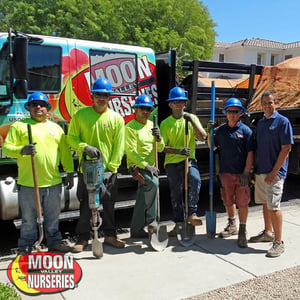 We are fortunate enough to get to live in a region that makes it possible to plant all year long! The varieties available might change with the seasons, but planting season never has to end in the valley.
Adding new plants can instantly add a refreshing, new look to your yard, especially when planted as a focal point. You may also want to plant new trees for practical reasons like cooling down your home with added shade or creating more privacy around your backyard.
Fertilize your Trees and Shrubs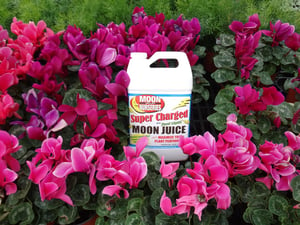 Take time to add fertilizer and any other needed supplements to your landscape. Trees, shrubs, and grass can always benefit from an extra boost of nutrients to look better and grow stronger!
Our custom Super Charged Moon Juice is perfect for all your trees and shrubs. Moon Juice boosts growth during any time of the year and helps with quick recovery from any potential seasonal stress. We recommend applying Moon Juice monthly or at minimum, three times a year in the spring, summer, and fall.
Add Color with Flowers and Shrubs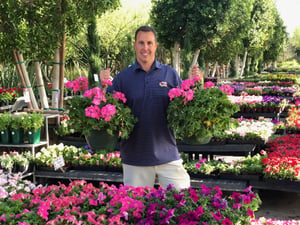 A quick way to revamp your yard is to add a splash of color somewhere new in the landscape. The added tones can create a new focal spot in your yard, whether you plant a large and lively shrub or add a vibrant border with flowers that lead your guests to the front door.
Flowering plants also contrast with the evergreen landscape in the yard to create more depth to the overall design. A backdrop of green foliage will make your flowering shrubs and plants pop in your yard.
Trim your Trees and Shrubs
It's always good to pay attention to trees and shrubs and see if they need to be trimmed and/or cleaned up. Some trees do better when left to grow naturally, while others do best with regular trimming. If you have any questions about the types of trees on your property, give us a call at your nearest nursery. Our experts will be able to tell you what kind of tree care is needed for your landscape.
Mulch your Landscape

A super-easy way to keep the soil saturated and retain more moisture to apply mulch around the base of trees and plants. Adding a few inches of mulch can help keep your soil cool during the summer months and warm during the cooler months! Mulch is available at any Moon Valley Nurseries location.
Remove all the Weeds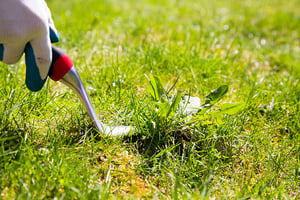 Removing weeds in your yard can dramatically change your landscape, especially if they are taking over your property! Pull weeds when you see them grow or apply a pre-emergent herbicide to spend less time working in your yard and more time enjoying it. Keeping your weeds under control not only ensures an attractive landscape but creates a much healthier environment for the rest of your plants and gardens.
More from Moon Valley Nurseries
Click here to check out these five awesome tips to get ready for your next landscape project. Let the pros at Moon Valley Nurseries!
Click here to learn how to upgrade your landscape in 2020! Our nursery experts show you how to get your yard project started .
Experience the Moon Valley Difference
Moon Valley Nurseries is your one-stop-shop for all your landscape needs. Our experts have decades of experience. They can assist you with any projects or questions you may have regarding trees, shrubs, design, and more! Come by and check out the best trees and deals we have to offer the Las Vegas Valley.