With Spring in full swing it's time to look at our current landscape and make some additions. Or, if you're tired of the look and feel of your current design, you can bring the tropical look to the neighborhood.

Spring is a great time to plant all trees, especially palms. Getting them planted now will give them plenty of time to acclimate and ensure continued growth through the summer. Palm trees offer the most variety of any tree when it comes to designing your landscape. They can range in size from a few feet to more than 60 feet tall with different fronds that can be long and feathery or solid and shaped. Palm trees can also infuse splashes of color to your design from pale-gray green to blue-green and medium-green.

To avoid monotony in your new tropical landscape make sure to choose several different palm varieties and at different heights. Doing so will add interesting colors, textures and depth throughout your landscape.

Before you begin tackling your new yard take a look at the list below. These are the best palm tree varieties to plant in your yard according to our Certified Landscape Experts.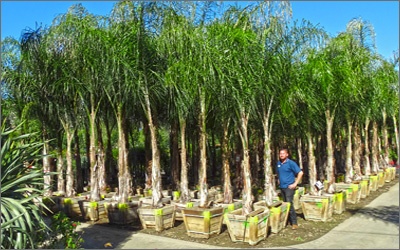 Piru Queen Palm
The Moon Valley Piru Queen is specifically designed for our climate. They are custom grown at our farms to be extra hardy in heat and cold. These palms have distinctive appearances compared to other palms that you will see and their thicker trunks and fuller crowns make these stand out when compared to the rest. Plant the Piru Queen Palm wherever you want to add tropical flair. These palms are great planted in groups to help provide shade and are awesome in tight planting locations.
---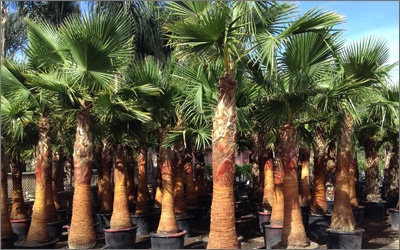 Mexican Fan Palm
The Mexican Fan Palm a long standing desert favorite. Growing tall into the air and adding a tropical desert oasis appearance to any landscape. These palms plant well in tropical landscapes as well as in desert style landscapes. These are prized for their extreme hardiness in our tough conditions as well as being very drought tolerant.
---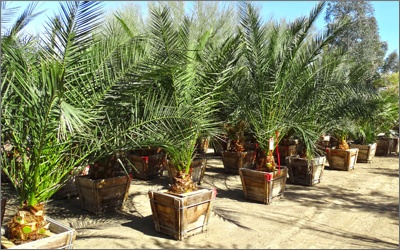 Pineapple Palm
The Pineapple Palm gets its name from the pineapple base shape of the trunk has and the long arching fronds that come from the center. This robust palm is a great focal point in any type of landscape and will make an instant impact when you plant the larger specimen sizes. These palms are drought tolerant and very hardy, withstanding anything our tough winters and summers can throw its way.
---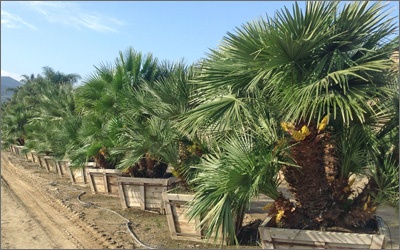 Mediterranean Palm
The Mediterranean Palm is a great palm that grows in multiple trunks and is considered slow growing. These work great in areas where you do not need a ton of height and need something that will not outgrow its planting location. These palms are extremely tolerant of numerous elements.
---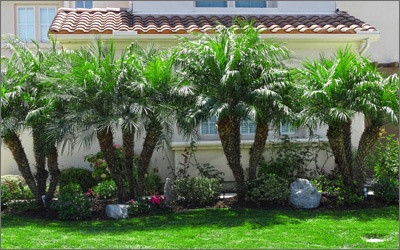 Pygmy Palm
One of the customer favorites here at Moon Valley Nurseries. The Pygmy Palm is prized for its long arching fronds, multiple trunks and its regal appearance. These are a dwarf palm that is very slow growing and adds tons of tropical appeal wherever it is planted. These work great in pots too!
---
Come in to any Moon Valley Nursery location and check out the largest selection of palm trees we have. Here you can hand pick the exact trees for your yard and even talk to one of our nursery pros about which varieties are right for you.

Remember...For the best trees on Earth, go straight to the Moon!