Springtime is here, and it is the best time to plant the palms of spring. By planting these palms, we can have the essence of the tropics in our backyard and live the good life. Thanks to the many types of palms available in our area, it can be a breeze. Let's face it, palms look good anywhere. We can plant them poolside, lined up along a driveway, or create a tropical backyard retreat planting them in groups with varying sizes. Most palms have the bonus of being low-maintenance, self-cleaning trees, too, so just let them grow and let them do their thing!
Palms and the plants that complement them can add a touch of the exotic to your landscape. With dense planting, you can help bring the look of a tropical garden to any yard. Do you want to create some drama? We recommend planting bougainvillea. Adding vines can create drama, too. We also like to plant agapanthus and plumbago for a splash of color that blends well with palm trees. With the addition of a bamboo grove and tall palms, you can also create cool shade.
Spring is the perfect time to enjoy your yard. The butterflies and hummingbirds are flitting about, and barbecues are getting fired up. Plant a gorgeous palm and enjoy the sunset with family and friends while it creates an impressive silhouette without blocking too much of your view!
Elegant Palms for Every Setting
We can add a little slice of paradise to enjoy this perfect spring weather in our yard. We can plant these tropical trees to transform the look of any yard very quickly.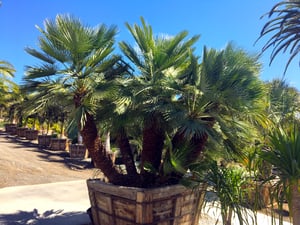 Mediterranean Fan Palm: This small fan palm has an attractive multi-trunked habit with a compact crown of blue-green, fan-shaped foliage. They are an excellent choice for planting around swimming pools and spas. Brings the wow factor to any landscape when used as a focal point and lit-up with night lighting. We like to plant Bird of Paradise, Hibiscus, and Plumbago as beautiful companions.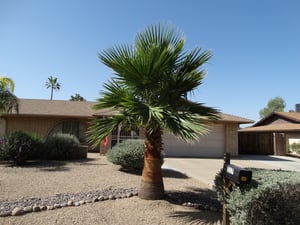 Mexican Fan Palm: We love this single trunk palm and how easy they are to grow and maintain. This tree is the classic resort-style palm, and we have specimen size palms ready to bring the resort-style look to your property! We love how we can create a formal appearance by having the trunks skinned with a "cigar cut" effect. We also like to use them as street trees and to create vertical effects in large gardens. These are cold hardy palms with salt tolerance so that we can plant them from the coast to the desert.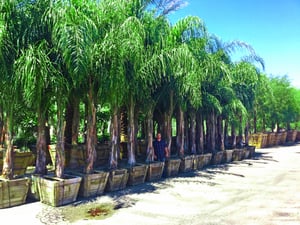 Piru Queen Palm: These are specially-grown at our Moon Valley Nursery farms so that we can ensure their quality is the best you will find anywhere! Our Queen Palms have thicker, harder trunks as well as greener palm fronds and fuller crowns for a look that is superior over other Queen Palms. We like to plant them as focal points in a front yard where their grand appearance is sure to attract all the right attention. They can bring a tropical look and feel no matter where you choose to have them planted!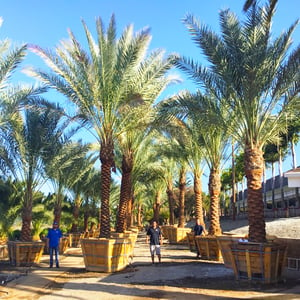 Date Palm: We have resort-style date palms available and ready to bring a touch of elegance to any landscape. Our diamond-cut trunks add impressive formality and presence and can help transform a landscape into a luxury-style property! We like to plant them in groups or rows where they can create a stunning effect with plenty of shade, too!

Canary Island Date Palm: These extremely durable and hardy palms are also known as the Pineapple Palm because of their unique pineapple-shaped crown. Ours are certified disease free and custom-grown so that they can thrive in any landscape. These are classic-looking palms with a very clean and formal appearance, which is why they are so prevalent in many upscale resorts. We can have them planted in our yards and bring the resort-style look to our yard. We like to plant them lining walkways, driveways, or poolside. They also bring the wow factor when planted in the front yard and lit up with night lighting!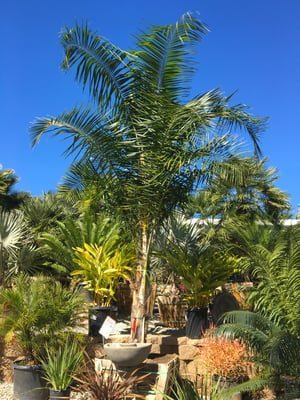 Are you looking for a Coconut Palm in California? Visit Palm Paradise and our nursery pros will be glad to show you our beautiful Coconut Queen Palms! This tree is one of the most exciting new palms to hit the market in years! In fact, it is probably the hardiest tropical palm tree we have ever seen! This beauty is a result of hybridization – it combines the graceful look of the Kentia Palm with the versatility and vigor of the popular Queen Palm!


We Do the Work!
Visit your nearest Moon Valley Nurseries location to find the perfect palm tree type for springtime planting. We make it easy! Our professional planting team can do all the work so that you can come home to a beautiful yard teeming with the essence of the tropics!