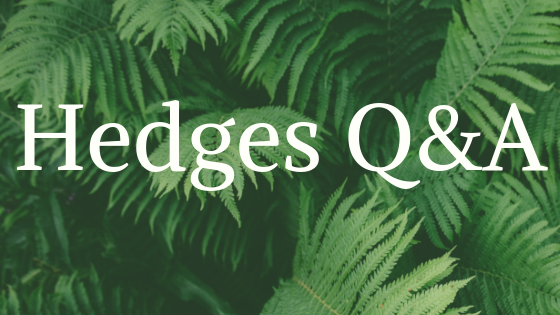 Why would I want hedges for my yard?
The most obvious reason you want to have hedges added to your landscape is how awesome they can transform your home and give your yard a formal classic style. This is a guaranteed way to increase your home value as well, with the instant curb appeal that hedges like the Italian Cypress offer.
There are many practical reasons to plant hedges too. There are varieties that grow tall, which adds privacy between your home and busy streets or neighbors that might be just a few feet away. Some varieties are great to plant for added security due to how dense the hedges grow and intertwine to each other. The density that hedges offer work great as wind and sound barriers as well.
How can I get an instant privacy hedge?
The best way to get an instant privacy hedge is to buy hedges that are a few years old already. While you can buy younger plants, you will have a waiting period as they grow. Some hedges grow much faster than others (and we will talk more about that below), however it will never be as fast as planting our specimen-sized hedges. Our specimen-sized hedges will give you the privacy and beauty you want and need from the first day they are planted.
When can hedges be trimmed?
For the most part, hedges can be trimmed at any time depending on how you use them in your landscape. Many hedge shrubs look great when grown naturally and left alone but many owners like to keep their hedges trimmed with a classic clean look. If you want a formal look, regular trimming will keep hedges neat and will train them to grow the way you want for your yard.
**If your hedge is a flowering shrub, we recommend pruning once their flowering season is ending or ended.
Can hedges grow in containers?
Yup! Hedges can be grown in containers. Not all varieties would do well in a container due to lack of space for the root system, but many do just fine. When you plant hedges in a container, you can plant them any time of the year if they are getting partial sun throughout the day. The only downfall is that the container will limit the growth potential of the hedge.
Can hedges grow in shade?
Overall, most hedge materials thrive in full sun exposure. They can tolerate shady spots, but they prefer to bathe in the sun. For shadier spots in your yard, hedges such as Carolina Cherry and Indian Laurel Columns are good choices if they can get some sun during the day.
Which hedges grow fast?

With so many options to choose from for your hedge, there are many that grow quickly, especially when properly cared for and given top nutrients and fertilizers. Our Indian Laurel Columns are our most popular shrub to use as a hedge and can grow almost 2 feet a year.
Our customers usually ask about the fastest-growing shrubs we have because they want to benefit from their new hedge as soon as possible so it makes sense to want the varieties that grow fastest, right? Yes and no.
It is good to buy fast-growing shrubs if you like to play around with the size and shape or yard work is relaxing to you but if you want a fast grower because you want a privacy wall and don't want to wait, then it might be best to consider our specimen-sized shrubs. Regardless of how slow they grow; the older plants will already be the size you want for your yard.
Why are my hedges dying?
The most common reason for plants in our landscapes to start dying is probably improper or too little care. It can be hard to keep up with the needs of your plants, especially when seasonal changes completely alter those needs every few months!
If you have an unhealthy-looking shrub, check out the trunk, branches, and leaves for any potential insect damage or disease. If everything looks good, it might be time to test the soil pH and see which nutrients your shrub might be missing. Lightly prune dead or weak branches to allow the sun to reach the bottom of your hedges better. Mulch can also help retain moisture to the roots during those hot months.
Choosing a disease-resistant shrub, such as a Japanese Privet, helps minimize the chances of having health issues in the future.
Which hedges produce colorful flowers?
Most people will picture the straight and formal look of a pure green hedge first but some of the best hedges are the informal kind that grow out naturally in their environment and produce flowers throughout the year. Flowering hedges are excellent options if you are looking to create a hedge with some flair.
One of our favorite flowering shrubs we use for hedge material is the Lemon Bottlebrush. It can be grown as a small tree and trained as a hedge. This shrub stays green all year but grows amazing red flowers that will surely catch your neighbor's attention.
Why should I choose a hedge instead of a fence?

Hedges are a much better option than a boring fence and for multiple reasons! A hedge will bring life and texture to your yard, an increase in property value, and peace to the whole world. Ok ok ok… you might not create world peace just by planting a hedge in your yard. But you will feel at peace once you're in your private oasis surrounded by a living evergreen wall. Plus, you will be contributing to cleaning up the air around you and no fence can do that.
Hedges do everything a fence can do better. They create a private space for you, help keep noise and weather interruptions to a minimum, and can last for years and years. Fences can be unsightly and do not usually increase property value the way any landscape additions would. They also start to wear and will eventually need to be replaced. You might be paying for multiple fences or you could invest in hedges, which are more cost-effective from the beginning.
Where Do I Start?
The first step to creating the perfect hedge for your yard is to come in to Moon Valley Nurseries and check out all our hedge material options for yourself. Our nursery professionals are around to answer any questions and walk with you to show you the best options based on your needs. Once you have an idea of some varieties that you like, our designers can help you find the right variety for your yard. With some photos of your yard, or a visit to your home, they will have everything they need to complete your design. Click here for more information on landscape consultations.
Don't forget about our Tree Care services in Arizona! We have a team dedicated to all your arbor needs such as removal, trimming, fertilizing, stump grinding, and anything else a tree might need.