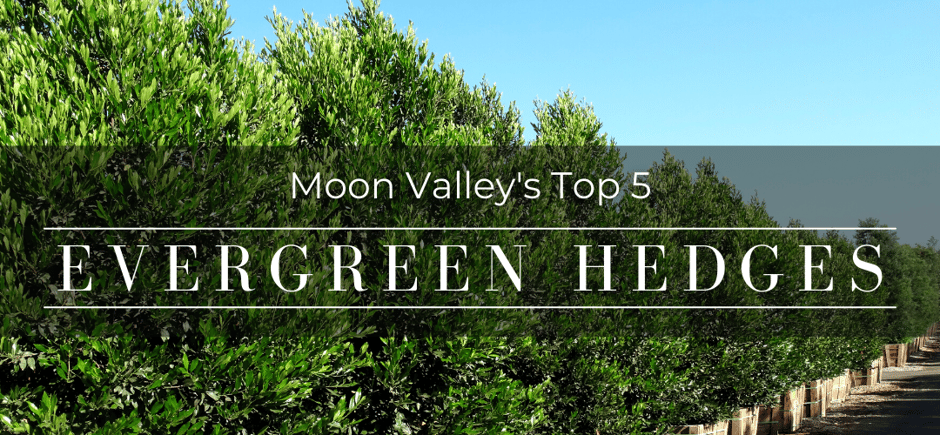 Hedges are such an amazing plant that can be added in any landscape and make it look 10 times better, no matter how great it was before the hedges came along! There are multiple reasons that you might decide to add a hedge to your yard or add to your existing hedges.
The most popular reason people consider adding hedges is that they are seeking privacy from their surroundings for a more secluded vibe or to create a quieter retreat. Some may even want to add privacy hedges to use their front yard similarly to the backyard such as a small patio area, or another outdoor space for kids to play safely.
Whatever your reasons might be for wanting to add new hedges or spruce up existing hedges in your yard, our evergreen hedges are a must for an all year, all green look.

Indian Laurel Columns, also commonly known by their scientific name - Ficus nitida, are our most popular hedge material shrubs when customers are looking for a formal landscape hedge. These potentially large (depending on how you want to prune them) evergreens provide plentiful shade and perform great when planted along property lines for blocking everything! Well, it blocks almost anything like the sun, noise, wind, and unwanted views.
Indian Laurel Columns have lush, dense foliage and strong softwood branches. It can be pruned into almost any shape, but we love to let these grow large and tall for ultimate privacy. This plant also handles the warmer summer months very well, so it won't need much special care during our hot months, except maybe a bit more water.

The Italian Cypress are known for their dramatic look and how you can find them planted while they lead you to formal entrances or lining a long driveway. This plant is unmistakable to most, with their lush green foliage and tall, narrow upright form. These long-lived specimens of magnificence are well suited to modern living as well. Their natural ability to thrive in sunny climates on a minimal amount of water makes them a popular choice for just about any landscape, especially ours.
Plant these columnar evergreens in a row and create an attractive natural property divider. You can plant these narrow fast-growing privacy hedges in your yard to bring the look of the Mediterranean to landscapes throughout the Phoenix area. Their elegant and classy appearance makes them a landscaping favorite!

Native to the Southeastern United States, the Carolina Cherry has become a popular choice due to its minimally needed upkeep, natural upright conical shape, and ability to tolerate some of our common weather issues - heat and drought. This hedge variety enjoys the full sun but can also be planted in areas that receive partial shade.
The Carolina Cherry is a small to medium-sized evergreen with dark green, lustrous wavy-edged foliage on strong, brown branches. They can be trimmed easily into a tall screen or sound barrier, which make them a near-perfect option for many homes. The Carolina Cherry is a fast grower and can easily live for over 50, if not 100, years. These hedges will increase your property value for generations!

The Lemon Bottlebrush is the only hedge option on this list that grows strong pops of color all throughout its foliage. This evergreen shrub works as colorful hedge that makes for a fantastic addition to any landscape as a complete hedge, or as part of a hedge to add accents. The showy red flowers can stay that way nearly the whole year. With a height and width span of 3-10 feet, these will surely give you a lively and thick hedge, once established.
The Bottlebrush blooms in spring with some off-season blooms in the fall that attract pollinating insects and hummingbirds. The Bottlebrush likes to be in full sun and only needs occasional deep watering, a bit more so in our hot summer months. Train it while it's young and it will shape into nearly any size desirable.

The Japanese Privet is an ideal solution for those who want an evergreen and low maintenance hedge. While there are Japanese Privet trees that can add some textured green to your yard or maybe even create a floating hedge above your fence, most customers use them to create living privacy walls. This shrub can add be pruned into a more formal look but looks amazing when allowed to keep its natural, informal shape.
Japanese Privets are great additions to your yard and love the southwestern weather. They do best when planted in partial sunlight and is tolerant of the low desert temperatures come winter. For a short time in late spring, this privet will produce white flowers, offering a bit of extra color to your landscape.
THE MOON VALLEY DIFFERENCE
At Moon Valley Nurseries, we are proud of the quality hedge material we have to offer to our customers and we love how amazing a hedge is when added to your landscape and how easy it is for them to fit into almost any style.
Whether you are looking for dense shade or flowering hedges, we're sure to have the perfect hedge material for your landscape. If you have any questions be sure to contact one of our nursery experts at any of our Moon Valley Nursery locations.
MOON VALLEY COMMUNITY
Do you have any of these hedges in your yard? Let us know how you like them! Using other shrubs in your hedge? Share them with us. We love to learn how our customers are doing with their own yards!