Back to main Blog
Luke Kalawsky
Luke Kalawsky has a passion for all things trees, plants, and landscape design. He has designed numerous landscapes as the head designer in the Surprise, Arizona region until he became a manager of our Central Phoenix Nursery. He now dedicates his knowledge, expertise, and creative capabilities to help the masses discover how to design, plant, and maintain their landscapes with his writings.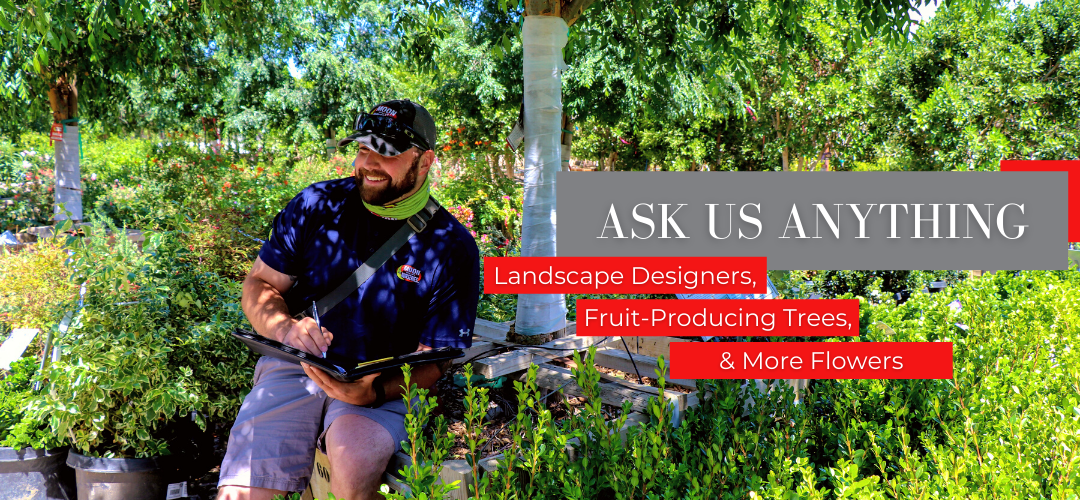 Our nursery pros receive some great questions on a day-to-day basis, and we love to answer them all! We've pulled together some of the more frequently asked questions and compiled them in our Ask Us Anything series! Here you can find answers to some of the most commonly asked questions about landscaping, tree care, and garden tips.
Georgeann from Huntington Beach California:
Do I Need To Hire a Professional Landscape Designer?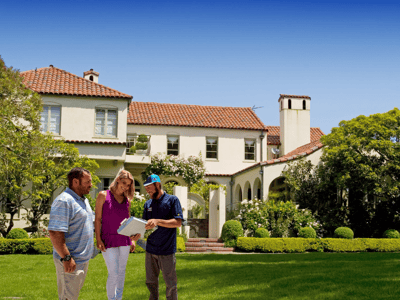 A landscape design professional will bring several advantages to the table that would otherwise not be possible without a designer. A seasoned landscape designer will be able to evaluate your yard based on your style preferences and meet your landscape goals within that preferred design style. If you want a Mediterranean-styled landscape, but need privacy, a professional designer will know which plants will provide good screening and create a suitable privacy hedge while fitting the Mediterranean theme.
An experienced designer will be able to plot out your landscape in this way and create a beautiful design, all while taking your care and maintenance preferences into consideration. You may want a gorgeous landscape, but don't have the time to care for trees and plants that may require more attention. A professional landscape designer will be able to tailor the trees and plants they use in the design towards your care preferences.
David In Phoenix Arizona:
How Old Do Fruit & Citrus Trees Need to Be to Start Producing Fruit?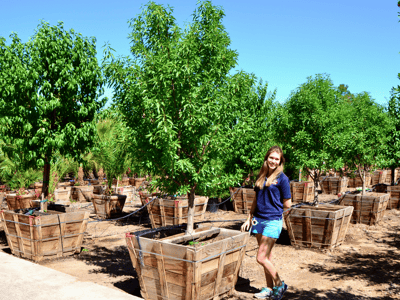 In many of the western, coastal, and southwestern United States, fruit and citrus trees will begin to produce a reliable crop around 6-8 years of age. During their early years, fruit trees may produce a few fruits here and there, but the crop will usually lack in flavor and quantity until the tree matures. As your trees grow, so do their fruit production capabilities. The more mature a fruit or citrus tree is the more abundant and flavorful its fruit will be.
At Moon Valley Nurseries, all our fruit trees are at producing age and have been grown in our local climate and soil, allowing them to establish quickly to your yard and begin providing tasty fruit right away!
Pro Tip: The healthier the tree, the better the fruit! Proper deep watering practices and routine fertilization will help your fruit trees of any age grow the best fruit they can. You can find more info in our care guides and learn about our custom-blend fertilizers here!
Nancy in Murrieta California:
How to Get More Blooms From My Flowering
Trees & Plants?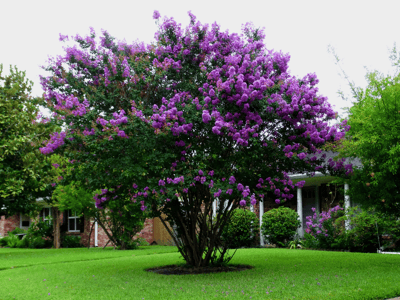 Flowering trees and plants will bloom a larger quantity of more vibrant flowers when they are well cared for and given the proper nutrients. If you are looking to get a better coat of flowers, start by assessing your watering schedule and ensure you apply the correct levels of water to your trees and plants.
If the tree or plant is not getting enough water, it will bloom less to preserve energy and focus on its roots and main structural vegetation rather than its reproductive cycles, which translates to fewer flowers.
Inversely, if the tree or plant is being overwatered, the flowers may become oversaturated causing them to fall off. You are always welcome to consult our care guides to make sure you are watering correctly for your given varieties of trees and plants.
To truly tap into the blooming potential of your landscape, be sure to feed and fertilize your flowering trees and plants. By providing them with the nutrients from well-rounded fertilizer, your flowering plants and trees will blossom more abundantly, with deeper color.
Our specialized fertilizers have been developed for our region and are the best way to keep your yard blooming at its best!
If you have questions of your own that you'd like to submit, feel free to post them here using the form below or give us a call! We are always happy to help answer your questions!