Fall color trees, we love them! When the temperatures drop, and the length of daylight wanes in Texas, many trees in our area bring out the best fall colors. Fall is a magical time when every leaf is like a flower, and lawns throughout the neighborhoods in Texas are illuminated with trees that undergo their transition from green to vibrant red, burgundy, orange, gold, and yellow colors. No doubt about it, fall colors create interest in any landscape!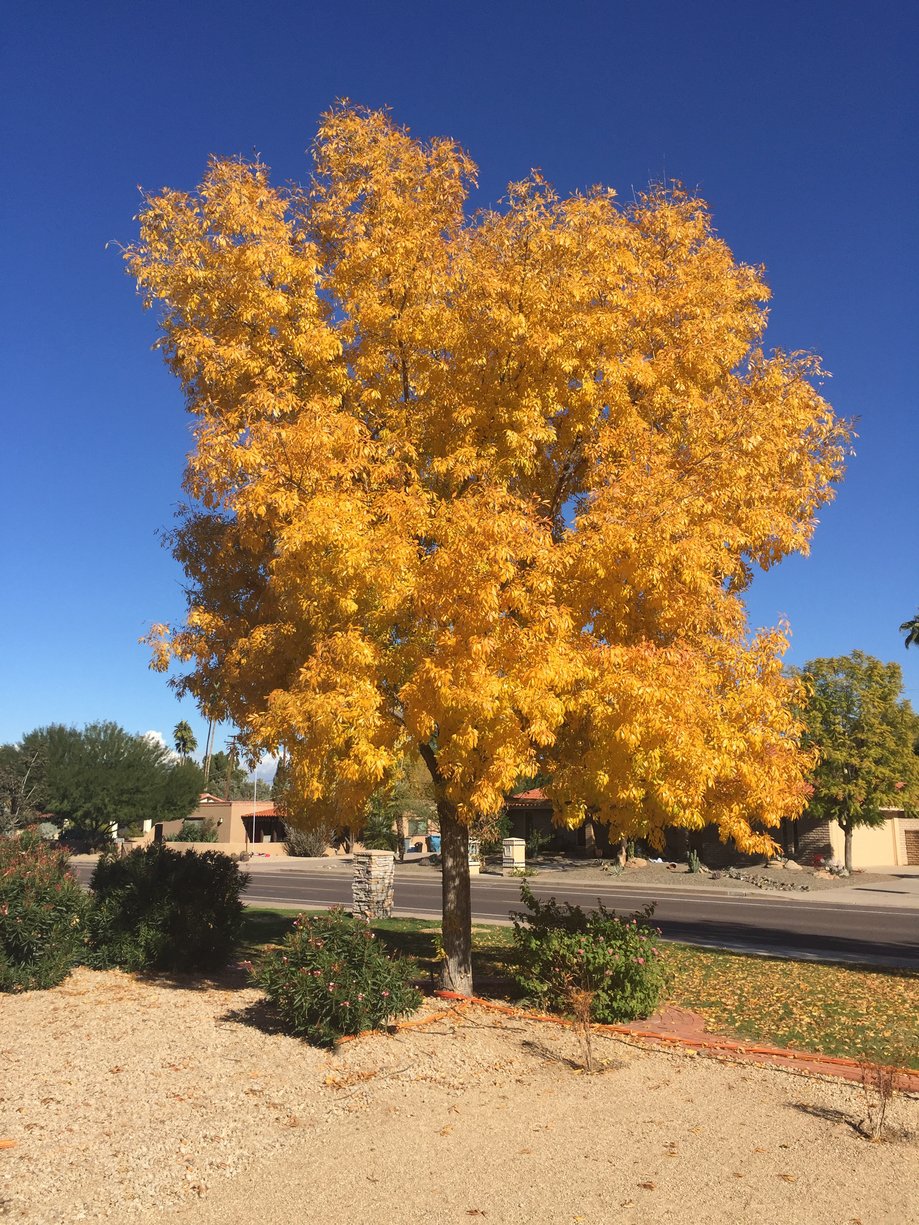 If you would prefer something with fall color, right now is the best time to plant these trees with autumn hues, which includes beautiful deciduous trees! These types of picturesque trees lose their leaves once a year, and besides their vibrant show of leaves, they also provide year-long benefits to any yard. For instance, once the leaves drop, it lets the sunlight in, which can bring in some much-needed warmth during those colder months. When spring arrives, so do the leaves, growing back to provide a good amount of dense shade just in time to provide some outdoor shade relief for the bright and hot summer months!
Fall is Ideal Time to Plant Trees
Fall is an ideal time to pick and plant trees. After all, planting them now gives the trees a head start on establishing roots before the summer. Here in Houston, we have mild weather during this time of the year, so the roots can gain the strength they need to deal with the summer season temperatures. If you are looking to replace trees that were recently lost, you can find beautiful specimens at Big Tex Tree Nurseries, grown on our farms and ready to thrive in your landscape. In fact, buying big trees and planting them now means that you can enjoy the magnificent fall color today! Visit any of our Houston nurseries and shop for a tree with brilliant fall color! Our nursery pros will be glad to help you handpick the perfect specimens for the perfect spot in your yard!
Shumard Oak (Quercus shumardii): we love this beautiful oak tree for the burst of vibrant scarlet red color in the fall! It puts on a show most of the year - in spring the leaves are bright yellow before turning to dark green in the summer, then back to yellow until the vivid red color comes back around again in autumn! This Texas native loves to grow in our area, and we like to plant them as a focal point in any yard, and if your home is near a busy street, you will love that they work great as an efficient noise blocker that adds privacy too! Its large canopy attracts butterflies, birds, and small wildlife while providing a generous amount of shade in the summer!
Arizona Ash (Fraxinus velutina): this colorful beauty will fill your landscape with dynamic, bright yellow colors that complement the fall season perfectly! We love that it is seedless so that it is a low-maintenance tree that only requires cleanup once the leaves drop. Its medium size is ideal for front yards, where its canopy can bring maximum shade when the leaves come back! This fast-growing tree loves full sun exposure and is very cold and heat hardy so that it is well-suited for Houston's climate.
Purple Leaf Plum (Prunus cerasifera): we love how the vibrant deep purple leaves provide intense, almost year-round color, and contrasts beautifully with other plants and tree species in the yard. This small to medium tree is a perfect fit for any size landscape in Houston! Homeowners can enjoy the fall color almost all year long, and this deciduous tree gets bonus points for the show of pink blooms in the spring! This low-maintenance tree is sure to be a star in your landscape!
Crape Myrtle (Lagerstroemia): we love to plant this "living bouquet" in any landscape, and because of its vibrant bloom, this small tree has been called "the lilac of the South." These trees grow to an ideal height, establish a canopy quickly and evenly, and the colorful bloom cycle is longer than most! These little beauties love the sun and heat, so we can expect beautiful fall colors that range from pink to white and red and purple to adorn yards throughout Houston!
Raywood Ash (Fraxinus oxycarpa): if you are searching for a clean, medium to large shade tree, you will love Raywood Ash! Sit back and enjoy as the dark green leaves turn to a burgundy fall color! And if it is a bright day, relax outdoors under the ample shade it provides – perfect for when the hot summer days arrive! We like to plant them in a spot so they can have room to spread. As a bonus, it is resistant to Ash blight!
Proper Planting
Plant these Texas trees that pop with fall color and enjoy the spectacle that is sure to get your yard noticed for all the right reasons. If you need to replace specimens and are looking to add a burst of fall color, Moon Valley Nurseries can bring the trees to your house and plant them for you! Our Nursery Pros will help you design and plant your new landscape. Be sure to ask us how our trees can contribute to beautifying your landscape and environment while increasing property value!