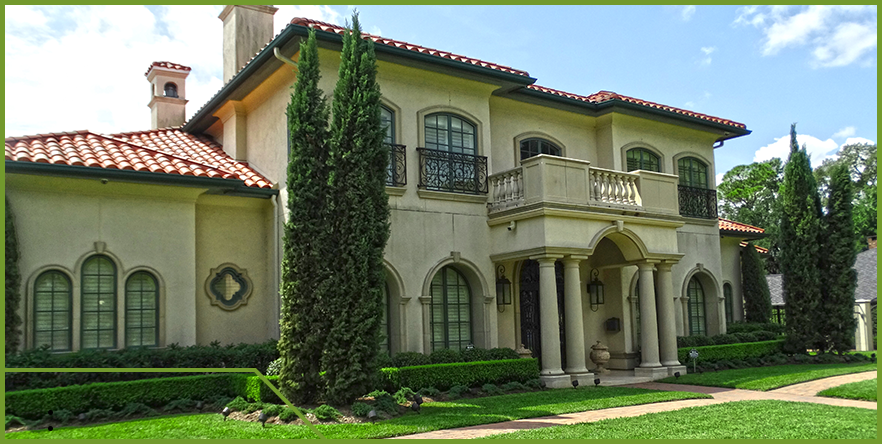 Have you always dreamed of bringing back the romance and luxury of the Tuscan landscape?
Fortunately for those of us living in the Southwestern United States, designing and planting a Tuscany inspired landscape is easy when you pick out the right trees and shrubs for our region and the experts at Moon Valley Nurseries offer a wide range of trees and shrubs that are native to Tuscany and the Mediterranean.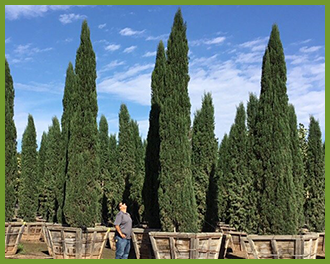 Italian Cypress
While searching for photos of Tuscany online you would be hard pressed to find a photo of the region that does not feature an Italian Cypress (Cupressus sempervirens 'Glauca'). These trees are found everywhere in Tuscany due to their many landscape applications. They can be planted in rows for maximum privacy, used to line a street or driveway, or they can be planted in the front of your home for a formal eye-catching entrance. The Italian Cypress that we offer at Moon Valley Nurseries are both drought and heat tolerant once established. Homeowners can expect the lush blue-green foliage to stay healthy and vibrant all-year long.
---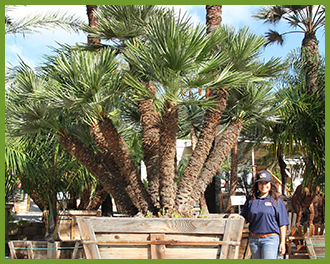 Mediterranean Fan Palm
Nursery professional and area manager Sal offers his description of the Mediterranean Fan Palm (Chamaerops humilis):

"The reason why I like the Mediterranean Fan Palm and why I like to plant them in many landscapes is that they are extremely hardy and very versatile palms. They are not too green and tropical, which allows them to fit into a lot of landscapes especially the Mediterranean style landscape. In addition, you get the added benefit of it being a dwarf palm. A lot of customers homes that we plant at do not have enough room to add a tall palm. The Mediterranean Fan Palm is a great solution because it will not grow tall. Additionally, this is one of the most hardy palms. I always suggest it to my friends and family because I want to plant something that will survive in their landscape. And finally, another great benefit is that these palms look really classy when we plant them in pots. The showy multi-trunk growth pattern on these palms really accentuates the bright colors on the pot."
---
Canary island Date Palm
If you're looking for a palm that just says 'wow', look no further than the Canary Island Date Palm (Phoenix canariensis). These palms have a wide beautifully brown colored trunk accented by their pineapple cut crowns and their deep green, exotic looking fronds, that make this an extremely showy palm and focal point. These are gorgeous when lit up at night and work well by themselves or planted to line walkways, pools, sitting areas and driveways. Their elegant look is prized not only by business, malls, developers but have quickly become a homeowners favorite.
---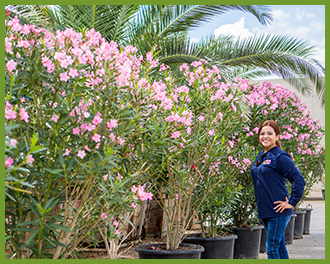 oleander
These trees just love the hot summer months, which makes them an ideal flowering tree or shrub for your landscape. The Oleander displays a long lasting bloom that comes in clumps of red, white, and pink. The blooms are vibrant may extend into the warmer winter months. Ideally planted in groups or rows, the Oleander is a great for our customers who are seeking privacy hedges, area screens, and property borders because of its ability to keep a thick coat of dark green leaves throughout the year.
---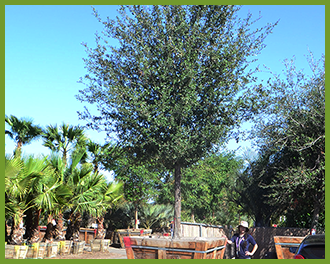 live oak
One of the most stunning trees on display, the Live Oak is a great choice for our region because of its adaptability, performance in the hot summer months, and its ability to grow in tough soil conditions. Its name is derived from its ability to "live" throughout the winter when other oaks are dormant or leafless. It has a wide canopy of dark green leaves and when planted in rows it can give your landscape a privacy wall or shade barrier that provides immense protection and beauty.
---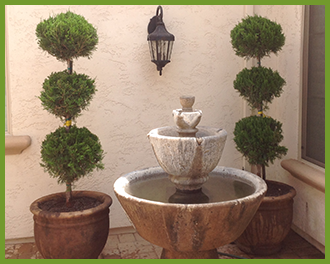 juniper
Landscaping with Juniper plants is easy and it offers many beautiful options and uses. Junipers vary in size and shape and they are evergreens with needle-like and/or scale-like leaves and come in many forms ranging from low-growing shrubs to tall, slender trees. Junipers are a great plant for filling in space fast and can be used as a ground cover, screen or vertical feature. They can also be planted in containers.
---
rosemary
Rosemary is a very hardy herbaceous shrub with many ornamental uses in all styles of landscaping. Easy to grow in a variety of soils, rosemary has been a mainstay of gardens for decades. Trailing variety can reach thigh high or be trimmed under 1 ft tall and allowed to spread as a ground cover. In raised planters and pots they will trail straight down the sides. Upright Rosemary can reach heights up to 5' and more than 3' across if desired. Very suitable for sun or part shade Rosemary is very drought tolerant if watered deeply when young.
---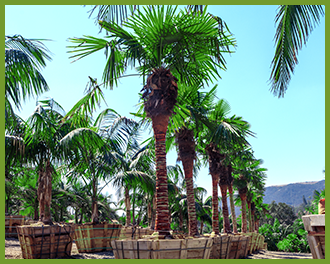 windmill palm
A narrow and vertical palm, the Windmill Palm is one of the most durable palms known. It thrives in intensely hot locations, requires minimal water and can handle periods of freezing weather with little or no damage. Commonly used as a stand alone or focal point, the Windmill Palm makes excellent accents to larger palms. From China, Trachycarpus fortunei (botanical name), features attractive dark green foliage that complements its unique slender trunk perfectly. This beautifully compact palm is noted for its natural calming nature, so we also love to plant them poolside and in any backyard oasis!
Whether you need one palm, two, or even a handful our nursery professionals have the solutions and the answers to help turn that landscape dream into a reality. We'd love to see you at our nursery this weekend. Map us here.