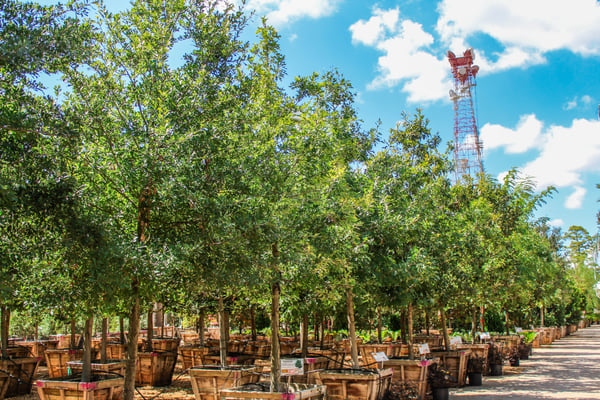 Moon Valley Nurseries is proud that we only hire the best that Texas has to offer! After all, it is not just our fantastic services and our incredible selection of trees, palms, shrubs, and other plants that make us America's best nursery – it's our people, too!
Moon Valley Nurseries Employees
We have the best employees that love working here. We take great pride in our nursery pros because they know what it takes to help our customers achieve their dream landscape. Every one of our employees is an expert and knowledgeable on all things related to trees and plants. Also, when it comes to designing yards, no one can match our experienced nursery experts that know all about the trees and plants that thrive in the great state of Texas.
We can create any landscape design! Our staff knows what grows best in Houston because we live here, too! Our landscape design specialists have created dream yards and beautified neighborhoods throughout the Houston area, from Spring to Conroe, Katy and all the great communities surrounding Houston and beyond!
A visit to any of our Houston area nurseries is a fun and rewarding experience. Come alone or bring your family. Our team members will be glad to show you around our nurseries, so relax while we show you the best selection of trees and plants in Texas. Allow our nursery pros to help you handpick the perfect trees for the perfect spots in your yard. From bigger shade trees such as Live Oak to Japanese Blueberry trees that block unwanted views – feel free to ask our nursery pros about anything that we sell!
How Moon Valley Nurseries Grows Trees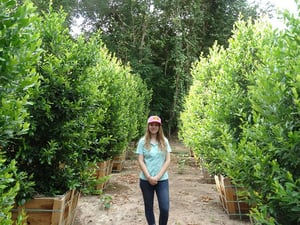 We are the grower! When you buy a tree from Moon Valley Nurseries, you are doing one of the best things you can do for your landscape. We value engineer our products to save you money. We sell bigger trees at the lowest prices. After all, we grow our trees for you, our valued customers. Our trees are grown in containers, which have a higher survival rate. Also, our container grown trees will have no shock when planted in the summer.
If you prefer a younger tree so that you can watch it grow, container trees grow much faster than field dug trees - watch it grow into a beautiful tree in no time at all. Our trees are grown from our selected mother trees in our labs, and in our local climate. We are the grower so that you will always have the best-quality tree at the best price in town!
Take a trip to our Glen Flora Farms operation and prepare to be wowed! Glen Flora Farms has been custom-growing Texas favorites such as Cathedral Oak, Chinese Elm, Cypress, Japanese Maple, Chinese Pistache, and more for over 36 years. We continue the tradition of growing only the highest quality trees available today. This farm is well worth a visit – call us to schedule an appointment. Residential or commercial jobs, homeowners, and contractors are all welcome. And, for your convenience, we have a landing pad for those who wish to fly in.
How Moon Valley Nurseries Plants Trees
When you use our services, you are not just getting the best trees on earth. In fact, we do what no one else does – we deliver, dig, and plant your trees so that they will thrive in your landscape. Relax and allow our experienced crew to do all the work. How great is that? We know what works, which is why we are fast becoming the favorite tree nursery in Texas. Our professional planting includes all the hard labor work, such as digging and planting. However, that's not all. We also apply mulch and our world-famous Moon Juice.
You Buy It, We Plant It!
We grow our trees in a container and not just because it is the best way to grow – doing it this way makes it much easier to load, unload, and plant. Our trees are guaranteed to be planted at the right depth because the container is set into the hole. We will always have a much greater selection of trees available during most times of the year, too. See what all the fuss is about. Visit your nearest Moon Valley Nurseries location in Texas and experience the Moon Valley difference!