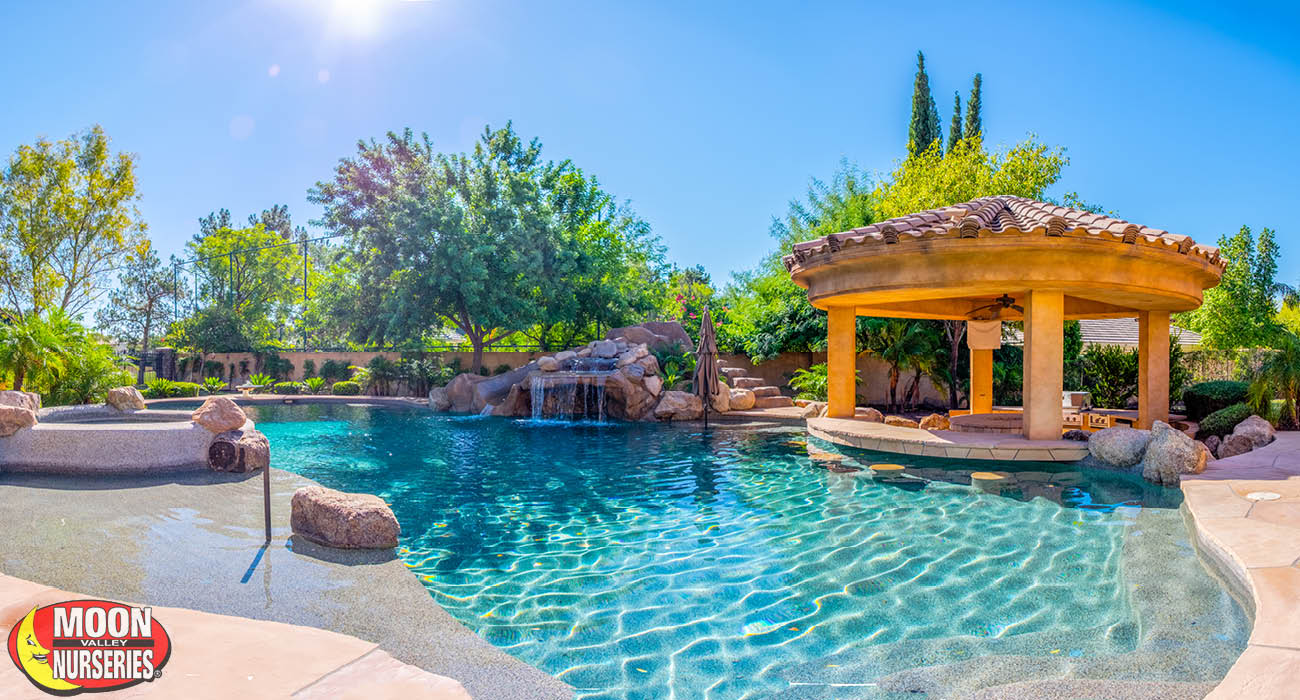 We all know about the benefits of landscaping around our homes but what about our pools? It is just as beneficial - especially for those of us in warmer climates. Not only will it create a personal escape, it can provide shade canopies which cool down the water. Refreshing!
Summer is the perfect time to plant new palms, trees, and plants around your pool. By planting in the summer, your new landscape will be established before the colder winter weather. Don't want to go out in the hot sun to dig and plant? No worries, we'll do it! Moon Valley Nurseries has seasoned planting crews that will do all the work for you.
Whether you want tropical, resort, pet and kid friendly, or Mediterranean, we can do it. Our nursery pros design any style of landscape you want, along with helping you select all the right palms, trees, and plants. Moon Valley Nurseries custom-grows all our inventory from our own local grow farms, to ensure that your perfect palm, tree, or plant will thrive in the Texas area. So, why not have yourself a stay-cation and enjoy your own personal oasis! Keep on reading to see what our pros suggest for landscaping around a pool.
Palm Trees
Palm trees are a great choice for landscaping around a pool since they are very clean; there is very little to no litter. And not only that, but palm trees evoke the look and feel of resort-style or the tropics. And who doesn't love that! Most palms have small fibrous root systems, so the roots won't crack concrete or damage the pool. Piru Queen Palms have the go-to tropical look that we all love! This durable evergreen palm has classic feathery, glossy, bright green palm fronds that provide much needed shade. King Palms will bring the "wow" factor! This slow-growing palm develops a large canopy of dark green fronds which creates wonderful shade. Mediterranean Fan Palms are ideal for smaller spaces or as a container palm. They are a multi-trunk palm. We love to use these to fill in under taller palms and trees or clumped together as a wall. Mexican Fan Palms have large, fan-shaped, bright green fronds with shorter leafstalks that feature a red streak on the underside, adding more interest around your pool. These are perfect palms for tropical or resort style landscapes.
Shade Trees
By planting a shade tree, or two, around your pool, the water can naturally cool down; making that afternoon dip even more refreshing! Bigger shade trees also help add more height and dimension to a landscape. Palo Verde are extremely drought tolerant, perfect for the Houston area. These require very little water and are easy to care for. A stunning specimen during the day, it can be a knockout at night when nighttime lighting is used to highlight the green trunks and beautiful form of this tree. Vitex, also known as the Chaste Tree, offers a gorgeous display of gray-green foliage and seasonal clusters of fragrant lilac blooms. This beautiful deciduous is typically grown as a multi-trunk tree, with turning, twisting trunks giving it a unique majestic. Vitex can be trained as a shrub border or as a small shade tree, complimenting a variety of other trees and palms.
Picture-Perfect Additions
There is more to landscapes than just trees and palms. Shrubs, flowers, and succulents are perfect additions to your pool landscape. Want to add color and texture? Moon Valley Nurseries has you covered. Birds of Paradise are great for pops of color around a pool. These tropical, ornamental plants produce eye-catching bright colored flowers that add a tropical splash to any landscape – we carry Tropical Birds of Paradise, Red Mexican, Desert, and Mexican varieties. We also have Tecoma shrub species that are great for adding color and for planting in the summer – we carry Bells of Fire, Arizona Yellow Bells, and Orange Jubilee. Another option for color are our varieties of Ruellia. Ruellia is a very easy-to-grow shrub with trumpet-shaped flowers that constantly bloom. Depending on the variety, bloom colors range from purple, white, and pink. Succulents are very popular right now and it's easy to see why. They require minimal maintenance and have low water use. And, with varieties of colors and textures, what's not to love? We carry a large selection of aloes, agaves, and so many more types of succulents.
We have so much more! Visit your local Moon Valley Nurseries to see the large selection we have, perfect for landscaping around your pool. Any of our knowledgeable nursery pros can help you create your perfect personal pool oasis. Let us help make your stay-cation dreams come true!