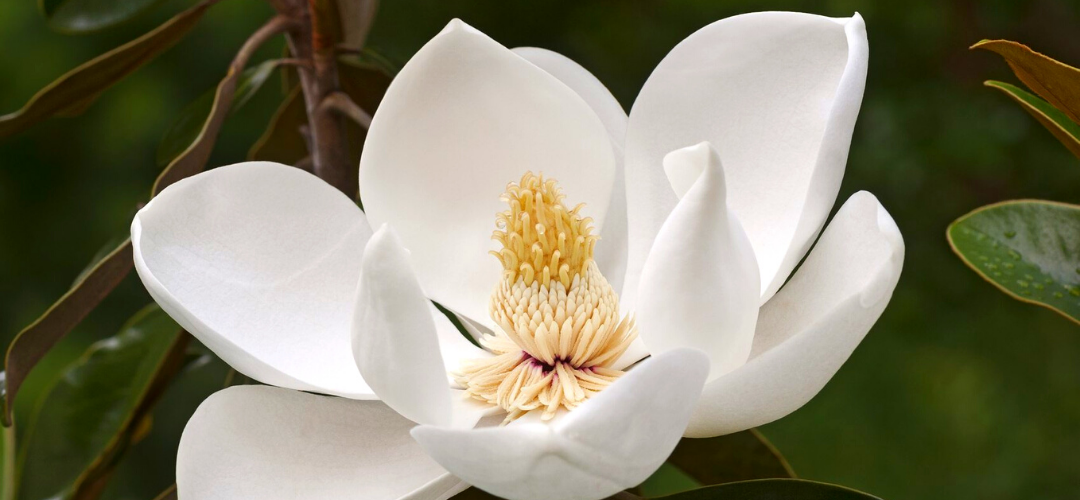 Magnolia trees are a favorite in Texas. They are often used as a centerpiece in many gardens throughout the area. It is easy to see why these elegant trees are so popular with property owners.
They have a dramatic canopy, glossy leaves, and creamy, fragrant white flowers. Few trees can match the year-round beauty of these deciduous and evergreen trees. Once the white flowers are in bloom, the landscape is filled with the sweet aroma that these trees are famous for. Also, don't forget about the shade they can make!
ENJOY A MAJESTIC MAGNOLIA TREE IN YOUR LANDSCAPE
Magnolia is native to the sub-tropical and tropical parts of eastern North America, parts of South America, southeastern Asia, the Caribbean, and Central America. These beauties thrive in the Houston area. These trees will tend to look their best when they are not crowded by other trees, so plant them in a place where they have room to show-off their natural beauty. You will often find Magnolia growing in a spot with full sun or partial shade exposure. If your landscape is exposed to hot afternoon sun, it may benefit from being in a location that is shaded from the afternoon sun.
The sight of a Magnolia growing in a landscape, in full bloom, is one of nature's greatest gifts. Some people will want to plant them near windows so that the pleasing, aromatic scent of the flowers can fill the room. Of course, the shade they provide can also help to reduce the temperatures inside a house, too!
You have a variety of choices with Magnolias. Some are grown primarily for the aromatic flowers with attractive shape and form. Some homeowners plant the larger varieties for use as shade trees to block out the sun, while others grow them as large evergreen shrubs, trees, or hedges to block unwanted views.
Most Magnolias have large and beautiful blossoms, whether they are evergreen or deciduous. Which selection is the right one for you? Keep reading to learn more about these showy trees.
EVERGREEN MAGNOLIAS
There are quite a few species (over 200) and varieties of Magnolias. Some of the most desirable Magnolia trees are the evergreen varieties. The Southern Magnolia, with its large, waxy, fragrant white flowers and large, dark green leaves is the one that is most synonymous with the Deep South. This Magnolia tree is by far one of the most popular, but it needs some space to grow as it can get up to 60-feet tall.
The good news is that the 'Little Gem' has all the qualities that make it a favorite throughout our area, with the bonus of being a much smaller cultivar. So, if you have a smaller home site, you can still have all the excellent characteristics of the classic Magnolia grandiflora to use as an accent or as a hedge!
Another evergreen favorite is the 'D.D. Blanchard.' This selection is prized for its pyramidal shape and lustrous dark green leaves that add curb appeal and beauty to all kinds of landscapes. Evergreen trees are perfect for this time of the year because of the beautiful flowers and the massive amount of shade they can make.
DECIDUOUS MAGNOLIA TREES
These trees will lose their leaves in the winter so that they can let the sunshine in during the winter. The attractive leaves come back in time to block out the sunlight and create a comfortable shady spot in the landscape.
One of the most common deciduous varieties is also one of the prettiest – the Saucer Magnolia. Also called the Tulip Tree, this Magnolia is a very large shade tree that blooms fragrant white to pink or purplish-red saucer-shaped flowers.
This hybrid tree is one of the most popular flowering trees in the United States. Springtime blooms attract hummingbirds and butterflies, and is sure to bring all the right attention to your landscape!



SAUCER MAGNOLIA
(Magnolia x soulangeana)
This is a show-stopping deciduous tree, and when in bloom, can transform your landscape into a magical wonderland. Anyone that pays attention to the abundant bloom of beautiful pink and white saucer-like flowers will have a hard time looking away.
These saucer-shaped flowers can be up to 10-inches in diameter, and the bloom can last throughout the summer months. The flowers really are that beautiful and have the bonus of having a pleasant fragrance.
Some people like to call this the Tulip Tree, though this common name can be confusing as there is another much larger shade tree under that name that does not have the characteristics of this beautiful ornamental tree. Its botanical name is Magnolia x soulangeana, a hybrid that is sure to make a splash in your yard no matter what you want to call it.

STAR MAGNOLIA
(Magnolia stellate)
This beauty is a star in the magnolia world thanks to its early bloom of star-shaped white flowers. This magnolia is both a flowering shrub and an ornamental shrub, so it is an excellent choice for adding spring interest to a yard. It can also be grown as a small tree where it looks beautiful as a single specimen or in a foundation planting.

SOUTHERN MAGNOLIA
(Magnolia grandiflora)
Here is a true southern beauty. This tree is the famous Southern Magnolia, a flowering tree prized for its profusion of white flowers that start in late spring, with some blossoms lasting throughout the summer months. The white flowers are renowned for their large size and rich fragrance.
It can grow to be a large tree with a spreading canopy capable of blocking the sunlight, making shade in the process. Besides the stunning display of white flowers, these evergreen trees feature lustrous, leathery, dark green leaves with a soft, rust-colored underside that adds instant appeal. This evergreen tree can withstand some flooding and can grow in a wide range of soil conditions.

TEDDY BEAR SOUTHERN MAGNOLIA
(Magnolia grandiflora 'Southern Charm')
If you don't have enough space in your landscape for a large Southern Magnolia have no fear, Teddy Bear is here! This Magnolia selection can be kept smaller, so it can comfortably fit in tighter spaces.
It still produces the large creamy white flowers with a wonderful fragrance that people love. Enjoy the sights and smell of the bloom from early summer and into fall. Its dense growth habit and compact, narrow canopy make it an excellent choice for use as an evergreen privacy hedge. You can also use this dwarf Southern Magnolia as a small specimen or accent in the garden.

SAMUEL SOMMER MGANOLIA
(Magnolia grandiflora 'Samuel Sommer')
This cultivar of the Magnolia grandiflora family produces beautifully fragrant, large white flowers. Like the Teddy Bear, Samuel Sommer has a compact growth style that helps to make it one of the best trees for any yard where available space is limited. We like to plant them to add interest to patios, driveways, and along streets.
If you need shade, its evergreen canopy provides year-round shade. Feel free to rest under the canopy while taking in the sight of the big, glossy green leaves and flowers. These natural beauties get bonus points for their low-maintenance features, and for how easy they are to grow in almost any landscape.

MAGNOLIA 'D.D. BLANCHARD'
(Magnolia grandiflora 'D.D. Blanchard')
This big and beautiful tree features large glossy dark green leaves and produces huge cup-shaped white flowers. These pure-white flowers bloom throughout the summer and are sure to attract hummingbirds, so get ready to enjoy a playful spectacle.
If you want shade, the pyramidal shape and canopy spread can bring it! Give them some room to grow and they will reward your landscape. We like to plant this evergreen on the property of larger estates, and they are an excellent tree for any park. Install this beautiful stately tree in your landscape and enjoy the view!

GREENBACK SOUTHERN MAGNOLIA
(Magnolia grandiflora 'MGTIG')
This beautiful Magnolia selection produces creamy, cup-shaped white flowers that can release a sweet perfume-like scent. The large, dark-green, glossy leaves create a stunning background for the showy summertime bloom. This Magnolia thrives with full sun exposure and is the perfect choice for any Asian/Zen garden style. Relax in your yard, under a beautiful shade tree with an intoxicating aroma and a view that can take your breath away.
Planting a Magnolia tree in any Texan yard is an excellent way to add curb appeal and value. Ornamental trees such as these can add color, shade, and bring a peaceful feeling to our sweltering summers.
Moon Valley Nurseries has got you covered with the best quality and selection of value-engineered trees that save you money. We have the bigger trees that you will not find anywhere else, at a price that is incomparable. See these beauties for yourself and allow our nursery pros to help you find the perfect tree! So if you don't want to leave the house, call us, and we will deliver and do the work for you. We make it easy to create a beautiful new landscape!