Back to main Blog
Luke Kalawsky
Luke Kalawsky has a passion for all things trees, plants, and landscape design. He has designed numerous landscapes as the head designer in the Surprise, Arizona region until he became a manager of our Central Phoenix Nursery. He now dedicates his knowledge, expertise, and creative capabilities to help the masses discover how to design, plant, and maintain their landscapes with his writings.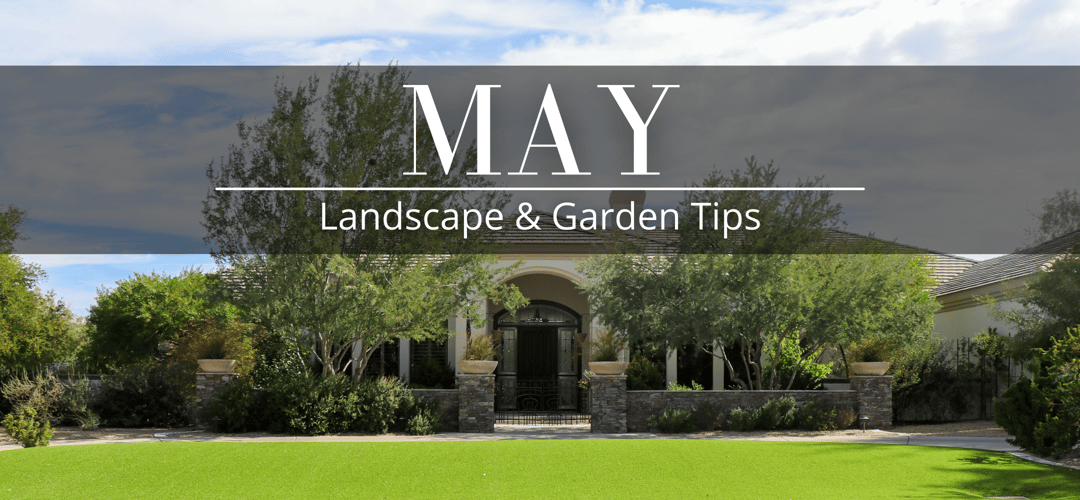 We are approaching the end of cooler weather and are transitioning to a festive time of barbequing, pool parties, and a prime growing season for trees and plants. Now is the last opportunity to prepare your yards and be ready to take advantage of the summer growing season.
Our nursery pros have put together the best landscape tips to get your yard ready and prepped for the summer months. Take a read through our collection of advice and ensure your yard is ready to grow and look amazing all summer long!
ADJUST YOUR WATERING
When temperatures begin to rise, it's crucial that you keep an eye on how your trees, shrubs, and other plant material are responding to the heat. This will also help you notice any minor issues and fix them before they become a problem.
Always remember to use a deep watering method on your trees and shrubs so water reaches the entirety of the root system. Short and shallow watering sessions are usually ineffective, preventing water and nutrients from reaching the whole root system of your trees and plants, and resulting in a waste of water.
Long and slow watering sessions are best because it allows the water to penetrate deep into the soil. Not only does this help the tree right away, but it also helps in the long-term development of the root system, and it can make a tree less susceptible to drought.
For more information on deep watering practices, check out our watering guides to get a better idea of how to take care of your irrigation settings.
PROTECTION AND MULCH
Now is a great time to ensure the sensitive trees and plants in your yard are equipped to stay cool through the summer. The most efficient way to keep the soil around your plants moist and cool is to apply a layer of mulch around them. Adding a few inches of mulch will help you reduce how much water you'll need to use because the mulch keeps the roots cool and retains moisture for longer periods of time.
Mulch is available at any Moon Valley Nurseries location.
Additionally, certain varieties of trees are susceptible to sunburn, and almost all species of trees could benefit from some extra solar protection. Our nursery pros recommend covering the trunk with a protective tree wrap. Younger trees are more prone to sunburn than mature specimens, so be sure to cover their trunks this month to ensure healthy trees this summer.
Protective Tree Wrap is available at any Moon Valley Nurseries location.
FERTILZING AND NUTRIENTS
Give your landscape a much-needed boost of vitamins and nutrients before the summer is officially here. All our fertilizers have been specifically crafted for our native soils. Fertilizing now sets your trees and plants up for success during the warmer summer months. By creating strong and healthy root systems, your landscape is able to better handle adverse conditions with reduced stress from the environment. We recommend fertilizing monthly, March through October for most trees.
We carry fertilizers for everything on your landscape from shade trees, flowering trees, and palms to fruit and citrus. Click here to learn more about all the fertilizers that we carry at our nurseries.
FINALIZE LAWN TREATMENTS
Hopefully, you have been monitoring and taking care of your lawn for the past few months, so any big issues are taken care of by now. This is the month you want to complete any intense fertilizing on your lawn, especially if it needs nitrogen.
As the temperatures rise, nitrogen will be harder to use in high doses due to its potential burn factor. It is good to use some nitrogen-enriched fertilizer now to give your lawn a boost in growth and development that will keep it looking great through the summer.
See our recommended turf fertilizers here!
WHAT TO PLANT THIS MONTH

Magnolia trees are sure to impress in any landscape. They are both versatile and beautiful. Magnolia trees produce a large white, showy flower that emits a lovely aroma. The large foliage is deep green with a coppery underside. Magnolia trees can grow to become medium to larger trees able to provide ample shade as well as can be trimmed and grown into a fantastic privacy hedge. Enjoy the sight of gorgeous magnolia flowers instead of your neighbor's house!
For more trees that make great privacy hedges, check out our Ultimate Guide to Privacy Hedges

Native to Japan, this widely used hedging and topiary tree provides year-round interest. Part of their elegant beauty comes from the lush evergreen foliage. Homeowners may want to plant Green Emerald Blueberry trees along a fence for use as an incredible privacy hedge that is both heat and cold hardy. If grown into a larger tree, you can expect a decent amount of shade and they are an excellent topiary tree, you may choose to have them shaped into columns for a stunning formal landscape.
See our ultimate guide to privacy hedges for more info!
When considering all aspects that make a truly great and successful palm, the King Piru Palm™ exceeds all expectations. Amazingly durable, this palm thrives in soils that other palms may struggle in. Alkaline, salty, heavy clay, and even caliche-type soils are no problem for the King Piru Palm™. Since this palm is sterile you can expect very little to no litter throughout the entire year. Going one step further, this palm has the incredible ability to not only thrive in the hottest summer sun our area can bring but it's also cold hardy in winter temperatures down to 12 degrees Fahrenheit!