Best Time to Plant Palms
Palms, we love them. Just the sight of them can bring back memories of the time you got away from it all when you got to lay in a hammock, surrounded by their fronds gently swaying in the tropical breeze, refreshing beverage in hand without a care in the world. Yea, these type of trees can give you that feeling, which is why they are such a favorite with us here on the mainland too – we want to feel like we're on vacation even though we're enjoying ourselves by just hanging out in our yard!
Besides their calming influence, these tree can improve the look of any landscape too. And as we all know; a beautiful yard equates to greater curb appeal as well as an increase in property value! Best of all, you can plant them any time of the year and caring for them is a breeze!
One of the great things about these trees is their versatility. You can find some growing in the wild in the Colombian jungles as high as 200 feet, and there are those that never get above 12 feet in height. There are some with underground trunks or branches that are clustering low to the ground that gives them a full and bushy appearance and are an excellent choice for ground cover or to divide properties. You can grow one indoors, such as Rhapis, and use them to add a tropically vibe to a room or plant them in groupings and use them as one of the most magnificent tropical hedges you can find! Single trunk or multi-trunk, there are varieties for every taste!
Proper placement is an important thing to consider before planting your new tree. Some of these trees need more sun than shade, and you'll want to be sure that you don't plant a shade loving one in a location that gets too much afternoon sun. Don't worry though because the Moon Valley Nurseries experts have got you covered and know all about these trees and where to properly place them in your yard. Combine this with free planting available on all specimen sized trees, it cannot get any easier to improve your landscape!
EXPOSURE:
Most young ones prefer growing in a shady location. As they grow, they can thrive in full sun or partial shade. We recommend moving an indoor one outdoors periodically in a spot with soft light.
WATERING:
Irrigate newly planted trees often until established. Once established, they have little to moderate watering needs. Click here for our watering recommendations!
FEEDING:
These kind of trees have special nutrient requirements and our Super Palm Juice is specially formulated with the essential nutrients required to optimize their performance!
PRUNING:
Some varieties can shed the old leaf bases on their own. Others, such as Syagrus and Chamaedorea, may hold old bases and you can remove them by slicing them off at the very bottom of the base, just be careful not to cut into the trunk.

Palms That Can Grow in Your Area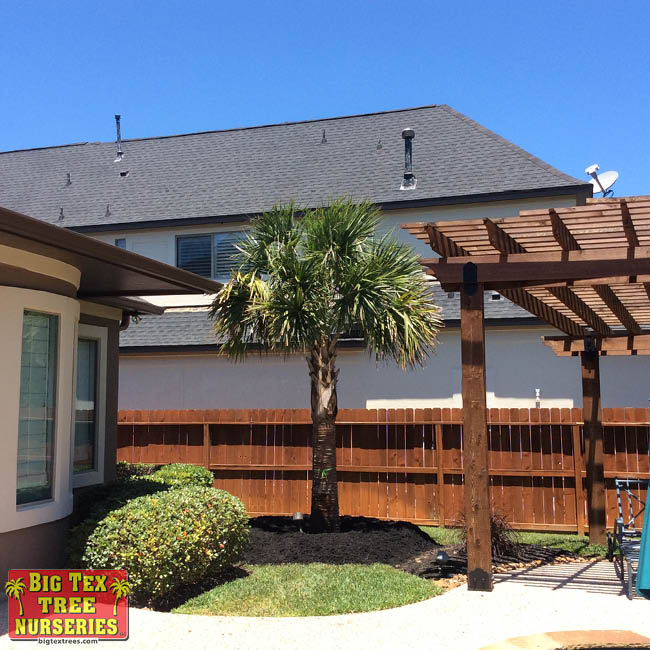 SABAL PALM (SABAL PALMETTO):
This medium-sized tree is a favorite throughout the Houston area, where we like to plant them as street trees, for the patio area or terrace, or around swimming pools as part of any backyard oasis. They can also be planted in groups and used as a beautiful tropical hedge!
---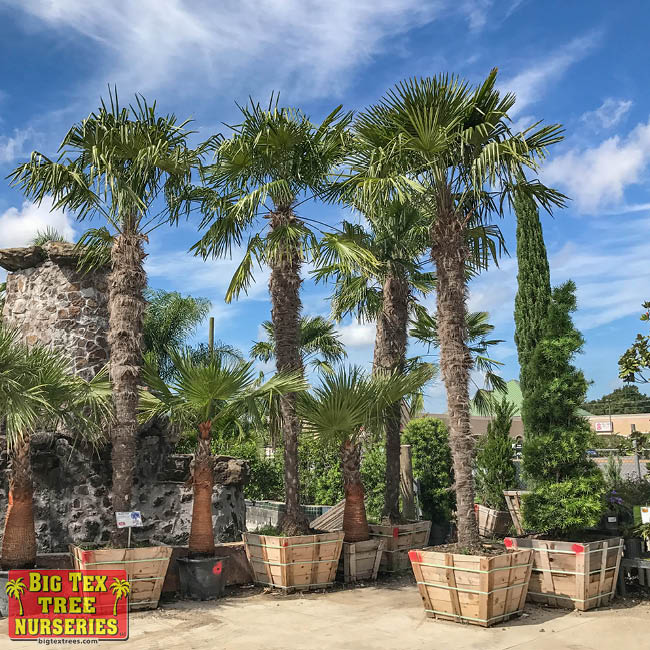 WINDMILL PALM (TRACHYCARPUS FORTUNEI):
We love this small to medium tree because it has a resort-style look in a compact form so that it's ideal for any size space. Its dark green foliage perfectly complements its slender trunk, and we like to plant them in groups so that they can help create a calming resort-style feeling in your yard! They are also fantastic in planters and for patios.
---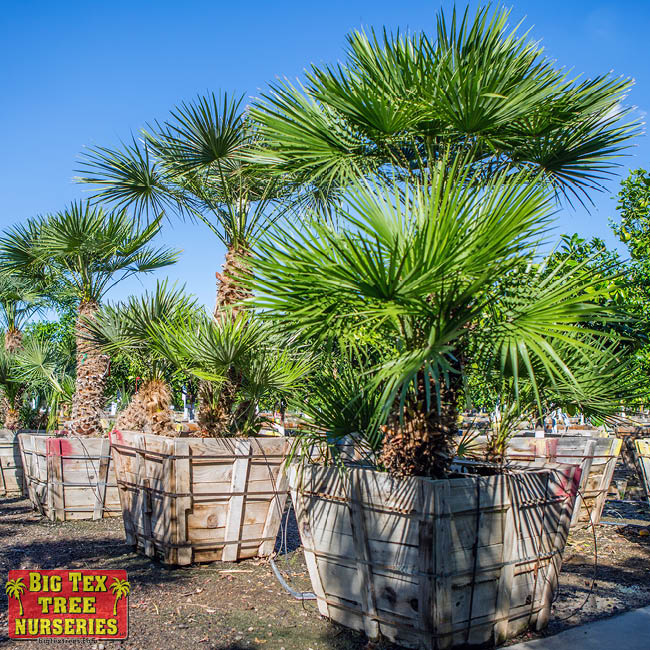 MEDITERRANEAN FAN PALM (CHAMAEROPS HUMILIS):
If you've got a small yard or very little available space you can still bring a tropical accent to your landscape with Chamaerops humilis. These are beauties planted near pools and with the installation of nighttime landscape lighting and area spotlighting, it can add jaw-dropping effects against walls!
---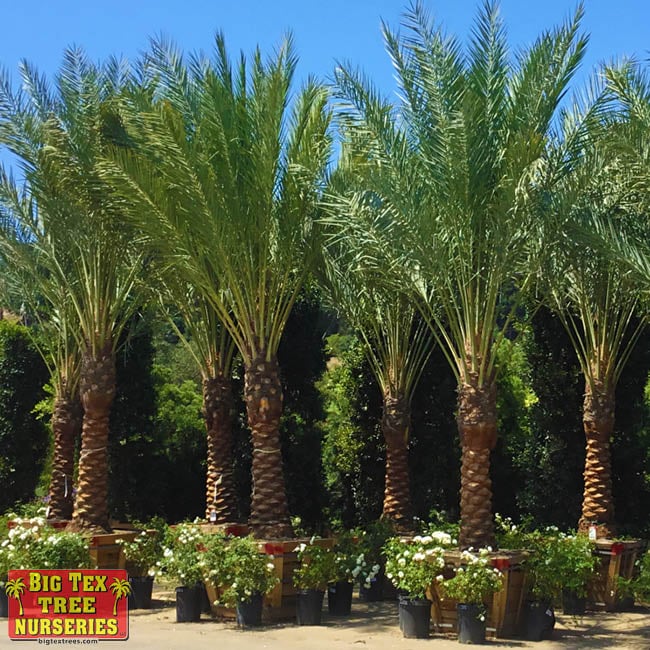 RESORT STYLE DIAMOND CUT DATE PALM (PHOENIX DACTYFILERA):
These elegant trees can bring the five-star-resort look to any landscape. Clean and majestic, they are practically litter-free so that they are perfect for poolside planting! We offer these beauties with a unique diamond-cut trunk, for a formal look that is sure to impress! Plant them in groups or rows and enjoy as the wide fronds bring shade to any sunny area!
---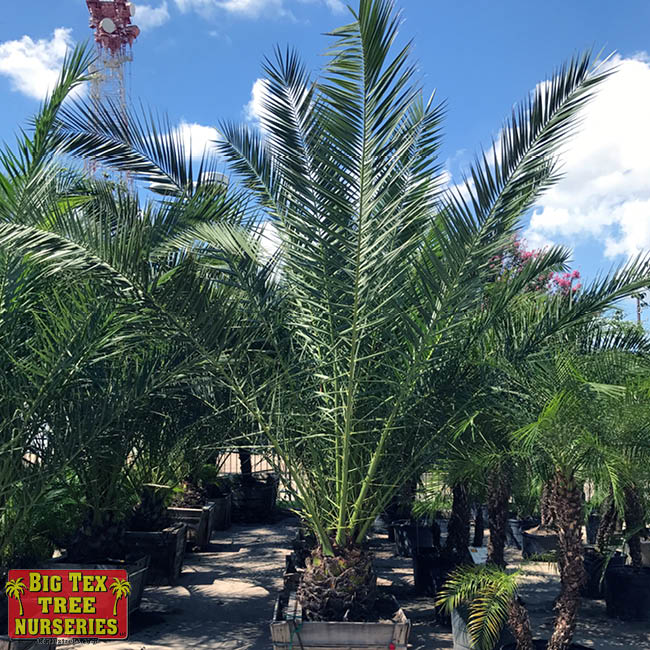 PINEAPPLE PALM OR CANARY ISLAND (PHOENIX CANARIENSIS):
This is one of the most elegant, clean, and stately trees you'll find anywhere! They add a formal appearance to any yard and are noted for their wide trunk with a textured diamond-shaped pattern! Mature specimens are a sight to behold, and their huge canopy can provide a peaceful, shady spot to relax and get away from it all.