Back to main Blog
Luke Kalawsky
Luke Kalawsky has a passion for all things trees, plants, and landscape design. He has designed numerous landscapes as the head designer in the Surprise, Arizona region until he became a manager of our Central Phoenix Nursery. He now dedicates his knowledge, expertise, and creative capabilities to help the masses discover how to design, plant, and maintain their landscapes with his writings.

The new year is finally here, and spring is just around the corner, making now the perfect time to get inspired for your landscape's new look! We've curated the most popular landscape styles used throughout Texas and provided you with a cheat sheet of the best trees, plants, shrubs, and vines to fit your perfect style.
Maybe you're not sure which design style you prefer, not a problem! Take our landscape styles quiz to find out which style is best for you!

Moder
n
The Modern landscape is like your favorite piece of forward-thinking artwork, offering you a clean, elevated look while remaining classy and comfortable. The Modern style uses select trees and plants to design a yard that lets you set the trend while filling the needs of shade, privacy, and style.
The Modern landscaping style also utilizes trees and plants that, once established, require little attention to keep looking healthy and clean, freeing you up to simply enjoy your elegant yard.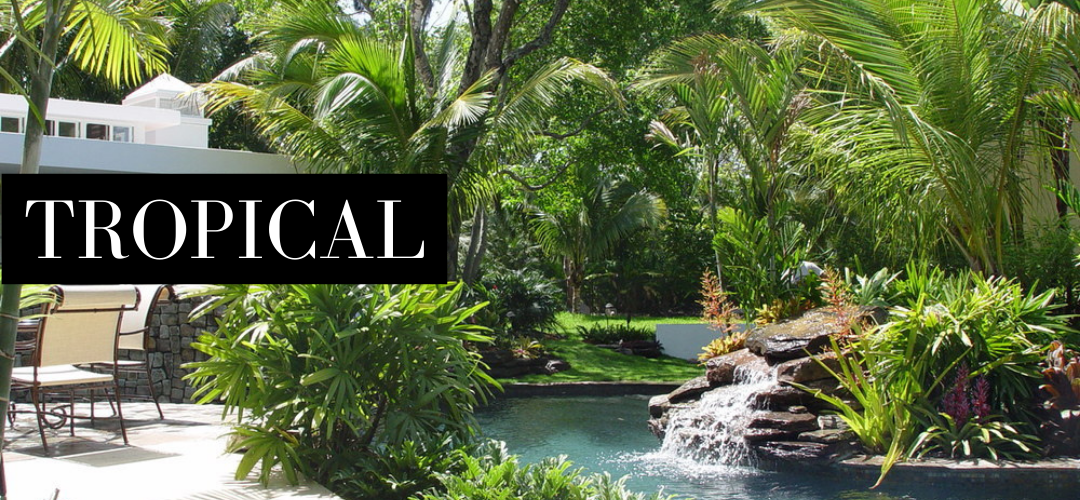 Tropical
The Tropical style creates a vacation destination in your very own backyard! With trees and plants that love soaking up the sun, a tropical landscape is designed to create a paradise that inspires you to sit back and unwind while ensuring you stay relaxed with trees and plants that are easy to clean up after.
Your pool or pergola will transform into a hidden oasis nestled under the soft shade from lush trees and resort-style palms, your patio seating area or barbeque becomes enhanced with vibrant island-style flowers, and your kids will love playing in their backyard jungle paradise. Kick up your feet and take a sip of that pina colada, a tropical getaway is possible right at your home!

Texas Cottage
The Texas Cottage style always creates a stunning sight. The trees and plants in this style will provide you with a cozy atmosphere while also showcasing big displays of classy elegance. Hedges will curve along walkways leading to beautiful flower beds and tall, shady trees.
This style always has a natural flow providing you with a great balance of lush growth and pristine garden. The robust greenery and flowering plants that make up this style are sure to impress and allow you to make a Texas-sized statement with a Cottage landscape.
Shop the Texas Cottage look here!

Tuscan
Imagine stepping into your backyard and enjoying a glass of fine wine and Italian cuisine under the subtle sway of elegant Fruitless Olive trees and palms native to the Mediterranean. You can appreciate the excellent and stately privacy provided by your tall Italian Cypress trees. Maybe you'll take a stroll through your own Pomegranate, Lemon, and Fig trees and relish in the sweet tastes of the Italian countryside.
If you've ever wanted your yard to take on the charm and grace of a Tuscan vineyard, or to enjoy the most authentic homemade Italian food possible, the Tuscan landscape style is your ticket.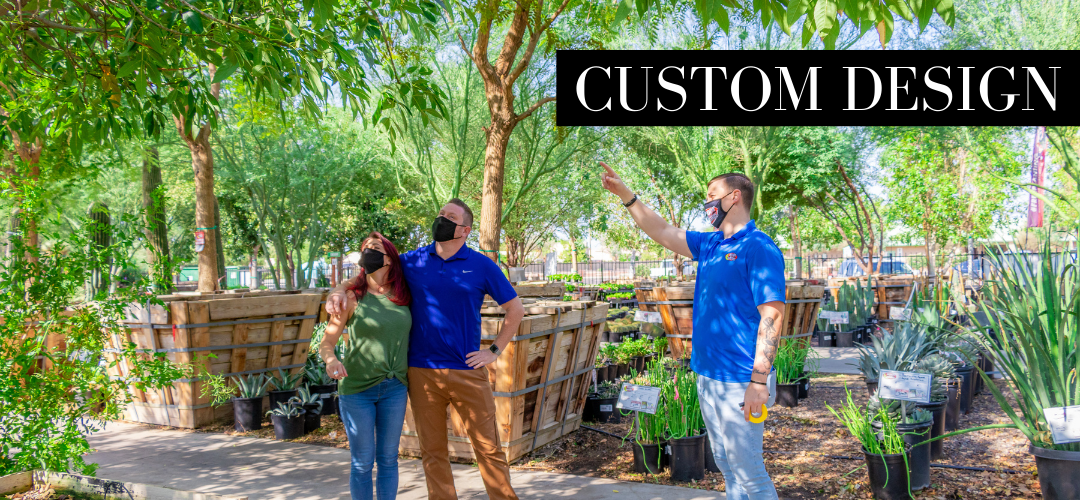 Go beyond the style with a custom design!
If you prefer something a bit different for your yard but aren't sure where to begin, talk with one of our expertly trained landscape designers. Our design specialists make creating your perfect yard a reality. Each of our landscape professionals is experienced in many different styles and will create the exact look you want for your yard while ensuring we match your needs for shade, color, fruit-bearing, maintenance, and water usage. Any time you work with one of our landscape designers, you can rest assured your landscape will be breathtaking.
Keep the yard looking it's best!
Once you have the landscape of your dreams, it's important to keep your yard looking it's best! Using the right fertilizers and nutrient supplements for your trees and plants will help them grow strong and lush, produce brighter and fuller flowers, and develop hardy growth patterns.
We have developed specialized blends of fertilizer and supplements designed for optimum growth and performance in our native soils. These are the exact same fertilizers and supplements we use to grow our perfect trees at our farms and stores, use what the pros use. Our designers and nursery pros will always select the right products to ensure your landscape is set for success.
Check out the best fertilizers and nutrients here!