Back to main Blog
Luke Kalawsky
Luke Kalawsky has a passion for all things trees, plants, and landscape design. He has designed numerous landscapes as the head designer in the Surprise, Arizona region until he became a manager of our Central Phoenix Nursery. He now dedicates his knowledge, expertise, and creative capabilities to help the masses discover how to design, plant, and maintain their landscapes with his writings.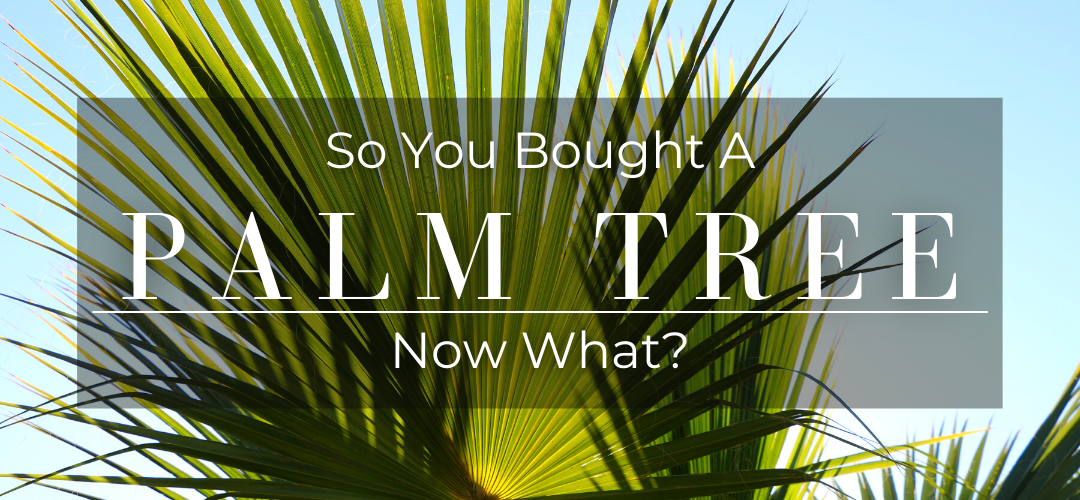 SO YOU BOUGHT A PALM TREE, NOW WHAT?
Congratulations! Owning palm trees is an opportunity to bring a lush, tropical or Mediterranean look to your landscape. Moon Valley Nurseries is here to provide you with the best practices on caring for your new palm trees. Our nursery pros have put together helpful information on palm tree maintenance to set you up for success on the exciting journey of owning your own palms.
A special characteristic of palm trees is that they look great in clusters of odd numbers. Groups of three, five, or seven palms arranged in your yard will look both natural and smartly designed. You can even mix and match palm varieties within these clusters. They are also perfect to line a driveway or entryway to your home and planting them in this way gives your yard an iconic resort-style look! If you only purchased one or two palms, you might consider picking up a few more so you create a lovely cluster of odd numbers or line an area for an upscale look.
1. WATERING
The first step in properly caring for your new palm tree is to follow correct watering practices for the current season. Different palm varieties are going to have unique watering requirements. As a general rule of thumb, most varieties will need watering once to twice a week in the winter, two to three times a week in the spring and fall, and three to five times a week in the summer. You can always find the complete care information for your specific palm varieties by speaking with our nursery pros or you can find a care guide for your palms on our website.
2. FERTILIZING
A key part of keeping your palms looking healthy is fertilizing. Certain palm varieties are going to need different nutrients, and some will need supplemental minerals in order to grow their best. For most palm trees you can use a nitrogen-based fertilizer, such as our Moon Dust™ once a month in the spring and fall months. Palm trees also love Manganese, Iron, and Zinc, which aren't always present in the right doses in our local soil. Supplementing your palms with these vital nutrients will keep them healthy and producing beautiful foliage! For best results, pick up some of our Super Palm Juice™ which has been specifically designed for our local climate and soil to keep palm trees looking fantastic.
You can also use our Supercharged Moon Juice™ through out the year to provide a substantial boost to your palms root effectiveness, ensuring they soak up all the necessary nutrients and minerals available!
3. TRIMMING
Knowing how to correctly trim your palm trees is another essential part of owning gorgeous palm trees. Luckily, palms have an easy-to-follow guideline that makes trimming them a breeze! The foliage of your palm trees are called fronds. When these fronds reach a 90-degree angle in relation to the trunk, you can cut them off. If they go below that 90-degree mark and begin to droop towards the ground, you may cut the fronds at that point as well. You will want to be careful not to cut any fronds that are still above that 90-degree angle, as this could take away from your palm's attractive canopy and expose the new growth too early.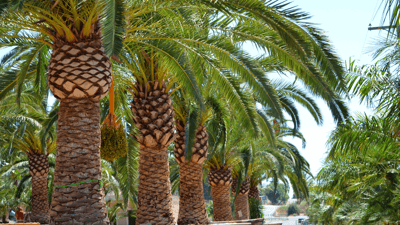 As always when it comes to any trees, palms, or plants in your yard, you can always call our nursery pros with any design, planting, or care questions you have. Our knowledgeable experts are here to set you up for success in owning your own trees and plants. Our website also has care guides for many of our top selling tree and palm varieties.
You can find the care guide for your trees here!
A huge aspect of having the yard of your dreams is designing your yard to ensure your trees, palms, and plants are well-placed for proper style, sun exposure, water needs, and growth patterns. Our professional landscape designers are happy to consult you in designing your yard for the best results and a landscape you will enjoy for years!