Back to main Blog
Luke Kalawsky
Luke Kalawsky has a passion for all things trees, plants, and landscape design. He has designed numerous landscapes as the head designer in the Surprise, Arizona region until he became a manager of our Central Phoenix Nursery. He now dedicates his knowledge, expertise, and creative capabilities to help the masses discover how to design, plant, and maintain their landscapes with his writings.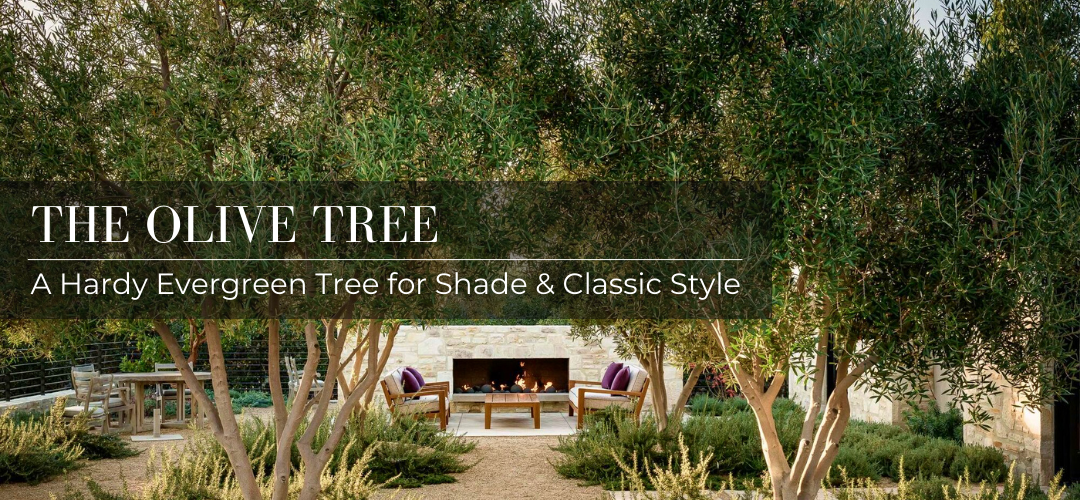 Olive trees are beloved in many different areas, regions, and countries. They have been used for many years as a favorite in countless landscapes. Olive trees are nature's reminder to us of simpler lifestyles, ancient cultures, and peaceful countrysides.
To this day, olive trees have maintained a position as one of the most popular trees to plant in residential and commercial landscapes. They bring many benefits to the table and provide businesses and homeowners alike with some of the best qualities that landscape trees can offer.
In this deep dive into the world-famous olive tree, we'll take a look at the many features and uses of olive trees that make them so desirable. We'll unpack some of the most commonly asked questions about olive trees and showcase landscape applications and styles they thrive in. We will also tell you how to care for olive trees and give you guides on watering, fertilizing, and trimming these majestic trees to keep them looking their absolute best.
Olive trees, like a fine wine, are equal parts classic and contemporary, exotic yet familiar. Let's get to the heart of what makes these trees so special!
A Refined Flavor: The Benefits of Planting Olive Trees
Olive trees are hardy, evergreen shade trees native to Mediterranean Europe and areas of Asia and Africa. Their native heritage and growth pattern make them extremely suitable for planting in landscapes across the southwestern and coastal United States.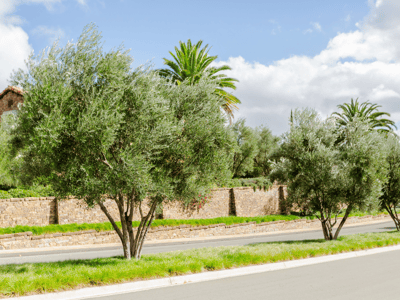 Olives of both fruiting and non-fruiting varieties have become extremely popular in the landscapes across the United States. Let's explore the benefits of planting olive trees in your yard.
Olive trees are evergreen trees with dense, silver-green foliage that can provide ample shade and privacy wherever they are planted. The leaves shimmer in the wind, causing these trees to bring more curb appeal and year-round interest to any home.
Olive trees are not messy and are easy to care for. Their slow molting rate means that they will drop infrequent and occasional leaf debris. The fruiting varieties of olives will drop their crop and are easy to clean up after. Fruitless olives are even cleaner with little to no crop production, making non-fruiting olive trees one of the best options for a low-maintenance shade tree for a front yard, backyard, or around a pool!
Olive trees love to be planted in areas that get full sun exposure. They can handle high temperatures and are also cold-hardy. Once established into a landscape, olives also become very drought tolerant. This makes them popular in more arid, desert regions.
Grow your own olives! Fruit-bearing olive trees are a great way to make your own olive oil, olive bread, stuffed olives, pasta dishes, or just for general snacking!
Style Guide: What the Olive Tree Pairs Well With
Olive trees complement a wide variety of landscape styles and can be commonly found in Mediterranean and modern landscape designs. The olive tree's Tuscan heritage lends itself to be utilized in yards of Spanish-style villas and gardens inspired by the Italian countryside, as well as more contemporary designs that take advantage of the olive tree's artful form and striking foliage.
In Mediterranean landscapes, olive trees will often be used as an anchor point to suggest a Tuscan theme. They will then be complemented by rows of Italian Cypress, Date Palms, Mediterranean Fan Palms, Rosemary, and other flowering trees and plants.
A Taste of Tuscany
In this masterful design of Tuscan influence, the olive trees are used to provide cooling shade to the yard and pool, while their silvery leaves contrast wonderfully with the deeper green foliage of the tiered hedge bushes and accent Trailing Rosemary nearby.
- Shop The Tuscan Style Here! -
Olive trees featured in modern landscape designs can be found shading exotic succulents, artistic sculptures, or highlighting a portion of the yard or home. In many cases, olive trees themselves will be showcased as an example of yard art!
Modern Majesty
Here we see a peaceful courtyard framed by four gorgeous olive trees. This minimalistic landscape design allows the olive trees to steal the show as the main focal points. Take note of the pleasant way the olive trees contrast with sculptures and yard art.
- Shop the Modern Style Here! -
Bonus Design Tip: If you love the look of olive trees and want to incorporate them into smaller areas of your property, or if you've wanted to know if you can plant olive trees in pots, a great option are Dwarf Olive trees! These little silvery gems, sometimes called Lil' Ollies, are perfect for planting in pots and planters. You can even grow them indoors!
Finely Aged: How to Care for Olive Trees
Olive trees are one of the best low-maintenance shade trees. They are clean, hardy, and very forgiving. With a bit of knowledge on how to water, fertilize, and trim your olives, you can ensure they always look their best.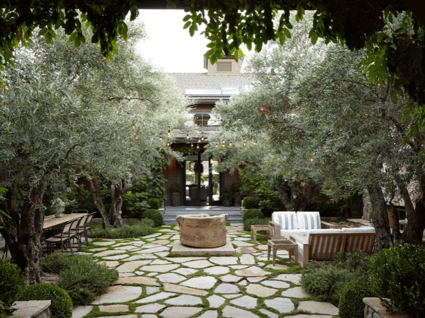 Watering Your Olive Trees: Olive trees are accustomed to a great range of soil conditions, temperatures, and climates. They perform very well when receiving water around three times a week the first year or so after they are planted. This frequency will vary slightly depending on your exact region and the time of year.
After your trees have become established in the yard, they become drought-tolerant and can survive with little water. However, continuing to frequently water your olive trees after they have become established can cause them to produce a more vibrant foliage color and grow at a faster rate.
This is a very high-level overview of how to water olive trees. The amount of water and frequency of watering sessions will change depending on the season and where you live. For more specific information on watering olive trees based on the time of year and your area, check out our care guides here!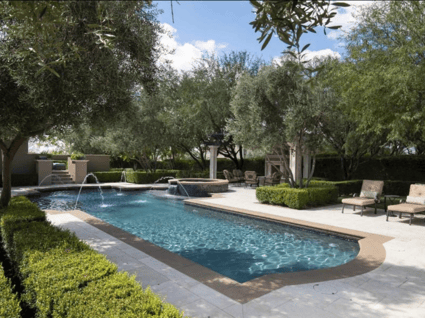 Fertilizing Your Olive Trees: Fruitless olives will grow strong and lush with routine doses of nutrient-rich fertilizer, such as our Moon Dust™, which has been designed for all trees and plants growing in our local area. Your trees' canopies will grow denser, providing more shade and appeal, when they are properly fertilized.
Fruiting olive trees will need the nutrients from fertilizing to produce a large and satisfying crop of olives. We recommend applying fertilizer monthly, starting in the early spring and continuing through summer before stopping in the early fall. This will ensure vigorous growth and a hearty crop!
You can learn more about our Moon Dust™ All-Purpose Fertilizer here!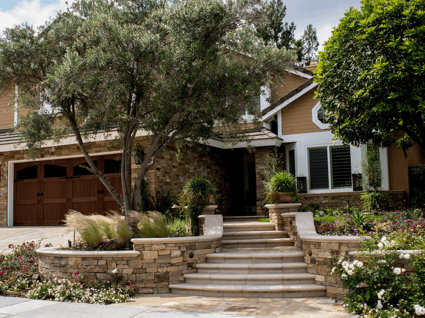 Trimming & Pruning Your Olive Trees: Olives can tolerate some heavy trimming; however, it is important to remember a common rule when it comes to trimming your trees and plants. Never remove more than two-thirds of the overall canopy. This can cause irreversible damage to your trees and plants. Non-fruiting olive varieties can be trimmed back in the late fall and early spring. Pruning can be done as needed if small shoots of undesirable growth begin to develop.
For fruit-bearing olives, it is best to prune and trim in the late fall or early winter, to make sure you are not taking away from your trees' olive crop by trimming before the harvest season in August and September.
Answering The Most Common Questions About Olive Trees
Where Do Olive Trees Grow Best?

Olive trees grow best in areas that have warm, dry summers and mild winters. They can thrive in a wide range of soil conditions, making them a top pick for landscapes in arid deserts and coastal regions alike. Fruit-bearing varieties will need about two months of cool weather around

40°F to 50°F to produce a reliable crop.

Are Olive Trees Good for Privacy? The dense evergreen foliage of olive trees, low-maintenance features, and drought tolerance lend them to make excellent privacy hedges and screens.
Are Olive Trees Messy? Fruitless olive trees are one of the cleanest evergreens that can be grown in the Southwest and the Coastal United States. Fruiting olive varieties only have the additional dropping of olives during their harvest period.
Can I Plant Olive Trees Next to My House? The roots of olive trees are non-invasive and can be planted in tight areas. It is important to use good deep-watering methods to anchor your trees and promote healthy root structure. You can learn more about deep watering practices here!
How Fast Do Olive Trees Grow? Olive trees grow at a moderate growth rate, which can be sped up with routine fertilization and appropriate watering for each season.
Where Can I find Olive Trees for Sale? You can find a huge selection of olive trees for sale at any Moon Valley Nurseries Location! We grow all our olives right here in our local climate to ensure they will establish quickly in your yard!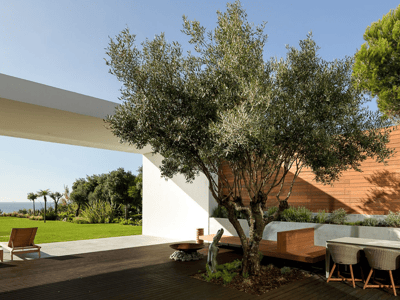 At your local Moon Valley Nurseries, you can find fruiting olives for sale, such as Manzanillo and Mission Olives, as well as fruitless olives for sale, such as the Wilsonii Olive, Texas Olive trees, and Dwarf Olive trees, all grown right here, ready to be planted in your yard.
To learn more about olive trees and how they can be a wonderful addition to your landscape, reach out to one of our Professional Landscape Designers. Our designers have years of knowledge designing landscapes based on businesses and homeowners' needs, wants, and dreams. We look at the goals you are looking to achieve with your landscape, whether it be shade, privacy, curb appeal, or any other need, and combine them with trees and plants that fit into your favorite design style.
We offer free landscape designs at all our Moon Valley Nurseries locations and can also schedule a consultation at your home! Call your local Moon Valley Nurseries Landscape Designer today to ask about adding majestic olive trees to your yard!