Back to main Blog
Luke Kalawsky
Luke Kalawsky has a passion for all things trees, plants, and landscape design. He has designed numerous landscapes as the head designer in the Surprise, Arizona region until he became a manager of our Central Phoenix Nursery. He now dedicates his knowledge, expertise, and creative capabilities to help the masses discover how to design, plant, and maintain their landscapes with his writings.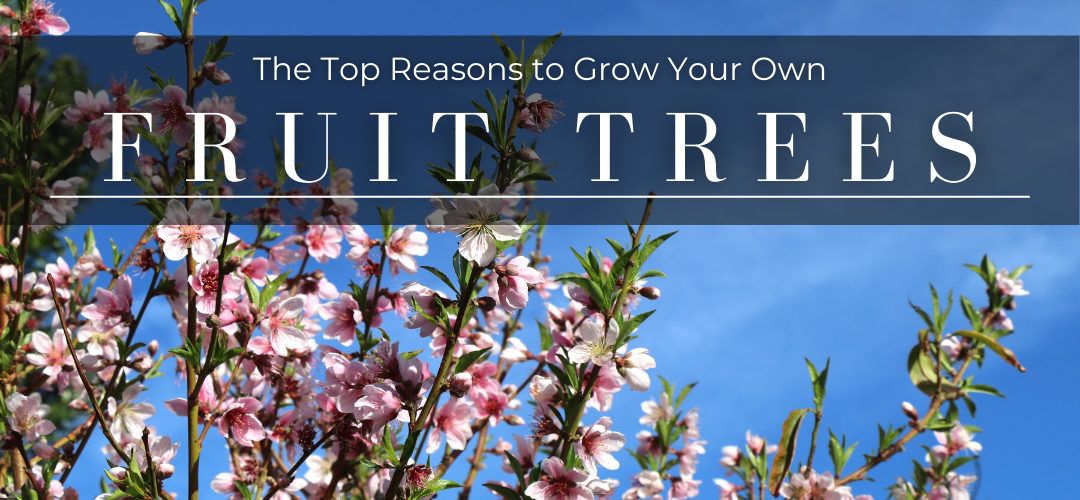 Living in the Western United States has many perks. The sun is always shining, striking mountains dominate our views, and our climate is an ideal area for growing your own fruit trees!

Some of the best and easiest varieties to grow are peaches, plums, apples, figs, and nectarines. We have adapted all these trees to our climate and now thousands of homeowners are taking advantage of growing their own fruit. Here are some great reasons why you should grow your own fruit trees!
HOMEGROWN FRUIT TASTES BETTER
The taste between homegrown fruit and store bought fruit is incomparable. Your homegrown fruit will be sweeter, juicier, and more flavorful than the store-bought alternative, which are picked before they're ripe. Because these fruits are picked early, they cannot develop the complex flavors and sweet, sugary taste we all love. Growing your own allows the fruit to fully ripen on the tree for the ultimate taste.
ALL NATURAL AND NO PESTICIDES
Store bought fruit is treated with many pesticides and chemicals and unless you do your research you will have no idea what they are spraying on the produce. Growing your own fruit ensures you are in control of what you feed and fertilize your tree with.
RELATED: See the best nutrients for fruit trees here!
INCREDIBLE FRAGRANCE AND FLOWERS
Scented fruit blossoms are commonly known as one of the best smelling flowers. Many soaps and perfumes will use the blossoms of peaches and plums as the main fragrance. The intoxicating smell and the beauty of the flowers are a great bonus for every homeowner.
PURPOSE AND SHADE
Many of our fruit trees perform extremely well in full sun and make excellent shade trees. You will get full, green canopies from most of the varieties we carry. So not only will your trees produce fragrant blooms and huge harvests of tasty fruit, but you will also receive ample shade from their soft, lush foliage!
YOU DON'T HAVE TO LEAVE THE HOUSE
We like to think being 10 feet from your fruit tree is a million times better than driving to the store in traffic for a few apples or peaches. Why go to the store to pick up produce for your homemade pie, when it can be truly homemade with fruits from your own orchard?
We have thousands of fruit trees in our impressive inventory at Moon Valley Nurseries and we carry the best varieties for our climate. Right now is the best time to plant your fruit trees as it allows your new tree ample time to establish a root system before the summer heat arrives.