Back to main Blog
Luke Kalawsky
Luke Kalawsky has a passion for all things trees, plants, and landscape design. He has designed numerous landscapes as the head designer in the Surprise, Arizona region until he became a manager of our Central Phoenix Nursery. He now dedicates his knowledge, expertise, and creative capabilities to help the masses discover how to design, plant, and maintain their landscapes with his writings.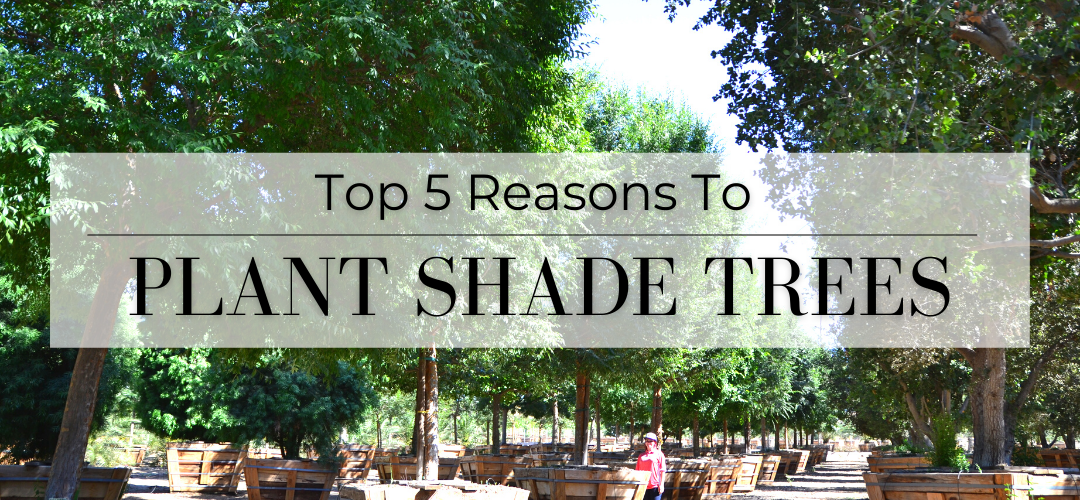 There's nothing like sitting under a big shade tree to get away from the hot summer sun. We can all attest to that. But there are many other reasons why shade trees are great. Below are our top reasons to plant them now.
Save on Your Utilities by Properly Planting a Tree: It is possible to greatly reduce the cost of air conditioning your home by planting shade trees. In order for this to be effective, we need to plant a few trees strategically around our homes to achieve natural cooling. Ask a Moon Valley nursery pro on the proper places to plant shade trees to cut your utility costs, and start saving!
Trees Block Unwanted Sights and Create Privacy: Trees and plants are often used for privacy hedges or walls, but they can do so much more. Trees can also be used as sound barriers from noisy streets or busy parks. Planting trees around our homes can also help block such things as wind and dust from bothering us. Is the view from your backyard unappealing? Trees can be used to disguise unwanted views and create a beautiful, calming canopy of green.
Trees Increase Property Value: By creating a beautiful and well-designed landscape, we can increase the property value of our homes by as much as 15 percent. And who doesn't want that? It's an easy way to make a good investment.
Trees Mark the Seasons: Every passing season brings new things. And this is very evident with trees. By planting trees, we can add variety to our landscapes. Spring brings bright green colors, while fall gives us vibrant colors of reds and oranges. Wondering when the seasons will change? Look to your trees and witness the exchange first-hand!
Trees Create Cooler Environments: Over the last 50 years, average temperatures have risen about 6 degrees. This is due to the increase in production of roads and buildings which are heat-absorbing, and the decline in tree coverage. By planting trees, we can help cool our environments by creating shade for our homes and streets. Trees help cool our cities, so why not do our share and plant some trees?



OUR FAVORITE SHADE TREES
At Moon Valley Nurseries, we grow our trees on our own farms to ensure the greatest quality of trees. And, since we grow locally, our trees are custom grown to thrive in our local environment. Below are some of our favorite shade trees for any landscape.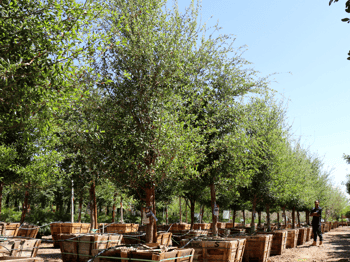 Live Oak (Quercus virginiana) – Also known as "Southern Live Oak", this shade tree is a classic that the whole family will enjoy. Children love to use this tree to climb, and due to its long life, go ahead and carve your initials into it for later generations to find! Live Oaks have dense, dark green leaves that make up the large crown that spreads wide around the dark trunk. These trees are extremely drought tolerant and require low water, perfect for the southwest and coastalal climates.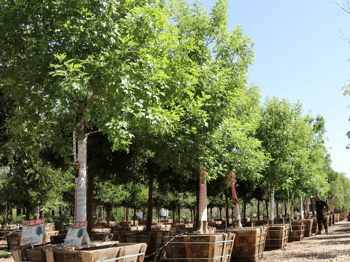 Evergreen Ash (Fraxinus udhei) – Can't go wrong with a park-style tree! Evergreen Ash trees, also known as Shamel Ash trees, have thick trunks with full canopies of glossy, long, dark green leaves. This tree requires minimal maintenance and pruning, making it simple to grow! It is fast-growing so you won't have to wait long to enjoy large amounts of shade.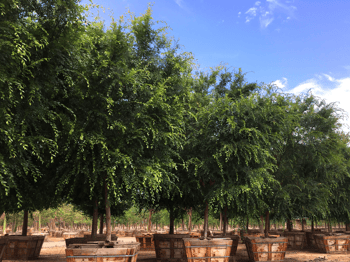 Chinese Elm 'True Green' (Ulmus parvifolia) – The Chinese Elm tree is perfect for the Southwestern areas! This large, and easy-to-care-for tree thrives in full sun and loves hot areas. Moon Valley carries the 'True Green' strain that does not weep. The wide, umbrella-shaped canopy creates massive amounts of shade, perfect for sitting beneath for a picnic or hanging up a swing for the kids to enjoy! True Green elms have an upright, rounded growth habit and small, deep green leaves that are a favorite among homeowners.