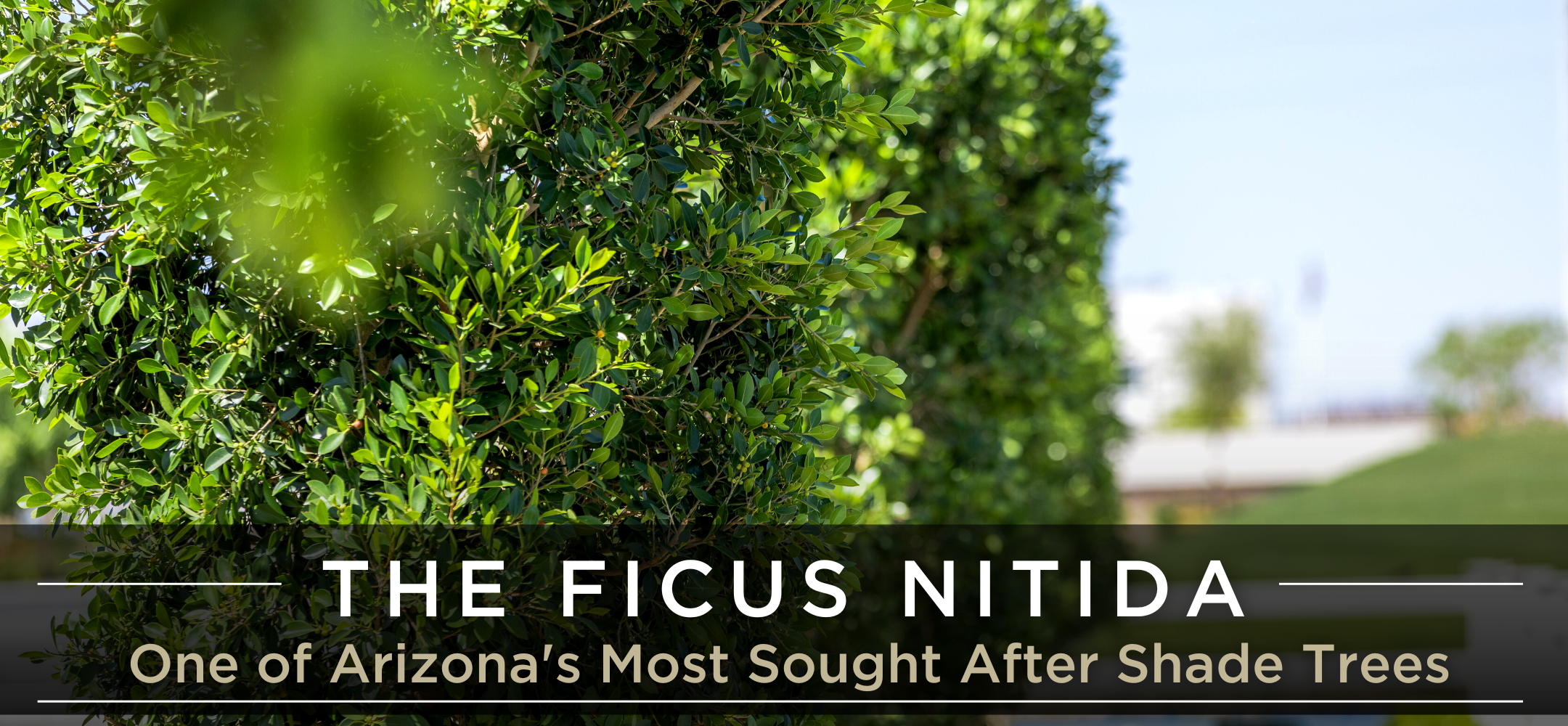 Ficus nitida trees can be seen throughout the Valley providing an abundance of shade. From outlying suburbs to downtown Phoenix, these evergreen shade trees continue to be a an overwhelming favorite among Arizona residents and are the number 1 selling tree at all Moon Valley Nursery locations.
The Ficus nitida, or Indian Laurel, is a beautiful dense shade tree that looks amazing and has many landscape uses. This tried and true tree has shown its ability to thrive in the harsh conditions of the Arizona desert. Ficus trees can handle the most intense summer heat and even flourish in Yuma which is regarded as even hotter than the Phoenix area! Because of its durability, beauty and mass amounts of shade it provides the Ficus nitida has become the top selling tree we grow...and the most asked about.
Ficus nitida trees can be used in many different ways which contributes to its vast popularity. For basic shade, there is no better tree. The dense, thick foliage of the Ficus nitida provides the absolute coolest shade available in our area. Ficus columns, when planted in rows, make great hedges that are commonly used as a privacy screen to block unwanted views, nosy neighbors and even flying objects, like golf balls from your friendly weekend golfer! Ficus nitida trees have foliage that is extremely thick and dense, which also makes them a good buffer to reduce unwanted noises. Multi-trunk Ficus nitida trees provide a wide umbrella of shade and because of their unique trunk variations add an artistic flair to any landscape, not to mention they make a great tree for the kids to climb!
Over the last few decades here in the Valley the Ficus nitida has been the go to choice and continues to be our #1 selling tree at our nurseries. Truckloads of these gorgeous Valley staples are arriving now so get out to your nearest location and grab your Ficus nitida today!