Avoid these common landscaping mistakes
A must read for every homeowner!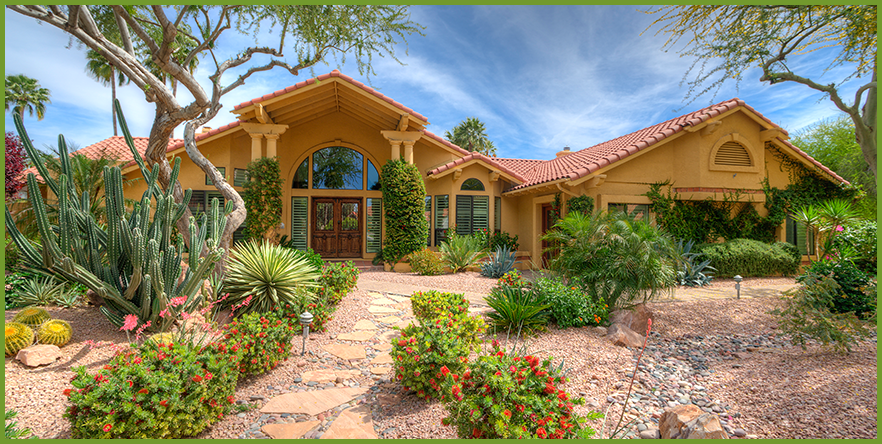 Landscaping a home can be a very nerve-racking time. There is a lot that goes into making sure your investment is done 100% correct or you risk wasting a lot of your hard earned money and time. To make this process a little easier we have laid out the top 3 (there are more but you can contact us here to find out more) landscaping mistakes that nearly every homeowner tries to make or has made.

Where Should I Plant My New Trees?
One thing you will hear nursery pros say all the time is, "The right tree for the right space". But what does this mean? It means that you should always take the space you are planting your new tree into consideration when choosing your new tree. Some trees grow more upright, some grow wider than others, and some grow taller and wider. So what do you do? The best thing you can do is ask a certified nursery professional, like the ones at all Moon Valley Nursery locations. Below are a few recommendations for trees in tight spaces along with trees for larger areas.
Trees for tight spaces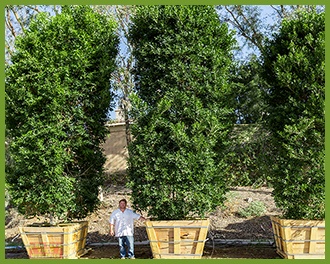 Column Ficus "Hollywood Hedge"
Our Hollywood Style Hedges are narrow upright growers that work very well in tight areas where there is not a lot of room for planting or for allowing a tree to get to wide. These are great for privacy as well as blocking out unwanted noise and providing great cooling shade.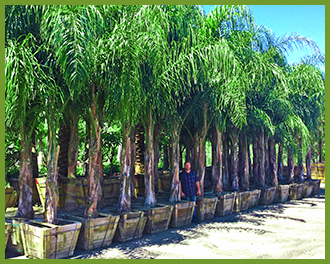 Piru Queen Palm
The Piru Queen Palm is the absolute best variety of Queen Palm available. Thicker trunks, fuller crowns make this Argentinean variety a customer favorite of Moon Valley Nurseries for over 20 years. Plant these in groups to create thick cooling shade, privacy, and to minimalize the planting area.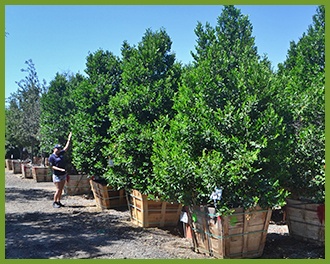 Carolina Cherry
Moon Valley Nurseries grows the compacta variety of the Carolina Cherry, this is the best variety to grow in our Southwest climate. These tight growing column style plants are another favorite for tight areas that will provide privacy, shade as well as a great dark green color.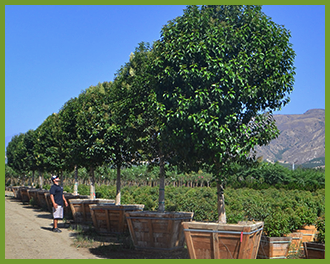 Japanese Privet
The Japanese Privet is a deep green glossy-leaved tree that grows as a hedge or it can be trimmed to grow as a tree. The small root structure makes this ideal for planting in tight spaces, around pools, BBQ area, fire pits, patios, walkways, and more.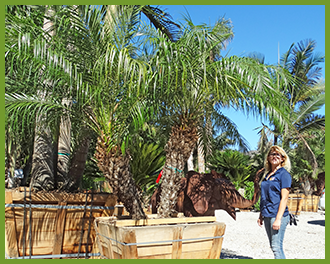 Pygmy Date Palm
These small dwarf variety palms add a splash of tropical flair to any landscape style and are extremely easy to grow and to establish in our climate. The multiple trunks that grow with the pygmy palm make this great for filling tight areas while having a minimal root structure and not being invasive.
Crape Myrtle
A beautiful flowering tree, the Crape Myrtle is available in many different varieties and colors. These small to medium sized trees are summertime bloomers offering an abundance of color throughout the season. These are easy to plant in tight areas due to their small non-invasive root structure.


Trees for larger areas: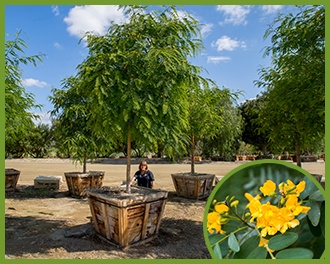 Tipu
If you're looking for a tree that can grow on its own with minimal assistance from you, then the Tipu tree is the one for you. he Tipu tree is one of the most popular trees we offer at Moon Valley Nursery, and it is everywhere in our city. We guarantee you passed one on the way to work today. They are very fast growing trees that have an upright growth pattern creating and providing a large area with shade. These trees are also drought tolerant once established and they can handle even the hottest summer days. It produces a unique show of golden blooms from late spring and into early summer.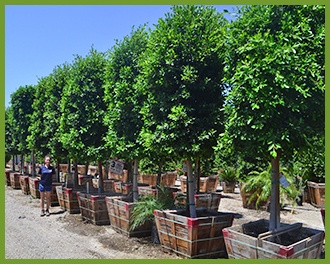 Ficus (Arizona and California only)
These fast-growing evergreen shade trees are the perfect option if you're looking to block out a large from the summer sun. It's foliage dense which allows no sunlight to penetrate through its canopy and as an evergreen it will keep its foliage all year. It can be pruned to any shape and because its canopy is so dense it provides great privacy as well. When properly placed around a home, its canopy can provide enough shade to help cool down the backyard and your home, which can lead to lower utility bills.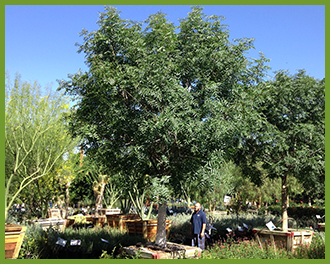 Chinese Pistache
A fast growing tree that provides piercing beauty to any landscape, the Chinese Pistache is known for its bright red and orange leaves in the fall which makes it a reliable favorite for fall color every year. The tree produces a large canopy of shade while displaying showy and attractive dark green leaves during the summer. The Chinese Pistache is drought and cold tolerant and can grow in the full sun. Due to the Chinese Pistache's size, the tree is ideal when planted in an area where shade is needed.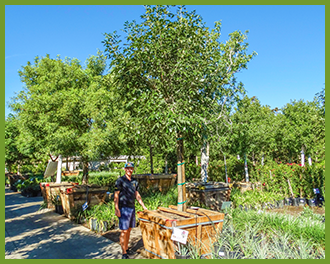 Evergreen Ash
A classic looking "Legacy Type" tree, the Shamel Ash, also known as the 'Evergreen Ash', is a great solution for just about any landscape that needs a large, fast-growing shade tree. Capable of reaching great heights, the classic, larger-leaved, green foliage is attractive and compliments just about any landscape. It creates a massive canopy of shade and is a great climbing tree or even one to hang a swing off of!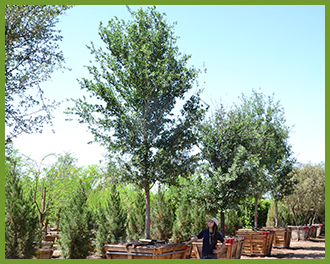 Live Oak
You're probably thinking, 'a Southern tree in our region'? The answer is yes and the Southern Live Oak, Quercus virginiana, looks right at home planted in Southwestern landscapes. It is native to the coastal plains of the southeastern U.S and grows at a moderate rate. It is a large evergreen shade tree noted for its beauty and extreme drought tolerance. In fact, the Southern Live Oak was the lone survivor during the recent great Texas drought! Once established it will require low water, just let nature do the rest. This beauty will thrive in your landscape with full sun and little to no special care required.

Planting too much or most likely too little
Homeowners landscaping a new property don't always understand exactly how many or how few plants they may actually need. If you plant too many plants in an area, you may end up having to spend even more money down the road to have them removed and it can also raise maintenance costs for the property. If you don't plant enough plants then you are going to have to do this all again later and this will increase more time spent plus the plants you wanted may not always be available. This is why before you plant, you should always consult with a Moon Valley Nurseries certified design pro. A good designer will listen to your goals and what you are trying to accomplish thus ensuring that your landscape project is done right the first time.

Buying Trees and Plants from bad sources
The third and probably the most important step that most homeowners make when landscaping a new home is they go to the big box stores or to nonreputable nurseries in their area. Where you buy the material for your landscape is probably just as important as what you put in your landscape. Don't be fooled by cheap prices and inferior products and don't just buy a tree because it's cheap, you get what you pay for.

Moon Valley Nurseries has certified tree professionals at all locations and is the largest box tree grower in America. Our trees are larger and grown only from our premium cuttings to assure that our customers are getting the best product available. Go where the pros go and make sure you speak with someone from Moon Valley Nurseries before you make one of these 3 critical landscape mistakes.