Never too hot to plant moon valley trees
Create a tropical paradise!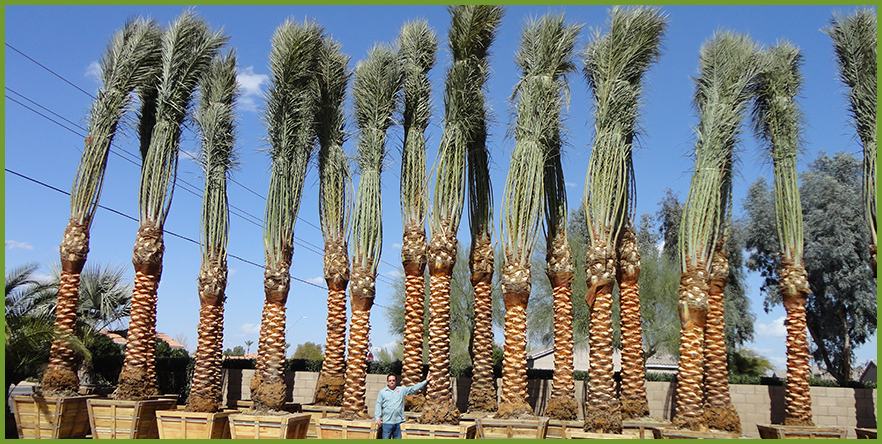 Stuck at home this summer with no vacation plans? Well, why not bring the tropical paradise to your home with palm trees from Moon Valley Nurseries. Our unique and wide selection of palms can turn any pool area into a tropical escape in less than a day. Or have you been dreaming about that resort you want to go back to? We have palms that are also great for a grand entrance.
Now, you're probably thinking that you can't plant in these summer temperatures. That is where you are wrong and that is because Moon Valley Nurseries is the grower of everything we sell. Our palms are grown in our local climate thus allowing them to acclimate. It's never too hot to plant palm trees from Moon Valley Nurseries and below are the top five to plant this summer.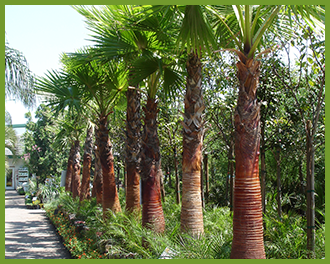 Mexican Fan Palm
A classic resort style palm tree, the Mexican Fan Palm features a single trunk and is desired for its ease of growth. It can handle cold weather and thrives in the sun. The Mexican Fan Palm looks great when planted in clusters and its trunk can be skinned for a unique "cigar cut" effect that lends itself to a more formal appearance.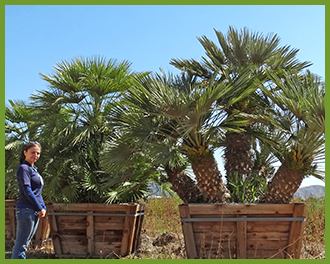 Mediterranean Fan Palm
Compact size and ability to thrive in the hot summer months and ability to survive the cool winters have made the Mediterranean Fan Palm a popular choice for tropical landscapes. Commonly used as a stand-alone focal point around pools, the Mediterranean Fan Palm sprouts multiple trunks and is slow growing. They require minimal pruning and can be drought tolerant. As a bonus, they look great in containers.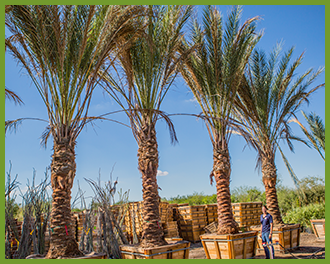 Date Palm
The ultimate palm for your pool, the Date Palm is usually found at most resorts and shopping centers. Around pools, the Date Palm provides excellent shade due to its wide fronds and it has practically no litter. The Date Palm looks great when planted in clusters of 3 to 5 palms and is hardy to cold, heat and drought tolerant.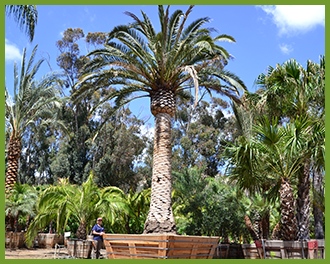 Canary Island Date Palm
Named for its resemblance to a pineapple when the palm is younger, the Pineapple Palm produces wide fronds and requires space when planted around a pool. It grows slowly, eventually forming a wide trunk and its fronds begin to rise from the ground, creating a classic palm tree shape. The Pineapple Palm can handle the cold and loves the sun. It's a popular choice for tropical landscape and is commonly seen around resorts.
Piru Queen Palm
Specially grown at Moon Valley Nursery farms, the Piru Queen Palm is unlike other Queen Palms. Our Piru Queen Palms feature thicker and harder trunks, denser and greener fronds, and produce fuller crowns than other Queen Palms. Moon Valley Nurseries Piru Queen Palms can handle hot summers, cold winters, and windy days. The Piru Queen Palm is supported by a narrow trunk which makes it ideal for tight spaces around your pool, but it does require overhead space as the palm grows to statuesque heights.
Whether you need one palm, two, or even a handful our nursery professionals have the solutions and the answers to help turn that landscape dream into a reality. We'd love to see you at our nursery this weekend. Map us here.