It's never too hot to plant Moon valley palms
Top palms to plant in this summer heat!
With temperatures approaching near triple digits this weekend in some areas our region, common thought is that the planting season is officially over and this couldn't be more far from the truth. Fortunately for us, palm trees just absolutely love being planted in the warm weather. As the grower of all the trees we sell, our palms have been acclimated to our climate from the day they were planted.
Below are are top five palms to plant this summer!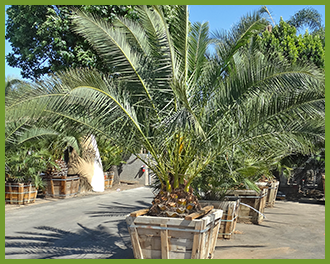 Canary Island Date Palm
The Canary Island Date Palm, also known as the Pineapple Palm, is another extremely cold and heat hardy palm that offers a very unique and elegant look from young palm to mature specimen. They are named after the Pineapple because as they grow and are trimmed they develop a pineapple looking top. These are slower growing drought tolerant palms that have wide arching fronds and not only make a great focal point but can also be used for shade. Plant this where you will have plenty of room to let it grow as they can get wide.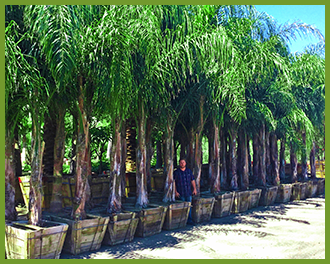 Piru Queen Palm
This is an exclusive cultivar of queen palm grown only by Moon Valley Nursery. They are noticeably different from other species of Queen Palm as they have thicker crowns, fuller heads, and a wider, hardier trunk. These palms where grown with our climate in mind and they grown right here at all of our nurseries. The Piru Queen Palm withstands high, hot winds and also withstands the cold much better. These can be planted in clusters in very tight spaces to provide a lush tropical feel, add privacy to your yard, and to also shade your landscape paradise.
Pygmy Date Palm
This statuesque palm features many trunks of varying height or it can be grown with just a single trunk. Great for small spaces and accent locations near your pool, the Pygmy Date Palm is a slow grower and adapts well to sun and shade. Moon Valley Nurseries Pygmy Date Palms have been custom grown at our farms to ensure that the palm generates thicker trunks, fuller crowns, and more robust roots.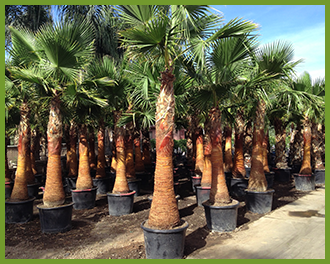 Mexican Fan Palm
Extremely cold hardy palm that thrives in nearly any condition. This drought tolerant palm handles extreme heat as well and can be planted in nearly any location. They work great planted in odd number groups with alternating heights to add curb appeal and also to add shade and privacy. These palms present a classic desert look while adding a tropical appeal at the same time.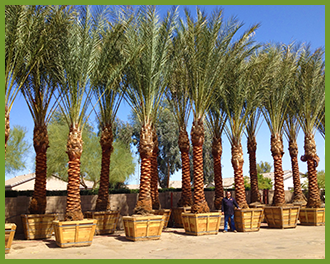 Date Palm
The ultimate palm for your pool, the Date Palms are usually found at most resorts and shopping centers. Around pools the Date Palm provides excellent shade due to its wide fronds and it has practically no litter. The Date Palm looks great when planted in clusters of 3 to 5 palms and is hardy to cold, heat and drought tolerant.