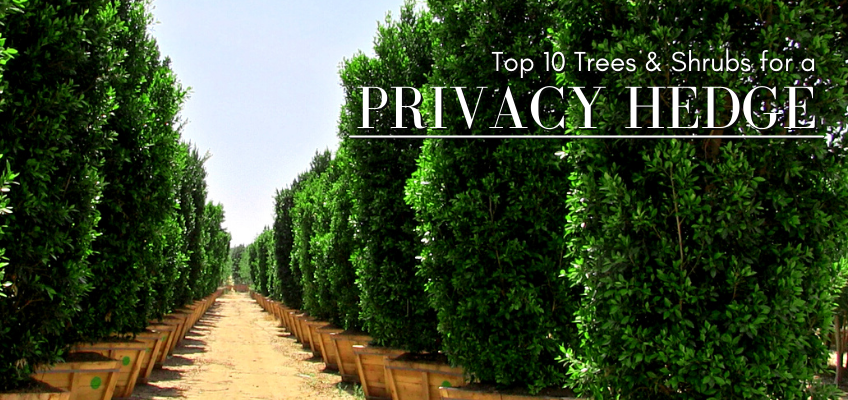 A common question at our nurseries is homeowners seeking privacy, and with so many tree and shrub vanities to choose from it may seem like a daunting task to pick out the ideal hedge material for your yard. At Moon Valley Nurseries, we simplified the process by offering Hollywood Style Hedges, which are the thickest and biggest hedges in our area. You can also check out our Ultimate Guide to Privacy Hedges to the what hedge material fits into your landscape style!
These Hollywood Style Hedges are not just great at creating privacy, but they can block unwanted views, act as a natural sound barrier, or even a border. Plus, we have hedge varieties that bloom big beautiful flowers in many colors. Below is our fantastic selection of Hollywood Style Hedges.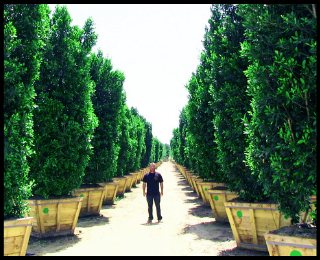 Ficus Nitida
Ficus are our #1 selling tree and a favorite to use as a formal landscape hedge. Many of our customers plant these along property lines as barriers for blocking sun, noise, wind, and views; as well as letting the exceptional beauty stand out on any property. The foliage of the Ficus are very hardy and can be trimmed into topiary like shapes while handling the summer heat. The foliage is thick and it can provide some excellent privacy. *not available in Las Vegas.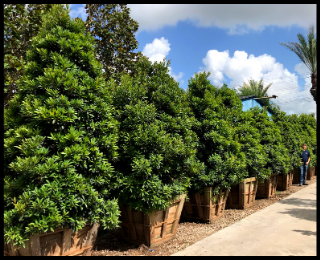 Japanese Blueberry
The Japanese Blueberry is a visually appealing evergreen due to its dense, lush foliage and striking leaf color throughout the year which provides a fantastic backdrop for contrasting flowers and shrubs. It thrives in full sun and handle the cold extremely well. It has become one of Houston's most planted hedge variety and is an excellent choice for just about any landscape.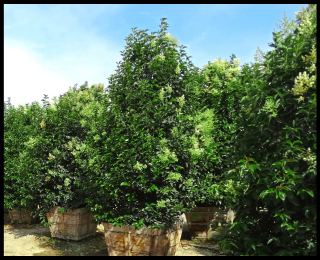 Japanese Privet
The Japanese Privet is an ideal solution for those who want an evergreen, low-maintenance tree for a small to medium sized area. The Japanese Privet, while commonly seen in large shrub or hedge applications, can also be grown easily as a small to medium tree as shown. Ideal for courtyards in smaller patio homes, Privet trees are even clean enough to plant near pools. Plant these Privet barriers in rows or groups for privacy at the canopy level of the tree with shade below.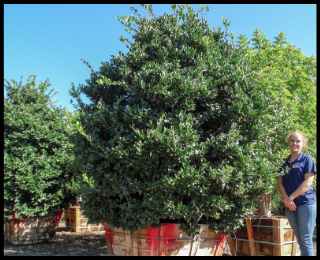 Wax Leaf Privet
This dense and rounded evergreen is named after its thick and waxy leaves that are smooth to the touch. The Wax Leaf Privet has many landscape applications; it can be used as a hedge, in tall screen plantings, grouped with underplantings, trimmed as topiaries, and planted inside containers. It blooms long panicles of strongly scented and beautifully fragrant white flowers throughout the spring.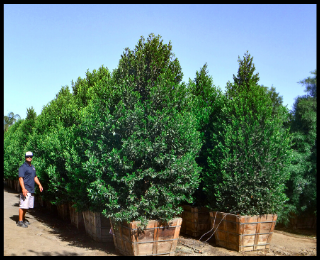 Carolina Cherry
Native to the Southeastern United States, the Carolina Cherry has become a popular choice for its minimal maintenance, natural upright conical shape, and ability to tolerate heat, drought, and wind. The Carolina Cherry is a small to medium-sized evergreen with dark green, lustrous wavy-edged foliage on brown thornless stems. They can be easily sheared into a tall screen or sound barrier which make them a near-perfect option for many homes.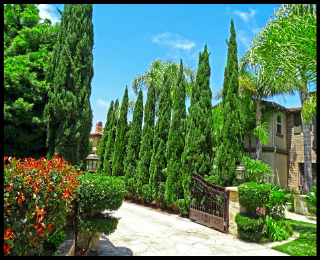 Italian Cypress
Used for formal entrances, borders, and backdrops, the Italian Cypress is unmistakable with its lush green foliage and tall narrow, upright form. They are one of the best trees for a narrow privacy hedge. Italian Cypress thrive in sunny climates and with minimal water making them a popular choice for slim privacy hedges and regal rows in just about any landscape.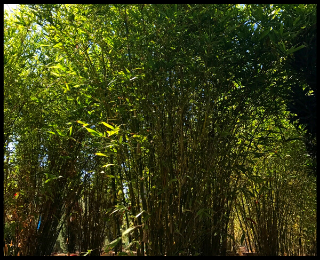 Timber Bamboo
Timber Bamboo can adapt to almost all types of environments, they grow outdoors, indoors, and can even grow potted. The Timber Bamboo grows dense, very fast and does an outstanding job working as a privacy hedge. This plant also generates a lot of shade and helps relieve high sun exposed areas making it perfect to plant around in an outside terrace or courtyard.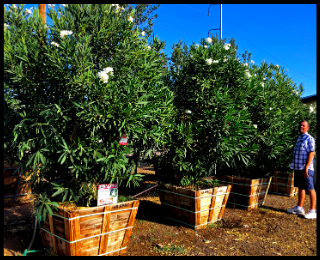 Oleander
These trees just love the hot summer months, which makes them an ideal flowering tree for your landscape. The Oleander tree displays a long lasting bloom that comes in clumps of red, white, and pink. The blooms are vibrant may extend into the wilder winter months. Ideally planted in groups or rows, the Oleander is a great tree for our customers who are seeking privacy hedges, area screens, and property border because of the trees ability to keep a thick coat of dark green leaves throughout the year.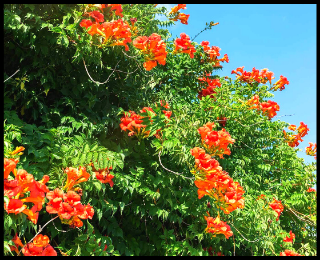 Cape Honeysuckle
One of the most versatile plants for any landscape, the Orange Cape Honeysuckle has bursts of bright orange, trumpet-shaped blooms. This shrub trims into a medium to large bush or hedge and is frequently used as a vine to cover posts or fences.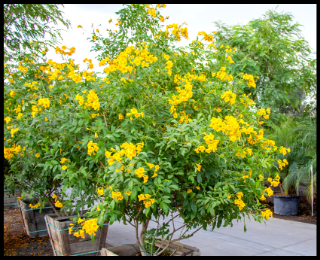 Arizona Yellow Bells
Commonly called Yellow Bells, this shrub can grow 8 feet tall and wide. Yellow Bells display many yellow, trumpet-shaped flower clusters starting mid-spring all the way to winter. This shrub is drought-tolerant and is very fast growing. Yellow Bells are great for focal points, fence or borderlines, and color accents in desert and tropical landscapes. To maximize blooming cycles, be sure to prune off dead blooms occasionally.
More Articles for Expert Tips & Advice
We've learned a thing or two over the many decades of growing and planting the best trees in America and designing countless jaw-dropping landscapes. We've compiled all of our best tips and advice into many informative articles to answer any questions you may have about your landscape.
When is the best time to plant trees? How often should I water? How to design a beautiful landscape for incredible curb appeal? What are the best palm trees to plant around pools? Which hedges are best to plant for instant privacy? All these and more are answered by our huge collection of articles written by our nursery pros.
Note: This article was updated January 10th, 2022 by Luke Kalawsky