Creating outdoor privacy, we all want it for our home and families and as great as backyard fences can be, choosing something natural can be much more beautiful. No doubt about it, one of the most popular requests at any nursery is the "perfect privacy hedge." Makes sense because for many homeowners, more often than not, adjacent fence lines can be a little too close for comfort. Living walls, we all want it for our families, after all, do we want that nosy neighbor peeking over the fence, asking what's for dinner? Of course, hedges are ideal living walls and can run the gamut from shrubs to trees and palms, and here in our area, it makes sense to choose low water use, low maintenance plants that can do the job without using too much water and do not take too much effort to look good. Hedges are a sure-fire way to delineate your property line naturally and can increase property value too. When it comes to privacy fences, there are lots of great living walls available for any yard.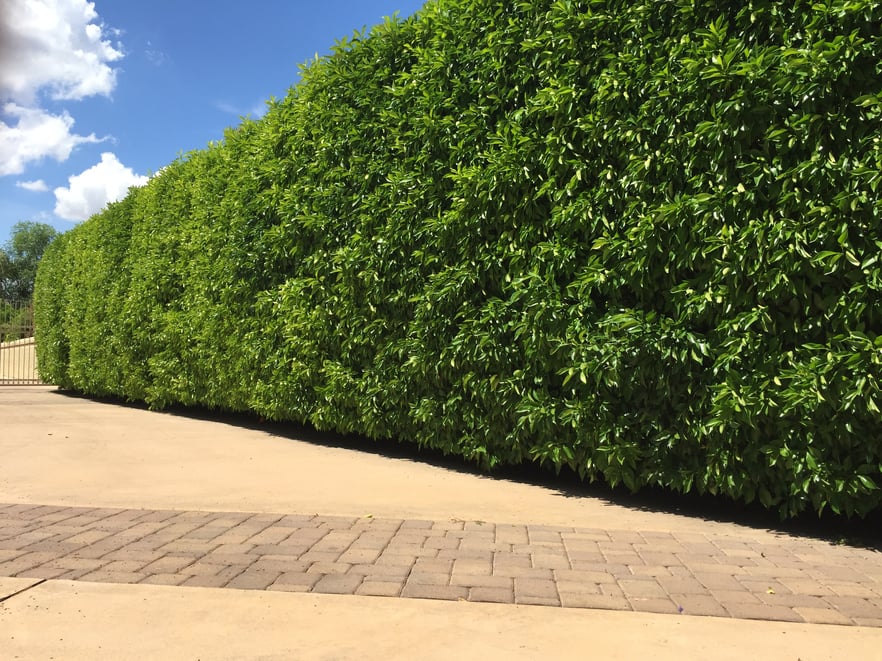 Benefits of a Hedge:
Can have backyard privacy without a fence!
Performs as a living wall – keeps home private from neighbors and street traffic
Act as property line markers
Can be used as a sound barrier to reduce noise pollution – ideal for properties next to busy streets
Can work as a windbreak where they can protect against harsh winds
An attractive way to block unwanted views
Can increase security around your property
Can add value to a broad range of properties
Hedges are some of the hardest working elements in any landscape and an awesome way to add backyard privacy without a fence – perfect for the front yard too! You will often see them growing naturally or sheared for a formal look. Of course, if it is private yard you are after, you will want to choose an evergreen tree, shrub or another plant because they keep their dense foliage all year long, which means you get that year-round screen you want. Evergreens with densely packed foliage from top to bottom are going to work the best for a living fence. You will also want to consider that shrubs and trees grow to different heights, so it is important to find the right tree or shrub that meets your needs. For instance, you can use a low hedge as an excellent choice to frame a patio or a garden bench, edge walks or pathways. However, a low one is not going to offer very much privacy. A tall hedge is perfect if you want to create a privacy screen or to form a green wall to divide your garden into separate rooms. Of course, the best way to add instant privacy is to buy specimen trees. Specimen trees are big and have the dense foliage and attractive greenery that can block views in style, and since they are already fully grown, you will not have to wait to enjoy the beautiful features. These trees are our top picks and some of the best hedges you can find for yard privacy ideas.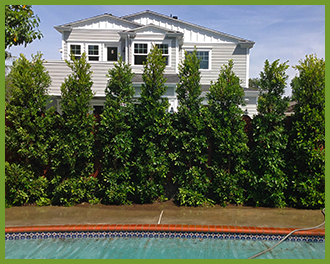 Indian Laurel Column (Ficus nitida)
: buy specimens and plant these trees close together to create an instant privacy screen. You can see these easy-to-grow trees lined up in yards throughout the Southwest, from California to Arizona, Nevada and beyond, where they not only act as a living privacy fence, they also create vast amounts of shade and can work as a windbreak to protect from those high blowing winds. These are the number one hedge style trees for any homeowner that wants privacy, and once you see them, it is easy to see why. These Ficus nitida columns are the perfect size for any landscape.
Podocarpus (Podocarpus gracilior): shade, privacy, windbreak - these evergreen trees offer all that with the bonus of being very clean and requiring little maintenance. Their lush foliage has a fern-like look, which is why they are also known as the Fern Pine. Their roots rarely lift or crack sidewalks so that they are ideal for planting near the street where they can create a beautiful privacy screen for the front yard or backyard. They can tolerate a wide array of growing conditions so that they are suitable for growing throughout our area. Holds up great against windy, salty, coastal conditions so that they are ideal for a broad range of communities throughout our area.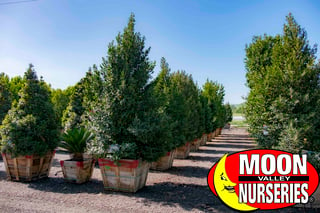 Carolina Cherry (Prunus caroliniana 'Compacta'): can be used as a tree or shrub and this densely branched beauty with dark green foliage has an almost perfect shape that makes it ideal as a privacy hedge. Creamy white fragrant flowers arrive in the spring, for an attractive hedge that you have to see to believe. Loves the heat and thrives in full sun. You can always shear it into conical shapes, columnar shapes or standard rectangular forms for a formal look.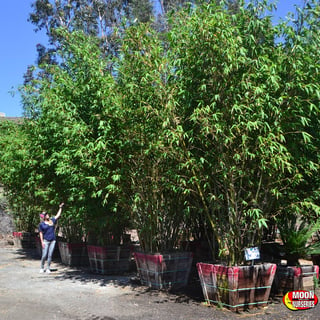 Golden Bamboo (Phyllostachys aurea): this bamboo completes any Asian-inspired garden and grows fast so that they are ideal for privacy screens. When the wind blows, the canes sway beautifully in the wind, creating a unique song all their own. Use them to create a tropical backyard retreat or as a fast-growing barrier between properties. We like to use them in a broad range of landscape styles where they can create a natural-looking backdrop.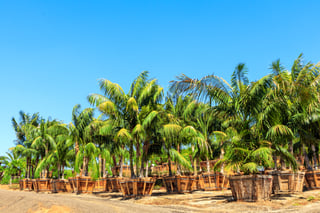 Kentia Palm (Howea forsterniana): palm trees can also be used as the most tropical hedge you can find. We like to plant the beautiful Kentia Palms in any landscape and use them in staggered heights, for a look that is lush and can help create a private backyard tropical retreat. These small to medium sized palms are ideally sized for smaller yards and are prized for their dark green, arching fronds that create a tropical canopy wherever they are planted.
Moon Valley Nurseries has an in-house team of landscape design professionals and landscapers that are experts in selecting the right trees and shrubs for the perfect spot in your landscape! And with #freeplanting, it cannot get any easier to create a private yard! We bring the trees to your house and plant them for you!