There is no doubt about it, right now is an excellent time to plant a variety of trees and shrubs! That's right, many trees and shrubs thrive during this time of the year and at Moon Valley Nurseries, we have got you covered with what you need to have a beautiful landscape – no matter what the season may be!
Fall colors are in fashion this time of the year, producing the colors that trigger good memories and adding the curb appeal that gets your yard noticed for all the right reasons! And as we get closer to December, there are also trees and shrubs that add wonderful festive colors that perfectly complement the Holiday season!
3 Trees to Plant Right Now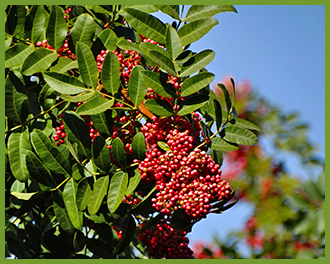 Brazilian Pepper (Schinus terebinthefolius):These medium to large shade trees are winter bloomers and are sure to bring out the festive mood in any landscape! During winter, showy bright red berries appear, creating a picturesque scene as the ornamental berries contrast perfectly with the dark glossy green leaves that this evergreen tree is prized for! And for those crafty types – you can cut the branches and use them in holiday-themed flower arrangements. These cold hardy trees are excellent for adding year-round privacy and provide a beautiful shady spot to rest under when the sun turns up the heat.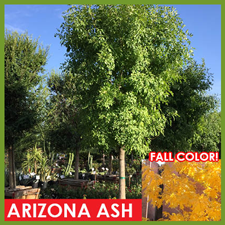 Arizona Ash (Fraxinus velutina): These fast-growing trees put on a show in the fall when the velvety gray-green leaves turn to bright yellow in the fall! This deciduous tree lets the warmth of the sun in during the winter and creates an abundance of shade in the summer! They are a seedless variety, so they only require clean up after dropping their leaves in the fall. Attractive at any stage in life – pyramidal form when young and spreading nice and wide when mature. Homeowners and commercial property owners rave how these trees boast a beautiful and lush look even in adverse conditions!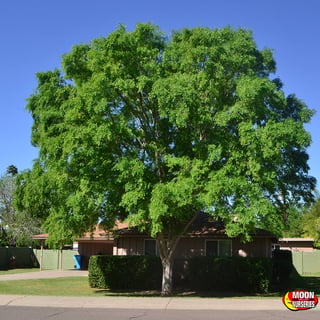 Chinese Elm (Ulmus parvifolia): We grow the 'True Green' strain, a non-weeping large semi-evergreen with very dark green foliage and a wide, umbrella-shaped canopy that can bring a massive amount of shade to any sun-drenched yard. Families love mature-sized trees because they are good for climbing and exploring or attaching a tire swing. We also love the mottled-bark, which resembles camouflage-like patterns giving this tree its uniquely attractive appearance. These fast-growing trees love to grow in a location with full sun exposure and are attractive young and mature!
3 Shrubs to Plant Right Now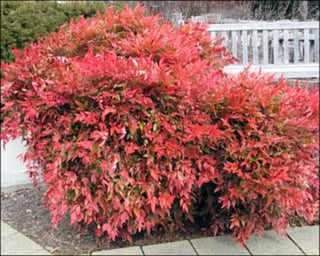 Bamboo 'Gulf Stream Heavenly' (Nandina domestica 'Gulf Stream'):These are one of the best compact shrubs you can find, and they can put on a show all year long! Their ever-changing foliage goes from scarlet-red in spring to blue-green in the summer. These are cold hardy shrubs, and they make a colorful addition to any landscape. The 'Gulf Stream' variety has improved foliage color in the fall with purple and bronze tinted foliage turning to a fiery crimson red in winter, just in time for the holiday season! We like to use them as an informal hedge or as a foundation planting.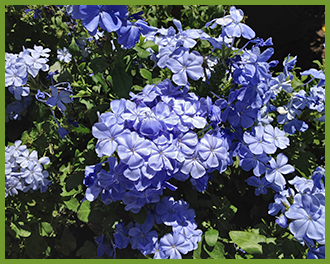 Plumbago (Plumbago capensis): These evergreen shrubs can create a visual explosion of sky blue flower clusters in the spring and fall, adding plenty of color to any landscape! They have a tropical look and can add a nice touch of beauty around patios and decks. We like to use them as an excellent background, or transition plant and their easy-care and low-maintenance makes them a favorite for both homeowners and landscapers alike! Plant them along fences and enjoy the view!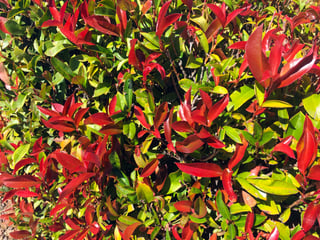 Red-Tip Photinia (Photinia x fraseri):These medium-sized evergreen shrubs are densely foliaged with dark green leaves that burst with bright burgundy colors in early spring, creating a show that adds plenty of curb appeal! Their dramatic foliage colors are just one reason why we love them so much. We like to plant them down property lines and in side-yards because their dense growth habit makes them ideally suited for use as a colorful privacy hedge or screen! This very showy shrub is cold hardy so that it can survive when the cooler temperatures arrive.
Are you ready for a beautiful new yard so that you can amaze your holiday guests, but you don't know where to start? Visit any of our Moon Valley Nurseries and take advantage of our free landscape design consultations or for a small fee we will be glad to come to your location. With Moon Valley Nurseries, it cannot get any easier to create a new look for your yard, one that dazzles and can help increase property value! We have the best selection of premium-quality, custom-grown trees, and shrubs, all value engineered so that you can get the bigger trees at the lowest price – guaranteed! And with #freeplanting, there is no reason to wait!