Back to main Blog
Luke Kalawsky
Luke Kalawsky has a passion for all things trees, plants, and landscape design. He has designed numerous landscapes as the head designer in the Surprise, Arizona region until he became a manager of our Central Phoenix Nursery. He now dedicates his knowledge, expertise, and creative capabilities to help the masses discover how to design, plant, and maintain their landscapes with his writings.

The New Year is Upon Us
It's the time of year we sit down to make resolutions and plan out the projects for the rest of the year. With the trend of working from home here to stay, you may be looking out your workspace window wishing for a more inspiring landscape, or you may be wanting your office space to be outdoors and need a green, lush environment for your backyard workstation.
Maybe it's time your plans for the new year include refreshing some of the preexisting landscape or manicuring a beautiful garden. For any goals you may have for your yard, the nursery pros at Moon Valley Nurseries have got you covered. We love hearing about new projects, seeing finished yard installations, and helping create designs for our clients that last a lifetime.
Prepare for Spring Now
The spring planting season is right around the corner. Right now is the time to prepare for it and get on our planting schedule. Spring is a wonderful time to get your landscape design planted. This gives it time to establish and develop healthy root structures so your yard can take advantage of the summer growing stage. If you have a project in mind, stop by one of our nurseries to have our nursery pros and expert landscape designers create the perfect design according to your style. We'll help you pick your specific trees and plants from our thousands of options and select a planting date to ensure you have your dream yard done right.
Keep Watering Your Yard
With the irregular temperatures we've had this winter, it is important for you to be knowledgeable about how often and how much to water your plants. During the colder months, it's best to water in the late morning. A late morning watering schedule will give your landscape time to absorb all the water throughout the day.
When you purchase from Moon Valley Nurseries, our nursery pros will provide you with a watering guide specific to your trees and plants. If you are not sure how to properly water for your existing landscape, feel free to call your local Moon Valley Nursery, and our expert team will give you detailed instructions based on the trees and plants in your yard, or check out our watering guide for existing plants!
Fertilizer to Stimulate Root Growth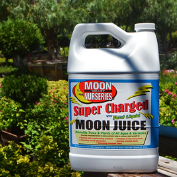 During the winter months, many plants go into a dormancy period to focus on root development and strength. This allows them to be prepared for warmer months when they can push new leaves and concentrate on upward growth. It is key during these winter months to help your trees and plants by stimulating root growth. Our nursery experts recommend using Super Charged Moon Juice during the cold weather. Moon Juice has been expertly developed for plants growing in our soil and climate. This proprietary blend accelerates moisture intake and provides vital nutrients that develop robust root systems and helps plants recover from seasonal stress.
For more information on our Super Charged Moon Juice and other fertilizer products, click here.
Get Inspired with our Winter to Spring Refresh Collection

If you need some insight on which trees and plants to add to your yard this season, our Winter to Spring Refresh Collection includes the top-performing trees and plants for our area. We have carefully created this list of excellent choices for your yard due to their hardy nature, ability to fit into almost any landscape style, capacity to create instant curb appeal, and they look fantastic year-round. It's no wonder the Winter to Spring Refresh Collection contains some of our best-selling trees and plants.
Check out the Winter to Spring Refresh Collection here!
Need even more inspiration? Check out our Style Guides to find the landscape design style that is right for you!