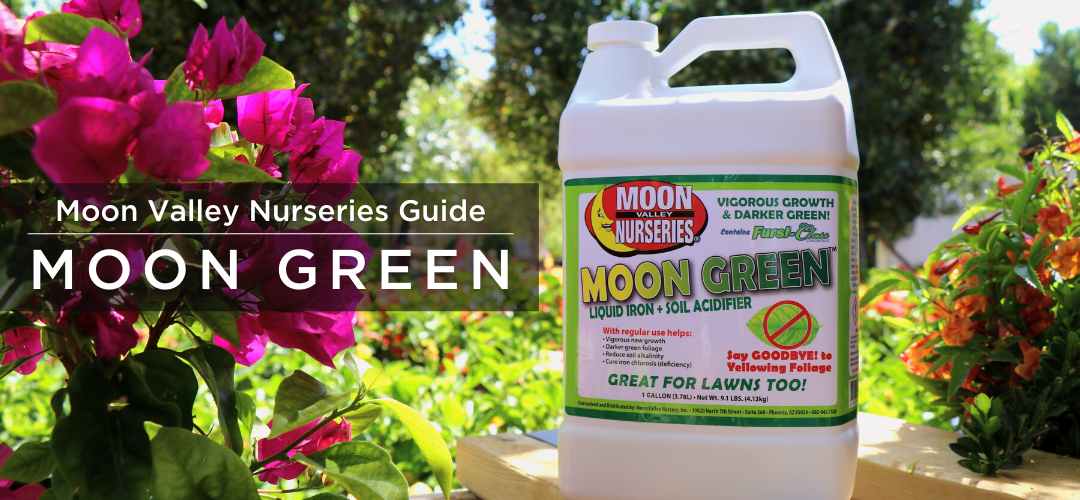 Moon Green™ is a custom-made nutrient supplement specially made for landscapes in our region and is the perfect solution to bring your landscape back to life. You can use Moon Green on all trees, palms, citrus and fruit, shrubs, grass, and more!
Moon Green is perfect for plants suffering from iron chlorosis, a common cause of yellowing leaves. It also is perfect for treating high soil alkalinity, which leads to anemic foliage, low fertilizer functionality, and weak growth.
This nutrient supplement is designed to gradually bring alkaline soils to a more optimal, slightly acidic PH. The acidification also loosens clay-type soils and improves drainage. Moreover, acidification helps your plant utilize existing soil nutrients more efficiently.
Benefits of Moon Green
Acidifies soil, reducing the alkalinity

Helps all nutrients become more readily available

Aids in the break-up and loosening of clay soils, which improves drainage

Provides instant Iron and Zinc for rapid greening

Initiates reversal of Iron Chlorosis (yellowing foliage)
How Moon Green Works
Moon Green benefits all trees and plants on many levels. It provides acidification, which, once your soil reaches an ideal, slightly acidic PH, allows nearly all macro and micro nutrients to be released and available for uptake into the tree or plant.
Next, the included Iron (Fe) and Zinc (Zn) take effect rapidly. Iron provides greening power, and Zinc is critical for producing enzymes essential for photosynthesis.  Zinc is vital for fruit and nut trees as it triggers flower production, which means a higher fruit yield!
Finally, we've included patented Furst®-Class Concentrate which contains vegetable proteins and amino acids. This blend initiates a burst of growth, allowing the plant to take full advantage of the benefits Moon Green provides.
How to Use Moon Green
Moon Green is easy to incorporate into your gardening and landscape care routine and should be used monthly for best results. Shake the jug well before mixing it with water. Mix Moon Green with water at a rate of four ounces per one gallon of water. We recommend mixing in a large bucket or watering container to reduce spills and waste. Water thoroughly after applying the mixture.
Moon Green Instructions for Use:
For shrubs, apply 1 to 2 gallons of the Moon Green and water mixture to the root area.
For lawn/garden areas, use a sprayer and apply the mixture evenly at a rate of one 1 gallon per 500 square feet.
For trees and palms, apply 3 to 6 gallons of the mixture to the root area.
Where Can I Get Moon Green?
Moon Green is available at any of our Moon Valley Nurseries locations and online! Our nursery pros are happy to help you develop a care plan for your landscape and are always available to answer any questions!
Anyone can take advantage of this fantastic blend to help their trees, plants, and lawn thrive! Click here to find your nearest Moon Valley Nurseries location and check out our complete line of fertilizers and other nutrient products specifically for your region.
To learn more incredible yard care advice, design tips, and tree knowledge, check out our library of articles! We have a massive catalog of entertaining and informative articles written by our experienced nursery professionals to help you succeed with all of your landscaping goals.  
Updated by Luke Kalawsky on April 7th, 2022