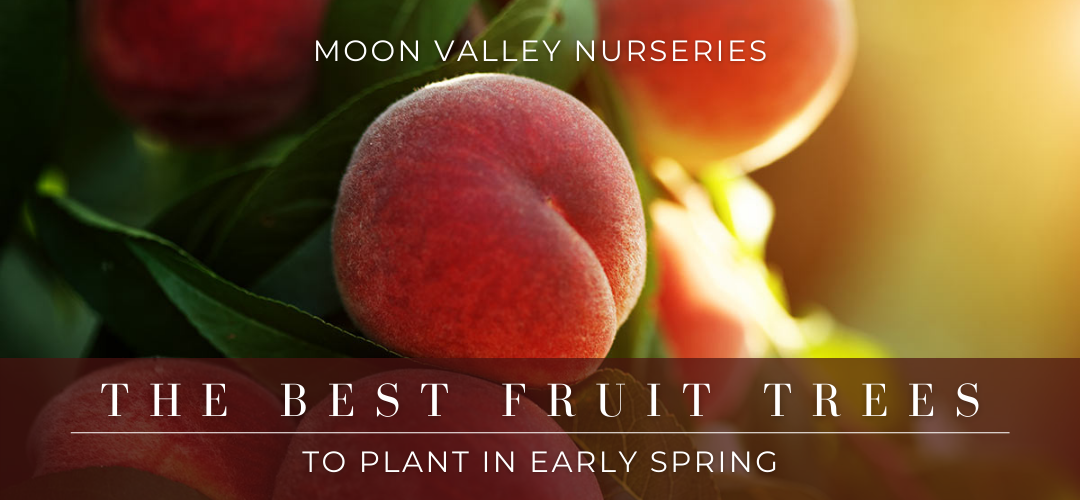 Having a yard filled with different fruit trees is a rewarding experience for homeowners. Many of our stone fruit varieties grow at a moderate-to-fast pace, so you could be harvesting your own food in no time.
Not only are there amazing benefits to growing your own food, but our varieties also look great in any landscape style. Most varieties produce small, fragrant flowers for short periods throughout the year and add more shade to your yard!
Plant Now for Homegrown Fruit this Year
Early spring is the perfect time to plant Moon Valley Nurseries stone fruit trees in Texas. Because of our custom-growing process, you can plant Moon Valley Stone Fruit trees now and enjoy the tastiest fruit by the next growing season. Keep reading to see what you should start growing next!
Best Stone Fruit Trees to Plant in Spring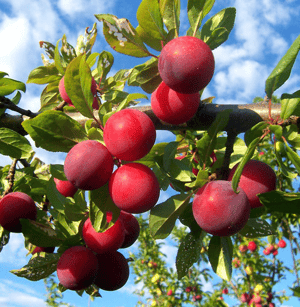 Plums are delicious and nutritious fruits to add to your yard and can be eaten fresh from the branch. The types we carry at Moon Valley Nurseries thrive in our region and soils such as the Santa Rosa and the Mexican varieties.
The Santa Rosa Plum is the best, easiest to grow, and most reliable producer. It can be grown in both warm and hot regions of the U.S, which makes it right at home in our area.
The Mexican Plum variety grows to be a small-to-medium tree that fits perfectly in any size yard. With White flowers blooming in late spring, this Texas native is great to use as an ornamental tree.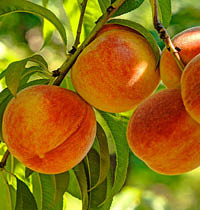 Peach trees grow great in our region and produce delicious fruit every year. As a bonus, these are small trees that are perfect for any size landscape. Since they have a low-branching habit, we like to use them as privacy screens, where they can block any unwanted views in style.
The Gold Peach variety is probably one of the most popular types of peaches in the world. This tree looks good in any landscape with its attractive green foliage that adds a nice splash of color and contrasts beautifully with the golden fruit.
The Florida Prince Peach is also a popular variety in Texas. This variety grows smaller than other peach trees but can produce larger fruit than the Gold variety. Plant your peach tree today and enjoy the pink and lavender flowers that will be blooming soon!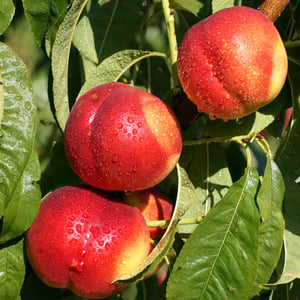 Nectarine varieties are smaller trees that can produce beautiful pinkish flowers in the spring. After the flowers bloom, we can enjoy the juicy and delicious nectarine fruits! Add these attractive landscape trees to your fruit garden today.
Desert Delight nectarines are easy to establish in our soil and easy to grow! They are self-fruitful, so they can be planted alone in the landscape. Best of all, these are proven heavy producers, so you'll have plenty of these rich flavored fruits just in time for summer!
The Desert Dawn variety is just as easy to grow in Texas as the Desert Delight. It is even considered one of the most adaptable fruit trees for our area. This tree produces a juicy nectarine with solid red skin. Desert Dawns are also self-fruitful and grow large amounts of fruit regularly.
Benefits of Planting Your Fruit Orchard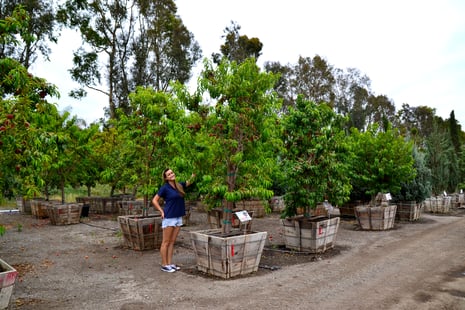 1. Pesticide-free & Organic
Store-bought fruit is treated with multiple pesticides and chemicals. Unless you do your research, you have no idea what they are spraying on the fruit sold in our grocery stores.
Planting fruit trees give you control over how you grow your trees and what chemicals you do and do NOT use on them. There are many pesticide-free options, so be sure to ask our nursery pro for their recommendations!
2. A Garden of Fragrance & Flowers
Scented blossoms in the spring are an intoxicating smell that can start taking over your yard by late winter, depending on the weather. The beauty of the flowers is also a great bonus for the landscape and overall curb appeal.
3. You Don't Have to Leave the House
Once you plant a few different fruit trees around your landscape, you can cut down on your grocery shopping. All you have to do is walk out and grab what you need from your own trees!
4. The Fruit Simply Tastes Better
Homegrown fruit will be sweeter, juicier, and more flavorful than store-bought, which are picked before they're ripe. Because they are picked too early, they can't develop the complex flavors and sweet taste we all love. Growing your own food allows the fruit to ripen on the tree for the ultimate taste.
Moon Valley Nurseries Custom Stone Fruit Varieties
Moon Valley Nurseries owner, Les Blake, has a long history with stone fruit trees. His grandfather began growing stone fruit trees more than 50 years ago. Over these years, Les and his grandfather developed custom rootstock that is guaranteed to produce excellent tasting fruit and a plentiful harvest. We still use this custom rootstock at our farms to this day!
Come visit one of our many nurseries and see how decades of love and attention has led Moon Valley Nurseries to have the perfect fruit trees for our customers!
More Articles for Expert Tips & Advice
We've learned a thing or two over the many decades of growing and planting the best trees in America and designing countless jaw-dropping landscapes. We've compiled all of our best tips and advice into many informative articles to answer any questions you may have about your landscape.
When is the best time to plant trees? How often should I water? How to design a beautiful landscape for incredible curb appeal? What are the best palm trees to plant around pools? Which hedges are best to plant for instant privacy? All these and more are answered by our huge collection of articles written by our nursery pros.