Back to main Blog
Luke Kalawsky
Luke Kalawsky has a passion for all things trees, plants, and landscape design. He has designed numerous landscapes as the head designer in the Surprise, Arizona region until he became a manager of our Central Phoenix Nursery. He now dedicates his knowledge, expertise, and creative capabilities to help the masses discover how to design, plant, and maintain their landscapes with his writings.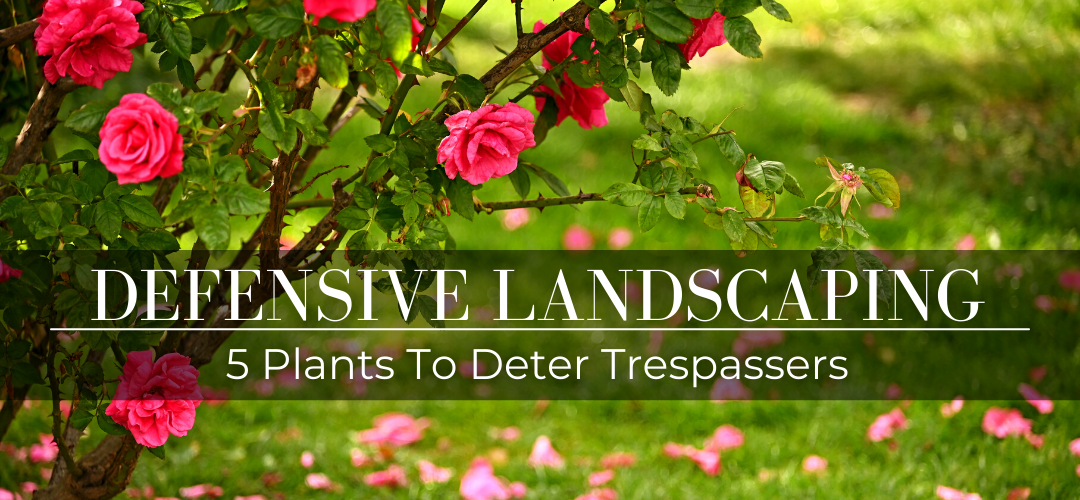 Before the dawn of electronic home security systems and automated security cameras, homeowners would rely on strategically positioned trees and plants to keep away intruders. While hedges are an excellent way to provide your property with privacy, there are other types of hedges that can ensure any nefarious people are kept at bay by spikey security.
We'll look at the best plants for security and creating defensive landscaping. Many of these plants, while thorny, are actually very beautiful to look at as well. You can have effective security hedges while enjoying the look and style of your yard at the same time!
These vibrant vine-like plants can be grown on a trellis, as stand-alone bushes, Bougainvillea trees, hedge material, and even in pots. They come in a variety of colors such as brilliant reddish-pink, orange, light pink, white, or peach. The colored petals grow along the stalks of the plant throughout the year and conceal the thorns of this picture-perfect protector.
See the many Bougainvillea varieties here!
For a tropical or Tuscan-flavored security hedge, you can't beat Mediterranean fan palms! These easy to care for palms feature a multi-trunk branching structure and plenty of fan-shaped fronds. They are incredibly hardy and fit into a variety of landscape styles. The fronds and trunks feature sharp "teeth" sure to keep away intruders.
Learn more about Mediterranean Fan Palms here!
An iconic plant known to have attractive flowers is also notorious for possessing deterring thorns. Planted under windows or along walkways as small hedges can brighten the area up, while also preventing access to those locations of your property. The advantage of a rose security hedge is you get the same protection regardless of which colors or varieties you choose.
Check out our Rose varieties here!
Agaves and certain large Yucca can bring a protective barrier to your yard while complimenting your landscape with lovely southwestern accents. Many Agaves have unique patterns and colors, while thorns and teeth dot the surfaces across their growth structure. Yucca varieties such as the Yucca Gloriosa also brandish thorns or teeth and can make excellent medium-sized accents in your yard as well!
See our selection of Agaves and Yuccas here!
There is a massive selection of cacti varieties that are perfect for deterring intruders. Prickly Pears, Golden Barrels, Argentine Giants, and Cholla are just a few of the many types of cacti that can augment your landscape's appeal and security. They feature flowers, attractive structures, and contrasting colors, in addition to their cautionary spikes, thorns, and needles.
You can find our wide selection of Cacti here!
For other ideas on creating a defensive landscape, while still being able to enjoy the beauty of a well-designed landscape, schedule a consult with one of our professional landscape designers. Our experts love working with homeowners to accomplish their landscaping goals, whether it involves warding off any would-be intruders or simply creating a gorgeous yard worth admiring.