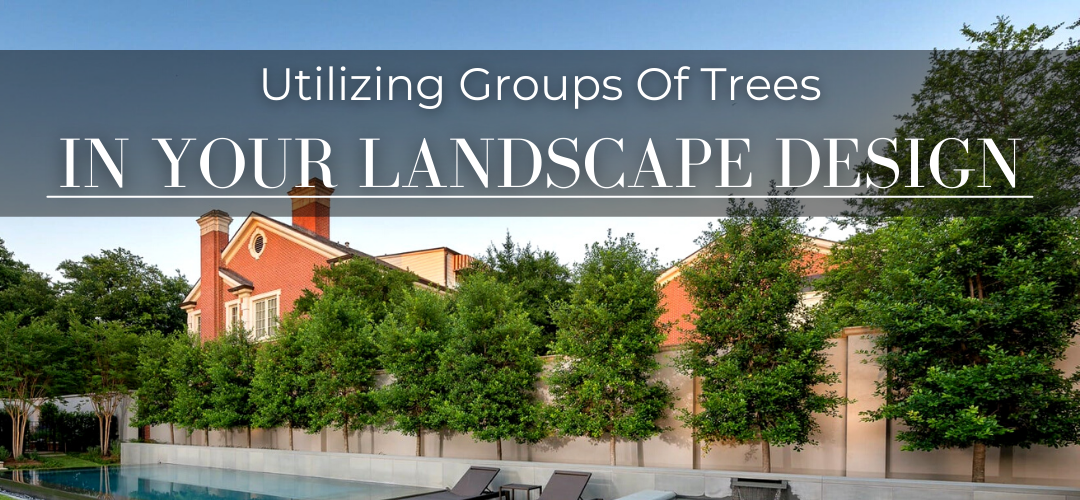 It's often that we discuss how to create a beautiful yard by using various design techniques and following a landscape style, but there are many times when a property needs a large quantity of trees to bring the landscape style to life. In light of Moon Valley Nurseries' huge selection of specimen trees, and the start of the fall growing season, we thought this to be the perfect opportunity to provide the best tips on how to apply numerous trees to your landscape.
DEFINING ROWS
A large number of trees can be used very effectively when planting them in rows along driveways, long walkways, or other entry areas of the home. Rows of trees also make for attractive property borders that continue to enhance the property as the trees mature. Rows are one of the key elements found in modern landscape designs. Many modern yards will feature sections of clean, uniform trees planted in lines to define sections of the property or add a green splash to the typically minimal palette of a modern home.
HEDGES
Whether for privacy or aesthetics, hedges are a common use of a larger quantity of trees. Regal-style hedges comprised of tall Italian Cypress spires complement a Mediterranean or Tuscan style beautifully, while Hollywood Style Hedges™, featuring trees such as Japanese Blueberry or Carolina Cherry, create unparalleled privacy. Hedges will require a healthy number of trees to create that lush screen wall that is sought after by so many homeowners.



THE PARK STYLE
The relaxing fields and greenbelts of parks are highlighted by the presence of large, shady trees. This same atmosphere can be cultivated in your yard by positioning multiple large trees throughout your landscape. Allowing trees to mature in your property will make for the perfect space to enjoy the singing of birds, a quiet stroll, relaxing on a park bench, or a picnic under the canopy of one of the trees in your very own park scene.
RESORT ROWS
Many resorts are recognized by their rows of tall palm trees. Our Resort Style Date Palms™ easily establishes this look in your landscape, while groups of tropical palm trees, such as our Piru Queen Palms™, King Piru Palms™, and Pineapple Palms, help to cement the tropical appeal in your yard. Whether lining your driveway or entry with rows of stately date palms, or clustering groups of palms in your backyard to develop a paradise oasis, palm trees benefit a great deal from being planting in multitudes.
Our professional landscape designers are happy to take the guesswork out of planting any number of trees, whether large or small. They are experienced in creating excellent home and business landscape designs in many different styles and can help incorporate any trees and plants you need into your favorite landscape style while explaining proper care techniques and offering the best service in the industry.