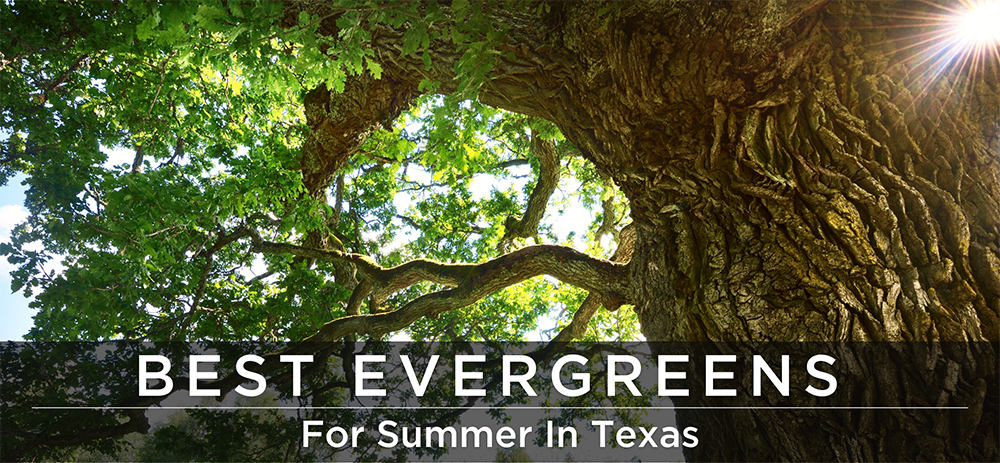 You don't need us to tell you that summertime in Texas is hot, really hot. The sweltering heat and sunlight can be hard on some trees and plants. Just a few months after having one of our wettest months in history, the Houston & Austin areas are now abnormally dry. We can grow drought-tolerant evergreens in Texas that can help make our extreme summer days a bit more bearable.
Evergreen trees can provide lots of shade that can cool down homes, as well as human bodies. With proper planting around a home, trees can reduce energy costs and improve the value of your home. We love evergreens in our region because they keep their lush foliage all year long, helping to create relief and even provide privacy to properties.
Best Evergreen Trees for Texas
Moon Valley Nurseries custom-grows trees in our local climate so that they will thrive in your landscape. We are the grower, so we know which trees are best suited for the extreme heat and dry conditions that we often experience in Texas.


Quercus virginiana
When discussing magnificent shade trees for the Austin and Houston areas, one of the first that comes to mind is the Live Oak. These trees are a favorite throughout our area for their longevity, their ability to provide consistent shade, and their effectiveness in supplying year-round screening.
This is an evergreen tree with a stately appearance and a broad canopy, so with proper planting around a home, it can help reduce temperatures inside the house. Live Oak trees are destined to become a family favorite for generations to come.
Quercus polymorpha
This is one of the best drought-tolerant trees for our area. It is a semi-evergreen tree that grows fast with exotic green foliage and a spreading canopy that can produce lots of shade. These are native Texas trees, and the maximum shade coverage they bring to a landscape makes them a highly desirable tree for our sun-drenched environment.
Heat tolerant trees such as Monterrey Oak can be a perfect choice for screening or used as a windbreak. An excellent street tree or shade tree for Texas properties!
Cinnamomum camphora
This evergreen tree is drought tolerant once established, and it features a broad, rounded canopy that can create plenty of shade coverage that provides relief from the sun.
The Camphor is a natural beauty that thrives in humid locations, making it well-suited for Texas neighborhoods. It produces fragrant yellow flowers the bloom profusely in late spring. It's not just the fragrant bloom that people talk about. People also talk about crushing the glossy, wavy leaves for the aromatherapy benefits they are noted for. Plant them in rows, and you can make a privacy hedge.
Quercus nigra
The Water Oak is a semi-evergreen tree often used as a fast-growing shade tree in Texas landscapes. Property owners throughout our area love their shiny, dark green leaves and broad-spreading canopy that can add plenty of visual interest and curb appeal.
It can grow in a wide range of soils, and mature trees can tolerate flooding. Plant them along a fence or property line, and they can block unwanted views in style! If you are looking to improve the look of your landscape this summer, plant a Water Oak tree!
Callistemon
If you are looking for a tree that can bloom colorful flowers this summer, look for a Bottlebrush tree. This evergreen can bloom beautiful flower spikes that resemble a bottle brush. The flowers are in shades of red and crimson, and last throughout the summer season. Butterflies and hummingbirds are attracted to the flowers, so get ready to enjoy the scene.
Once established, it will require little to moderate watering needs. With its evergreen foliage, we can use them as a privacy edge that can create a private yard all-year-long.
Are you ready to add shade, privacy, and value to your property? Moon Valley Nurseries in Texas is home to the biggest trees in the smallest boxes, so you save money! We offer landscape design consultations at our nurseries so that it cannot get any easier to create the landscape you have always wanted. Visit your nearest Moon Valley Nurseries location and allow our pros help you select the perfect trees that can withstand our Texas summer in style!