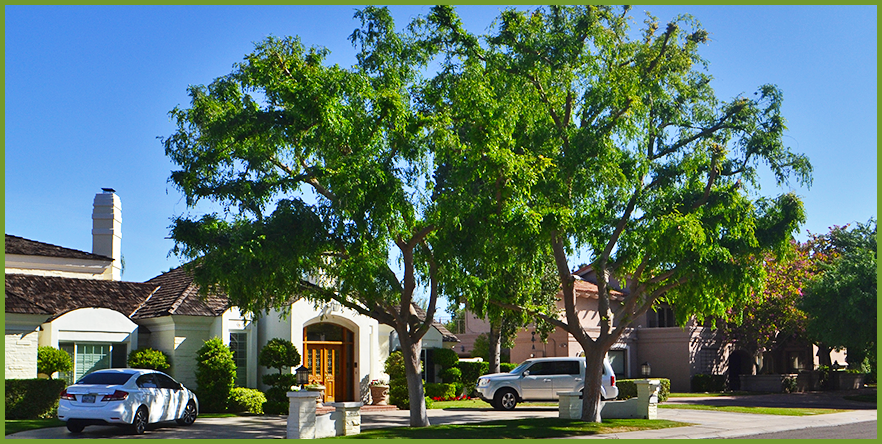 To some, buying trees can seem like an intimidating task, not everyone is born with the knowledge of what to plant, where to plant it, and what plants will do best. That is where our experts at Moon Valley Nurseries come into the equation. We are here to make your landscape experience enjoyable and fun. We want you to get the most out of your landscape and we want you to be proud of your yard.
We always ask a series of questions to every customer that helps us make sure we're pairing you with the right solution for your landscape needs, so we've prepared this short checklist of the questions that we will ask you when you visit our nursery.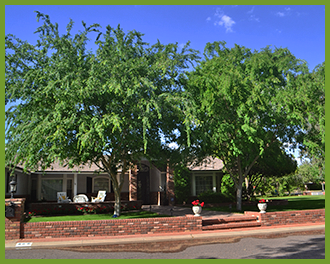 What direction does your yard face, and where are the 'shady' areas?
We need to know this information to make sure you get the rights plants for your location. Some plants will do great in a southern exposure while others prefer an eastern exposure. Knowing where in your yard the tree or shrub will be planted, and how much sun it will receive, can help us narrow down the list significantly right off the bat.
What part of town do you live in?
Knowing this will help us direct you to the best trees and plants that do best in your area. Our experts are familiar with the weather trends in your specific area, town, or zip code, and help fit you into the right solution. What works in some parts of your city doesn't necessarily work in other parts.
---
What do you want from your new landscape?
Knowing what you want your landscape to accomplish will give our experts a starting point in recommending the right trees and plants for you. Year-round shade is important to some while others like a more filtered, seasonal look. Some people like the tropical look and others want the desert look; if we know what you are envisioning we know what types of plants to start with. It's a good idea to start thinking about what your ideal yard looks like before you visit a nursery, and then decide what trees will suit your needs the best.
We often hear something along the lines of "I want a Tipu because I heard it's a good tree", and while it's one of our favorites, it may not be right for what you want in your yard.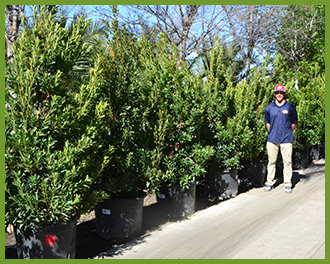 Are you trying to block out any unwanted views or nosy neighbors?
If you have a two story with a balcony around you, you may want to block that view from looking down into your yard while you're enjoying time back there with you family. You may also back up to a busy street and the right tree selection for that area can reduce the amount of noise you get. Depending on the application, you may want a single shade tree, or you may want to begin a hedge or shade screen. Knowing your goal helps us put you in the right solution.
Do you have any HOA restrictions?
It is important for you to know what your HOA does or doesn't allow. If you have an approved plant list bring that with you when you come in and we can show you the plants on that list that will suit your needs the best. Our nursery experts know the common HOA guidelines in most areas we serve, but you may have some specifics we're not aware of, so it's a very good idea to check beforehand.
What area of the yard are we working in? Is it a complete backyard landscape, front yard landscape or just around a particular spot?
Bring in photos and measurements of the area you want to be landscaped, this will help us pick the trees and plants that will work best for you. We also offer free design services that will come to your home and help you out. For larger jobs this may be the way to go to make it easy and to get the job done right.
---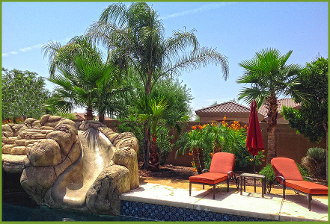 What type of landscape features are we landscaping - Is this an area around a pool, view you want to keep, or a play area?
These questions are important to us so we can find you the perfect landscape for your yard. Our design experts are here to turn your dreams into reality. You are welcome to come into anyone one of our 4 Houston locations and sit down that day with one of our designers or have them come to your home and turn your backyard into your personal paradise.
Remember, any landscape professional will ask you questions like these to make sure you're getting what you actually want, and not simply what they'd like to sell you because it's in stock. This is why a tree nursery with lots of inventory and varieties is preferable to a smaller operation - more options means better, tailored solutions!
Map a nursery near you today
!