Clean and Easy to Grow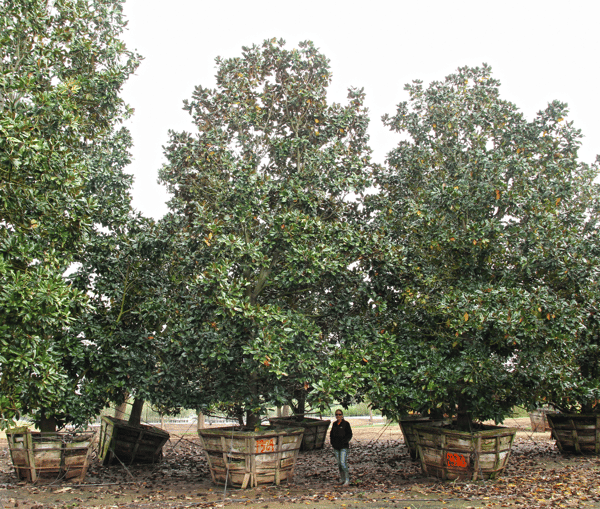 The Southern Magnolia tree is without a doubt one of the crown jewels of Texas all across the state. This mainstay in Texas landscapes has a wide array of benefits for your yard or project site.
From the glossy leaves and their rusty brown-colored undersides to the magnificently fragrant jumbo flowers that bloom in spring and summer, Southern Magnolias provide excellent shade for your landscape. They make an incredible hedge for privacy, when planted in rows for a stunning look. They are also excellent standalone focal points that can reach heights of over 80 ft. tall and 50 ft wide.
Southern Magnolias can grow in sun or shade. They can survive in a wide variety of soils, they can even grow in the predominantly clay soils we have here in the East Texas area. Once well-established, Magnolias are drought-tolerant as well. These trees grow great naturally and do not need much upkeep. They generally do not require pruning.
The Magnolia Family
The Magnolia family includes several comparable varieties to the Southern Magnolia. The "Little Gem" Magnolia is similar to the Southern Magnolia but with a smaller, more compact, leaf. The Little Gem will reach heights of around 25-30 feet versus the 80 foot Southern.
Then we have the "Teddy Bear" Magnolia, which is a dwarf variety. The Teddy Bear offers shorter, thicker glossy leaves with beautiful blooms as well. This smaller variety can reach heights of around 15-20 feet.
So, whether you're looking for privacy, a beautiful specimen, or some much-needed shade, the Magnolia is an all-around excellent choice when looking for an all-purpose beautiful native tree for Houston, Austin and all over Texas.
Come in and ask us about our Magnolias and see why you would want Magnolias in your yard. Learn more about our unique and easy design consultation process.