Back to main Blog
Luke Kalawsky
Luke Kalawsky has a passion for all things trees, plants, and landscape design. He has designed numerous landscapes as the head designer in the Surprise, Arizona region until he became a manager of our Central Phoenix Nursery. He now dedicates his knowledge, expertise, and creative capabilities to help the masses discover how to design, plant, and maintain their landscapes with his writings.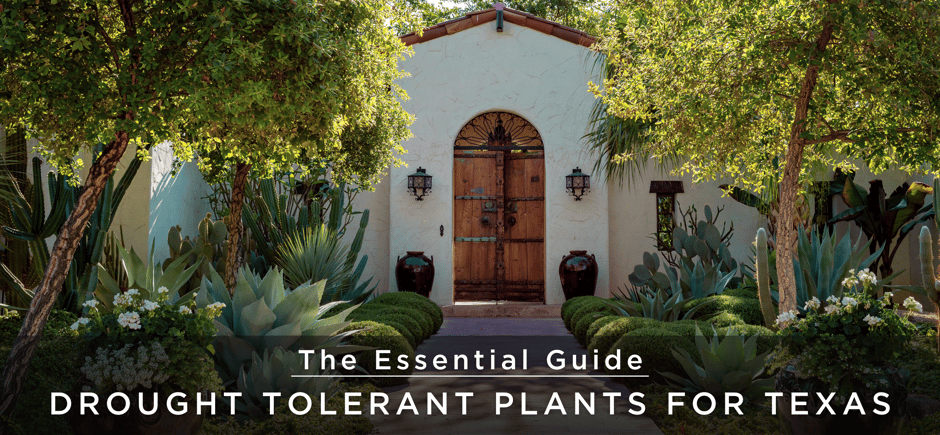 Landscaping. It is a critical component of every home's appearance, privacy, shelter, and curb appeal. In the Southwest and Coastal United States, creating a beautiful landscape for your home can often come with several challenges, the main one being drought.
Drought-Tolerant Landscaping In Texas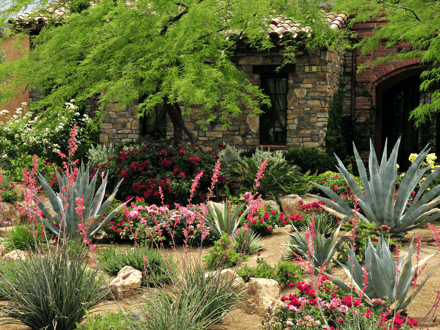 In drought-ridden regions of the Southwest, such as California, Arizona, Nevada, New Mexico, and Texas, water-wise landscaping has become a prevalent aspect of homeownership. From yards utilizing drought-resistant trees and plants to fully xeriscaped properties mimicking the native terrain of the Sonoran Desert, landscapes requiring little water are commonplace in our region.
Many homeowners believe that having a water-conscious yard means adopting the dry, arid appearance of the desert with little greenery or color in sight. Thankfully, this is not necessarily true! With some knowledge and clever design skills, you can use drought-tolerant plants to create an oasis paradise with your landscape.
Our nursery pros have compiled a list of the best water-wise plants, trees, shrubs, and succulents to bring you the essential guide to drought-tolerant plants in Texas. Enjoy vivid colors, cooling shade, dense privacy, and year-round interest with the plants found in this guide while maintaining a water-conscious and drought-resistant landscape.
The Best Drought-Tolerant Shade Trees For Texas
Shade trees are a vital component of landscaping in the Southwest. They provide much-needed relief from the hot sun during the warmer months, help to reduce the energy needed to cool your home, and act as a focal point for a beautiful landscape design. Here are the top drought-resistant shade trees for our area!
Tipuana Tipu
Tipu trees are a one-size-fits-all kind of tree. They grow to become medium to large shade trees with attractive, soft-green foliage and twisting, cinnamon-colored bark. In the spring and fall, they produce a spattering of bright, golden blooms, bringing some color to your yard and allowing them to act as a beautiful focal point anywhere they are planted. Tipus are among Texas' best fast-growing, low-maintenance trees, requiring minimal cleanup and becoming incredibly drought-tolerant once established.
Prosopis chilensis
These hybrid Mesquite trees improve on the features of the native Mesquite by adding fuller, greener foliage, thornless branches and trunks, and less litter and cleanup! Their low-maintenance needs and massive drought tolerance allows them to be planted in many residential, commercial, and city plantings. The trunks of Chilean Mesquites have dark-colored bark and a twisting characteristic unique to each individual tree. These are one of the best shade trees for landscapes across the Southern United States!
Olea europaea 'Wilsonii'
A staple of the Tuscan countryside, Olive trees are an excellent shade tree for any landscape style. They grow to be medium-sized evergreen trees with silvery green foliage and twisting picturesque trunks. Olives are drought-tolerant evergreen trees that love full sun and are both heat and cold hardy. They are excellent in Mediterranean and Spanish landscape styles and are also a perfect choice for use as statement trees, large manicured ornamental trees, and raised privacy hedges.
The Best Drought-Tolerant Flowering Trees For Texas
Flowering plants and trees are an incredible way to add color and interest to your yard. Many of the most iconic flowering trees are also remarkably drought tolerant. Whether you are looking for white, purple, red, yellow, or pink flowering trees, this list details the best ways to add blooms to your yard while promoting a water-wise garden.
Lagerstroemia indica
These showy trees offer jaw-dropping displays of color throughout the year! Depending on the variety, Crape Myrtle trees bloom massive clusters of flowers in either red, pink, purple, or white hues in the spring. During the autumn season, these iconic trees transform to show off a torch-like array of orange, red, and golden fall colors. Crape Myrtle trees bring so much to the table when it comes to elevating your landscape while being drought-tolerant, low-maintenance, and cold-hardy!
Cercidium-parkinsonia hybrid
These hybrid Palo Verde trees take the best traits of two native varieties to create a tree that possesses a more prolific coat of bright yellow blooms, a greener trunk, and thornless branches. This unique yellow-flowering tree steals the show in spring and provides considerable shade throughout the year as well! Their multi-trunk form also makes them an excellent candidate for landscape lighting to display their sculptural shapes at night! These fast-growing Palo Verdes are a wonderful low-maintenance tree to add to any water-wise landscape or garden.
Vitex agnus-castus
These small-sized purple flowering trees are one of our favorite ways to add some robust, drought-tolerant color to your landscape. Also known as the Desert Lilac Tree, Vitex trees feature long spires of purple flowers from late spring to early fall. The blooms attract hummingbirds and butterflies to act as a reminder that you can find can so much life in the desert. The Vitex tree's multi-trunk growth pattern further establishes its position as one of the best flowering accent trees you can plant in a drought-resistant landscape.
The Best Drought-Tolerant Privacy Hedges For Texas
Every homeowner should feel comfortable and secure in their homes and yards. With the increase in urban development and newly built communities, many properties are positioned closely together. This causes homes to be exposed to noise, wind, and the eyes of neighbors. Privacy hedges offer an environmentally friendly way to reclaim the sanctuary of your landscape.
Dodonaea viscosa
Hopseed is a favorite hedge option in water-conscious landscaping. It features lush, evergreen foliage, loves full sun exposure, and has low water requirements. Hopseed sits well in a wide variety of landscaping styles and has a quick growth rate, allowing it to act as an excellent privacy screen in almost any yard. It comes in the standard green variety as well as the purple-tinted 'Purpurea' cultivar, giving you a choice of two different color flavors depending on which compliments your landscaping best.
Phyllostachys aurea
Yes, bamboo does grow in Texas! Golden Bamboo is one of several bamboo varieties that are remarkably drought tolerant. It can adapt and thrive in arid environments and performs wonderfully as a privacy screen in yards and gardens throughout the Southwest. You can retreat to your private zen garden or outdoor sanctuary surrounded by exotic Golden Bamboo without worrying about hours of maintenance and water usage. Now that's a recipe for relaxation and finding your inner peace!
Nerium oleander
These hardy evergreens make for one of the best choices for a drought-tolerant hedge. They are fast-growing, heat and cold hardy, love full sun exposure, easy to care for, and bloom red, pink, or white flowers spring through fall! Oleanders can thrive in poor soil conditions and need little maintenance to stay looking their best. They are also quite forgiving of homeowners who may not have the greenest thumbs, able to bounce back quickly from overwatering, underwatering, or poor trimming.
The Best Drought-Tolerant Palm Trees For Texas
Whether you imagine sitting on a sandy beach under the gentle sway of a shady palm tree or rows of perfectly uniform date palms lining a regal resort entryway, palm trees are often synonymous with locations of paradise. You can enjoy tropical getaway or resort destination appeal in your own landscape without worrying about rainforest levels of water usage with these drought-resistant palms.
Phoenix dactylifera
These Medjool Date Palms are the flagship palm of world class resorts. With their large arcing blue-green fronds, and intricate, diamond cut trunks, these large palm trees make a wonderful addition to any landscape. They compliment many other landscaping styles, from modern to Mediterranean, and they pair beautifully with other palms and plants. Plant a line of Date Palms around a pool for a poolscape worthy of 5-star resorts or frame the front of your home or driveway for a luxurious grand entry!
Phoenix canariensis
Also known as Canary Island Date Palms, these desert-acclimated palm trees are an excellent way to add a statement piece, focal point, or some tropical shade to any landscape. Their large fronds provide a cool covering over pools and patios, while their thick, diamond-cut trunks create some nice structure in a yard. These palms are also excellent candidates for tying a hammock to or displaying at night with landscape lighting. These are hardy, water-wise palm trees perfect for any home.
Chamaerops humilis
These versatile, drought-tolerant fan palms are a favorite amongst many homeowners and landscape designers alike. Their clustered growth of fan-shaped fronds can create a beautiful accent near a water feature or front yard arrangement, they can even act as a tropical privacy hedge! Mediterranean Fan Palms are low-maintenance and require very little cleanup. Enjoy these majestic palm trees in any landscape style and in any area of your yard!
The Best Drought Tolerant Ground Covers & Shrubs For Texas
Every good landscape needs several mature trees to create shade, focal points, and privacy throughout the yard, but it is the shrubs and groundcovers that bring the whole design together. With the right selection of plants, you'll be able to blend in color, texture, and continuity into your landscape while keeping water usage to a minimum.
Lantana is a household name in drought-resistant landscape design, and for good reason! Depending on the variety, you can use Lantana as an accent shrub or as a trailing or mounding groundcover. These sun-loving little shrubs come in a huge range of colors from the Gold Mound Lantana to the Confetti Lantana, making the options for both flowers and growing styles almost endless.
Myoporum parvifolium
These trailing groundcovers feature a soft, green foliage that grows thick and lush with white flowers in the spring. Myoporum's real claim to fame is its ability to cover an area in a green carpet similar to grass, while being hardy and drought tolerant. Choose this trailing plant when you want the look of grass without the maintenance or water consumption!
Callistemon citrinus 'Little John'
These unique dwarf bottlebrush plants have the wonderful ability to decorate your landscape with bright red, feathery blooms during the spring and summer. These red flowers attract butterflies and hummingbirds to establish the presence of nature in your yard. Little Johns are a great water-wise plant to incorporate into your landscape design when you want an accent that breathes life into your yard.
Leucophyllum frutescens
These desert-native shrubs get their name from the explosion of blooms during the spring that covers the whole plant in a "cloud" of vibrant purple flowers. Cloud Sage is available in both a soft green variety with deep purple blossoms and a Silver Cloud Sage with light, silvery foliage and a lighter purple flower. Both varieties are highly drought-tolerant and require minimal maintenance.
The Best Drought Tolerant Succulents & Cacti For Texas
Most varieties of succulents, agave, and cacti are naturally drought-resistant and offer many options to add some color, interest, and texture to your landscape. These desert-native plants are a great way to decorate and add accents to your yard while keeping needed maintenance to a minimum.
Yucca plants typically offer a wispy, grass-like appearance with colorful flowers or structured, tree-like forms reminiscent of tropical flora. Some of our favorites are the Red Yucca (Red Hesperaloe) with its long stems of pink flowers throughout the year, and the Spanish Dagger (Yucca Gloriosa) with its large, multiple branches and bright, lime-green foliage.
Agaves grow in so many interesting shapes and patterns, each one allowing you the opportunity to add a bit of natural art to your landscape. Century Plant Agaves (Agave americana) grow to be large and have deep blue-grey leaves to bring some contrast into the yard. Artichoke Agaves (Agave parryi) mimic the tight clustered appearance of an artichoke. Blue Glow Agaves (Agave 'Blue Glow') have red and yellow translucent edges to their dark, bluish green leaves that glow when the sun hits them!
The sheer number of cacti varieties you could use in a water-wise yard can be overwhelming. Some cactus grow as small clusters, others form tall spires. Some bloom large flowers, while others change color during the winter! When designing a drought-tolerant garden, we recommend incorporating some of your favorite types of cacti to place your thumbprint on your yard and truly make it your own. We included some of our favorite cacti to get you started and inspired.
Golden Barrels (Echinocactus grusonii) act as little pops of color while also allowing you to combine multiple sizes and quantities to create patterns or natural clusters throughout the landscape. Purple Prickly Pears (Opuntia macrocentra) offer a spreading sculptured shape with a purple-blue hue, and Argentine Giants (Echinopsis candicans) are famous for their enormous night-blooming cactus blossoms.
Landscape Design with Drought Tolerant Plants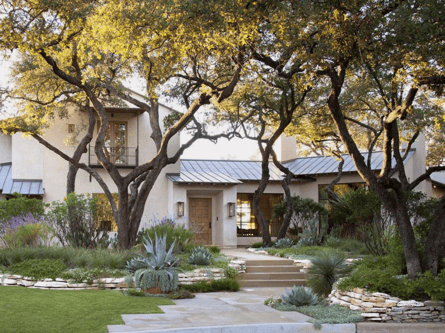 When it comes to bringing all these trees and plants together to craft a drought-tolerant landscape that still meets your goals for shade, privacy, and curb appeal, it helps to bring in a professional landscape designer.
The designers at Moon Valley Nurseries have years of experience meeting the landscape goals of countless homeowners and creating dream yards that are both beautiful and sustainable.
Give us a call and schedule your free landscape consultation with one of our professional designers. We're happy to help you obtain a gorgeous and lush, drought-tolerant landscape that you'll cherish for years to come!
To learn more incredible yard care advice, design tips, and tree knowledge, check out our library of articles! We have a massive catalog of entertaining and informative articles written by our experienced nursery professionals to help you succeed with all of your landscaping goals.