Back to main Blog
Luke Kalawsky
Luke Kalawsky has a passion for all things trees, plants, and landscape design. He has designed numerous landscapes as the head designer in the Surprise, Arizona region until he became a manager of our Central Phoenix Nursery. He now dedicates his knowledge, expertise, and creative capabilities to help the masses discover how to design, plant, and maintain their landscapes with his writings.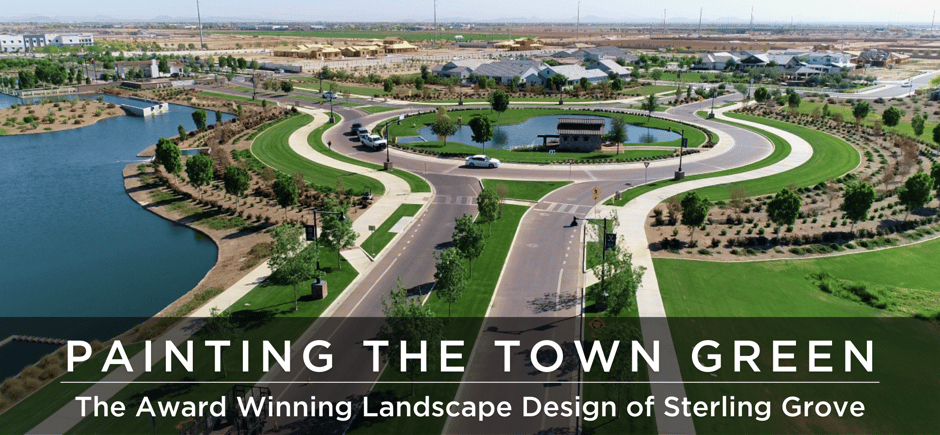 Nestled near the foothills of the White Tank Mountains in Surprise, Arizona, lies the picturesque Master-planned Community of Sterling Grove. The highlight of this idyllic Sonoran neighborhood is its acres of non-desert landscaping, a feat made possible by the collaboration between the expert landscape designers of Greey-Pickett and a beautiful palette of trees provided by Moon Valley Nurseries.
This gorgeous concept community takes a stark departure from traditional Arizonan Landscaping and instead offers a manicured, park-style environment. Featuring a stately town square, serene gardens, courtyards, and an expansive network of ponds and waterways, this alluring development utilizes designs and styles not often seen in the Southwest. At the pinnacle of Sterling Grove's accomplishments resides the beautifully-executed private Nicklaus Design 18-hole golf course and clubhouse, made possible by a partnership between Toll Brothers and Troon Privé®.
The trees and plants from Moon Valley Nurseries are showcased in their full glory across the neighborhoods of Sterling Grove. Throughout the acres of idyllic scenery, the landscaping utilizes both evergreen and deciduous trees and a wide array of flowering plants.
This allows every street, walkway, field, and corner of sterling grove to be wreathed in year-round interest. During the spring and summer months, the flowering trees and shrubs will be adorned with a coat of breathtaking blooms, while in the fall and winter, the deciduous trees will present their fall colors of red, orange, and yellow to establish a warm patina across the masterfully designed landscape.
Main Gatehouse
Immediately upon entering Sterling Grove you are met with a delightfully positioned citrus orchard set against a backdrop of waterways, lovely homes, and very content families of ducks and geese. Even before crossing over the threshold into this remarkable community, you get the sense that you have arrived somewhere special.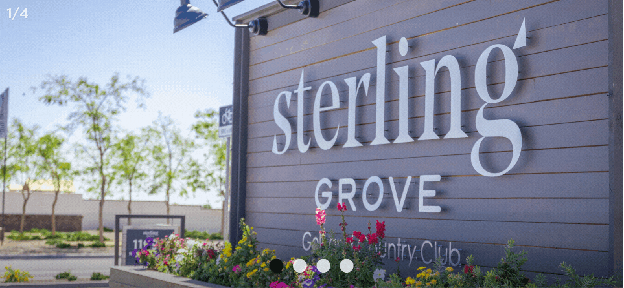 1. The front entry to Sterling Grove eludes to the community's care for clever, yet classic, landscaping in the way of a colorful and excellently cared-for bedding flower arrangement.
2. Upon entering this masterfully-designed community, the elements of sustainability are clearly defined. An orchard of orange trees are front and center as soon as you drive in.
3. Idyllic views are around every corner at Sterling Grove. Here you have glimpses of one of the many water features framed by mature Chinese Elm trees for a spattering of soft greenery.
4. A grove of Ficus trees against white farm-style fencing completes the community's majestic entryway signifying a simple, yet elegant lifestyle.
The Town Square
Venturing through the main gates, you are soon brought before the Town Square. This almost utopian, central hub of the community is decorated with a pond and millhouse and is encircled by an elegant arrangement of evergreen Indian Laurels, flowering Crape Myrtle trees, and an evocative palette of blossoming shrubs and ground covers.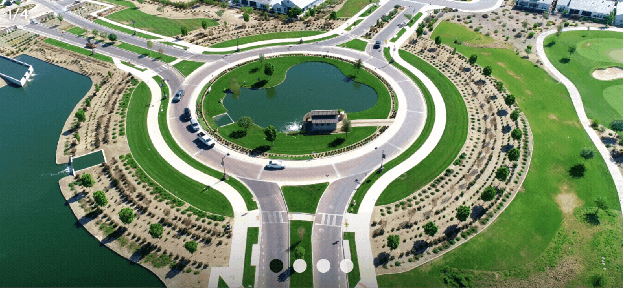 1. An overhead view of Sterling Grove's Town Square provides an excellent example of the community's focus of natural beauty, unity, and sustainability.
2. The central millhouse-style water feature generates an air of old-world charm and acts as a symbol of the building blocks of an effective and forward-thinking society.
3. Beautiful rose hedges encircle the diameter of the Town Square, a telling sign of the manicured care and attention to detail put into every square foot of Sterling Grove.
4. Even the wildlife feels at peace within the tranquil vistas of this charming community.
Community Gardens
Continuing along the main corridor, you will pass a series of waterfront gardens, each establishing its own relaxing atmosphere. These public groves invite every passerby to stay for a while and enjoy the simple pleasure of life amidst the tranquil sounds of nearby water features and the gentle sway of yellow-flowering Tipu and hardy Ash trees.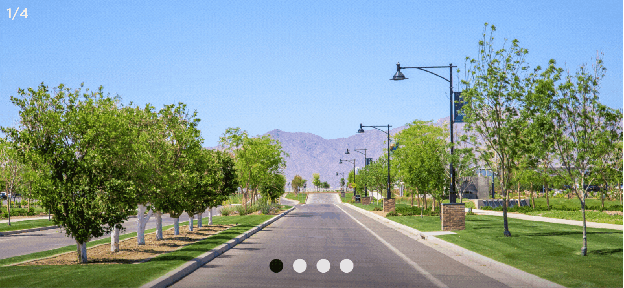 1. Every street within Sterling Grove is dotted with a selection of mature, drought-tolerant shade trees, many of which produce a mesmerizing fall color or a coat of vibrant blooms.
2. Style and sustainability can be seen in the community's design at every turn. Even the most lush are crafted using waterwise trees and plants.
3. Walkways flanked by the gentle foliage of hardy Tipu trees create a tranquil, calming environment.
4. Sterling Grove is home to many quiet resting spots waiting to be discovered. At any moment you may stumble upon a few chairs overlooking the luxurious golf course, or a shaded bench residing within earshot of a nearby waterfall.
Golf Clubhouse
Arriving at the end of the central thoroughfare, you are rewarded with stunning sights of landscaped vistas and sprawling fairways seated behind the state-of-the-art clubhouse. As you peruse the grounds surrounding the clubhouse, you'll discover immaculate courtyards and outdoor dining areas shaded by majestic Olive trees. A collection of flowering plants such as Bougainvillea, Sage, Coral Fountain Grass, Gopher Plant, and Lantana help to round out the environment with splashes of greenery, texture, and color.
Should you decide to kick back and take a load off near the clubhouse's pristine pool, you might forget you're still in Arizona as the surrounding rows of Resort-Style Date Palms™ transport you to a tropical island paradise.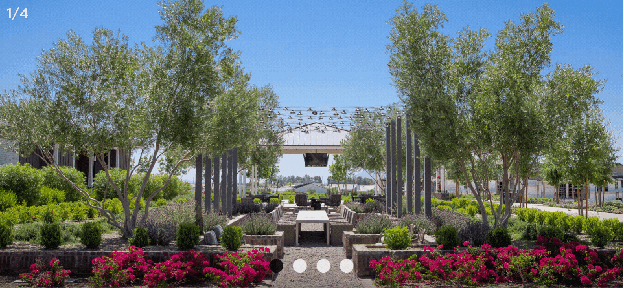 1. Sterling Grove's clubhouse is surrounded by a slew of elegant entertaining areas, such as this secluded outdoor dining hall.
2. A perfect example of the perfect marriage between agriculture and architecture found throughout the community, this courtyard's regal olive trees guard a stately fountain.
3. Numerous viewing decks such as this seating area sheltered by a privacy hedge of Ficus columns, act as a constant reminder of the classy nature of this premier lifestyle community.
4. The expansive pool is given shade by an army of Resort Style Date Palms creating a paradise oasis worthy of the most tropical getaway destinations.
An Award-Winning Community
After traversing this immaculate community and relishing in each new incredible view the further you continue past the main gates, it is easy to understand why Sterling Grove was awarded the National Gold Award for Community Landscape Design.
The beautiful trees and plants provided by Moon Valley Nurseries give the landscaping a mature, established look, and offer a fresh style that conveys an environment different from that which is typically found across the desert, while still maintaining responsible, water-wise landscaping practices.
The stunning result of this tasteful blend of contemporary architecture and lush, sustainable vegetation leaves us wondering if upcoming communities will follow suit, paving the way for a greener Arizona.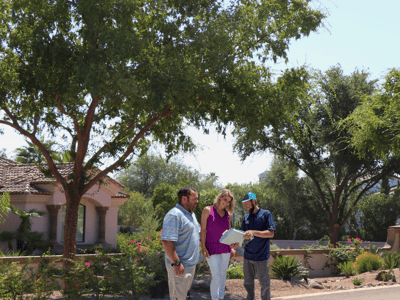 Don't leave an award-winning landscape to this beautiful community alone. You too can have an award-worthy yard with trees and plants from Moon Valley Nurseries.
Come check out our vast selection of the highest quality trees and plants and shop like an architect at your local Moon Valley Nurseries.
We are always ready to help you create a paradise of your own that you will cherish for years to come. No matter how big or small your next landscape project is, for the best trees on Earth, go straight to the Moon!™