Design with the best Winter Plants
Planting season never stops thanks to the fantastic winter weather we have in our region, and this year is no different! When designing a landscape, it is crucial to think about how your plant material will transform throughout the seasons.
To make sure that your landscape isn't completely dormant by the end of the year, its good to plan for a mixture of evergreens in the layout. Moon Valley Nurseries is always ready to plant and has a wide selection of options for whatever our customers need to complete their dream yard.
Free Design Consultations at Moon Valley
Moon Valley Nurseries doesn't just sell trees – we give our customers the White-glove service from start to finish. Every project begins with a consultation between the customer and a professional landscape designer. After the design is agreed on and trees are chosen, we take care of the rest! Our professional crews will deliver, plant, fertilize, and water your new landscape.
Free design consultations can be scheduled online or over the phone at every location.
Best Shrubs for Winter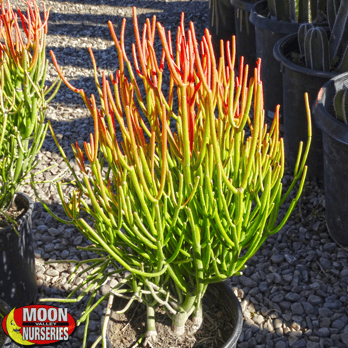 Bring the unique look of sea coral to a dry landscape! Sticks on Fire have an exciting and unusual coral structure that gets better looking in strenuous weather conditions! They erupt with color from winter through summer with bright fiery red/orange and green tones that turn back to a lighter green hue.
Whether they are in the ground or pots, this dense, textural plant is excellent for adding year-round color and interest to your landscape. We like to use them in rock gardens, xeriscape designs, and as a beautiful addition to garden beds and borders.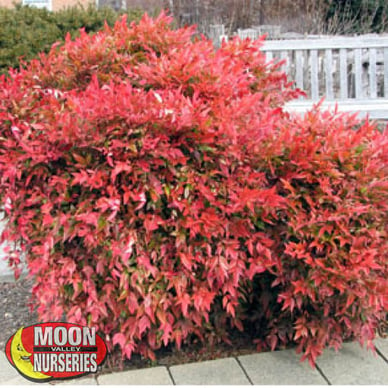 Heavenly Bamboo 'Nandina' shrubs are one of the best compact shrubs to add to your landscape while bringing more color into the layout. They can put on a colorful show all year long and refresh the curb appeal of your home every season. These beautiful shrubs are cold hardy and make an attractive addition to any landscape.
The 'Gulf Stream' variety has improved foliage color in the fall with purple and bronze-tinted leaves that turn to a fiery crimson red in winter. We like to use Heavenly Bamboo as an informal hedge beside borders and sidewalks. The Heavenly Bamboo dwarf variety is perfect to use as a colorful, accent shrub.
Best Trees for Winter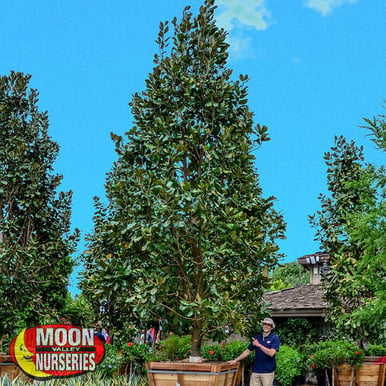 Magnolias are eye-catching trees with their striking foliage, large spreading canopy, and fragrant creamy white blooms that bring an elegant appearance to any yard. It's easy to see why the Magnolia tree is a favorite among our customers.
The best part of having a Magnolia in your yard is getting to see their huge, cup-shaped blooms from spring through summer. These flowers bloom all throughout the foliage and create a dramatic, focal point in the landscape.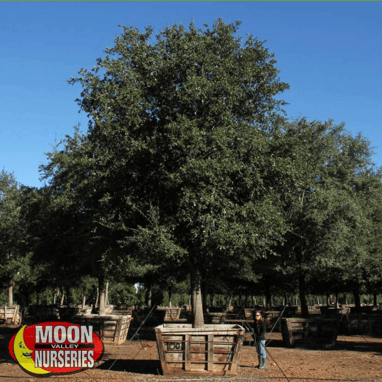 Southern Live Oak tree is also known as the Mighty Oak of the South, and it fits perfectly in any Arizona yard. This evergreen shade tree has dense dark-green foliage that can produce plenty of shade in your yard.
This clean, hardy tree features solid limbs for attaching a tire swing or building a fort for hours of fun and a lifetime of memories. The Live Oak tree can handle windy conditions and drought conditions once established. We recommend planting our specimen-sized Live Oaks to enjoy their amazing features from day one.
Best Hedges for Winter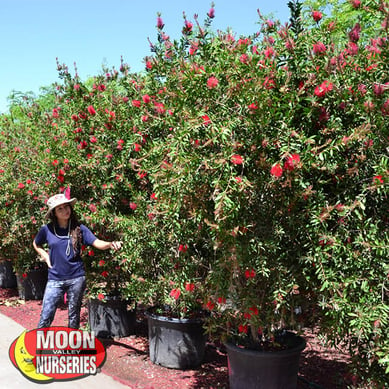 It is easy to see why the Lemon Bottle Brush is used throughout the Valley as a unique hedge option. Because our natural landscape is full of mountain and desert color shades, the beautiful pop of red columns will add interest to any yard!
This hedge material can bloom showy bottle brush-like flower spikes that paint a yard with bright red flowers contrasting off the dark-green foliage. The Bottle Brush blooms in spring with some off-season flowers sometimes showing up in the fall.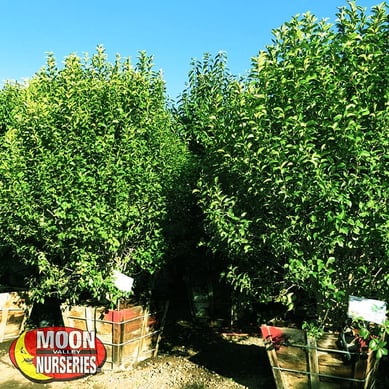 The Japanese Privet is an ideal solution for designing a low-maintenance yard with a green hedge year-round. Most customers love to use them to create a living privacy wall for their homes. This shrub looks terrific when kept in its natural state or pruned for a more formal appearance.
Japanese Privets love the southwestern weather! They do best when planted in partial sunlight and are tolerant of the low desert temperatures that come in winter. For a short time in late spring, this Privet will produce white flowers, offering a bit of surprise color to your privacy hedge.

Learn More from Moon Valley Nurseries
Click here to learn more about the warranties we offer at every location. Find out which warranty is best for you and your new investment!
Click here to see how our trees and plants are selected and grown in Moon Valley Nurseries farms across the Southwest. Our trees are truly custom and can only be found at the Moon!
Click here to find out how our planting crew makes sure your trees are planted the right way using custom Moon Valley fertilizers and supplements.