This year commemorates a significant milestone for Moon Valley. We have been growing trees, creating and rebuilding landscapes, and changing lives for 25 years!
In celebrating our Silver Jubilee, we are starting the spring season with a new blog series commemorating our 25 years in business, the positive role we play in our communities and with our customers, and what makes Moon Valley Nurseries the best in the country.
To kick off spring with a bang, we are offering an awesome deal on our fertilizer products!
CLICK ABOVE TO GET YOUR COUPON
BEFORE MOON VALLEY NURSERIES
The beginning of Moon Valley Nurseries started way before our first store opened its doors. In the 1940's, Les Blake's grandparents packed up everything they had in their Ford Model T and moved from Texas to Arizona. Once they were settled in Phoenix, they traded in that Model T for 5 acres of citrus and fruit trees and would go on to grow more varieties of trees and open nurseries run by the entire family.
Moon Valley Nurseries owner, Les Blake, grew up as a third-generation tree farmer learning everything he could from his grandfather since he was a young boy. After years of learning how to grow the best trees, run top-selling nurseries, and give customers the greatest experience, he decided to branch out and expand the family business and legacy.
HOW MOON VALLEY NURSERIES STARTED

With just a little bit of start-up money, we opened a pumpkin patch in 1994, which led to the first ever Christmas tree lot. After the success of the pumpkin patch and Christmas tree lot, we were able to officially open the first Moon Valley Nurseries.
The first store opened in the Moon Valley neighborhood in North Phoenix, hence where we found our name, and it did not take long before we become the nursery to go to for the Central Arizona region.
We soon focused on building more farmland to grow more of our own trees and now grow almost every tree you find in our nurseries from the Pacific coast of California to Houston, Texas.
HOW MOON VALLEY NURSERIES HAS GROWN
After 10 years in Phoenix, we had grown from one store in North Phoenix to seven stores across the Valley of the Sun and we were not stopping there! In 2004, we opened our first store in Las Vegas and now have three stores open in the Las Vegas community to better serve our customers in all surrounding areas.
By 2010, we were up and running in Southern California and Texas. Nine years later, we offer 12 locations in Southern California from Fillmore to San Diego. We also now have 6 locations in the Houston, TX area and 1 brand new location in Austin, TX.
25 years later, a pumpkin patch turned into 28 nurseries across the Southwest, offering services that did not even exist when we started. These unique services are the staple of our nurseries and make us one of a kind in the industry!
THE FUTURE OF MOON VALLEY NURSERIES
Keep reading to see what we are up to in your neighborhood this year!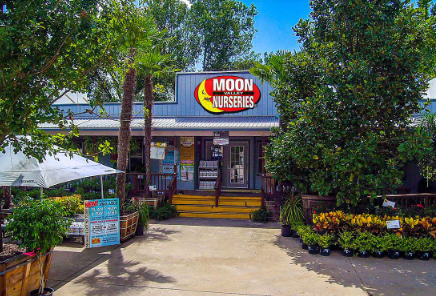 Arizona
This year, we will be having a Grand Re-opening at our Tatum nursery in Phoenix. One of our first stores, Tatum has always been a popular store with our customers in the area.
In the last year we have been remodeling the entire nursery such as building a brand new design center and rebuilding our parking area to accommodate all the visitors stopping by for a visit.
For the 19th year, Moon Valley Nurseries has been voted as the #1 nursery in Arizona!
California
We are excited to announce that we will officially be opening a nursery in Gilroy, CA soon. Located in Northern California, we are finally able to offer our customers in the area a store of their own!
Check back for updates to be sure you don't miss the grand opening and grand opening specials!
Nevada
For all Las Vegas residents, be sure to check out our Charleston nursery in Central Las Vegas. We are almost done with a complete remodel of our design center that better serves our customers when they come in for design consultations and planning!
Texas
We have been busy in Texas! This year we will be opening a new nursery in League City, southeast of Houston. This nursery will expand our reach in the area to be able to help more residents in the Houston metropolis with all their landscape needs.
Moon Valley Nurseries is now officially in Austin, TX and have appreciated how welcoming the Austin community has been and cannot wait to continue growing positive relationships with our customers.
Visit a nursery today and keep checking in to see what surprise specials we will be offering all year long to give thanks to our loyal customers that have gotten us here.
We can't wait to see what the future has in store for us!