Every homeowner knows the importance of a healthy backyard. You take care of it, and it takes care of you. If you do not take care of it, weeds will grow and take over your yard! But sometimes it's not just about making sure the grass has been cut and the weeds have been sprayed.
Backyards are one of the best places to hang out when you are entertaining family and friends at your home, especially when the weather is exceptional, and you want to enjoy it all day and night!
Depending on what you like to do, you can add games around your yard, furniture to get cozy, hardscaping such as lighting and sidewalks, and updates to the landscape.
1. OUTDOOR GAMES FOR KIDS AND ADULTS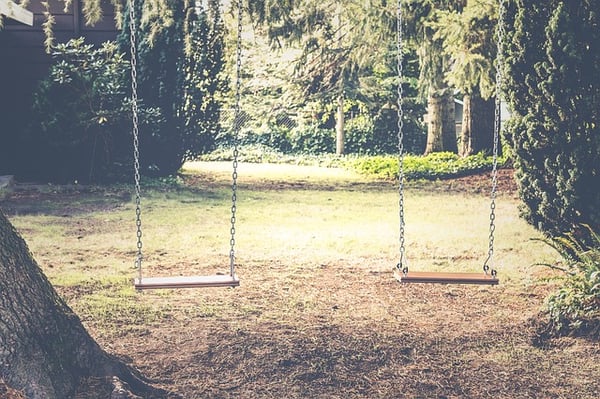 There is an endless amount of games that you will enjoy playing this summer. Many of these suggestions work perfectly any other time of the year as well. There are also many games that both kids and adults will have a blast playing together.
For a new twist on the classic games, get an over-sized Jenga set, or an over-sized Checkers board, or an over-sized Connect 4. I hope you are catching a theme here. For some reason, playing with giant-sized pieces really changes the game and adds more of a suspenseful twist.
Another fun game that kids and adults can play that keeps them both at an equal playing level is Bean Bag (also known as Cornhole, Bags, or Sack Toss). Players must take turns throwing bags at a raised platform far enough away to be a challenge for everybody.
Make Bean Bag a little harder for the adults and have them take five steps back, so they have to throw the bag even further or let the kids take five steps forward!
What games do you like to play in your backyard?
2. EXTERIOR LIGHTING – WATCH YOUR STEP!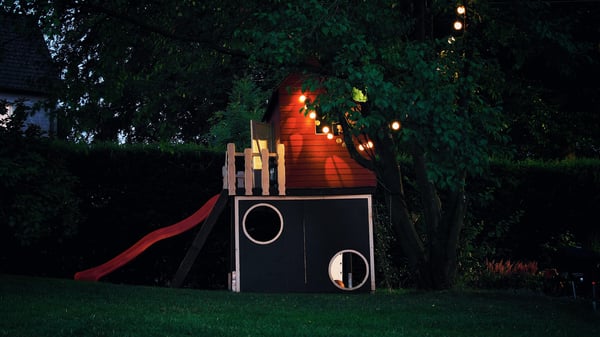 Lighting is not the most exciting way to spruce up your backyard and turn it into the place to be! However, they are a vital part of any backyard design. Lights are usually added to areas of your home to increase safety and security.
Light Up the Yard
The right lighting can improve the entire yard all on its own. With more of your landscape lit up, there will be more room to safely walk, or run, around once the sun goes down.
We recommend lighting up all areas that are clearly walkways, such as the patio, side yards, and any walking steps. It would also be good to make sure any areas with big steps up or down are lit up so that nobody misses them!
Light Up the Landscape
This is often something that people overlook when setting up their yard. The beneficial reasons for landscape lighting are not as important as walkway lighting, but that does not mean that you shouldn't bother with them!
Adding lights to your landscape can add dramatic and interesting lighting and shadows throughout your yard. Trees, such as multi-trunk varieties, add a nice shadow effect across the yard.
It is also a good idea to make sure you can see trees and shrubs, such as anything with thorns or cacti. Nobody needs to learn the hard way where your keep your cacti garden!
3. OUTDOOR FURNITURE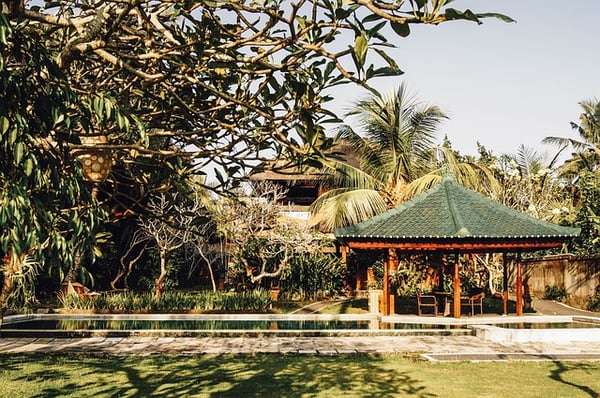 Another great way to make your yard a perfect place to hang out for your friends and family is to make sure it is comfortable! Nobody will want to hang outside too long if they are just standing out in the sun.
Adding just a few chairs to your yard can make it more comfortable but there are so many other options for you. Building or buying a fire pit will surely get people outside more! Fire pits encourage more socializing on cold nights making smores. Place chairs around the fire pit and you will be there for hours.
If you want to make it even comfier, add some patio couches or tie up a hammock between two large trees. This will be inviting for anybody who wants to relax, read a book, or take a nap in the sun!
One of the coolest trends we have seen over the years is the DIY backyard movie theater. All you need to do is hang up a sheet, project your phone, sit back and relax! For more details on how to make the screen, click here.
4. BACKYARD KITCHEN OR GRILL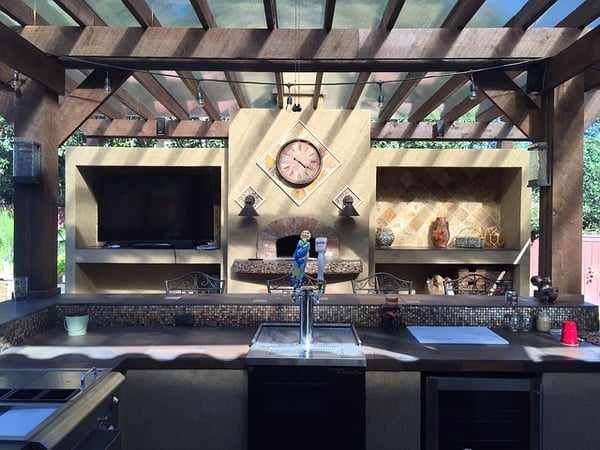 Have you noticed that no matter what is going on in the house, and no matter how big the house is, almost everybody is hanging out in the kitchen? Knowing that, it makes sense that if the kitchen were outside, everybody would be outside too! #Followthefood, right?
For an awesome backyard dining experience, a patio dining table and chairs are super important. An umbrella is also nice for daytime events! It can be as simple as some foldable tables and chairs or an entire dining set.
When it comes to figuring out what type of outdoor setup is right for you, think about how you want to spend time outside. Some people like to cook alone or set the grill and walk away for a while to jump in the pool.
If this sounds like you, a nice grill and table will work just fine.
Some people love to cook outside the same way they cook inside. That will take more than just a grill. For a full outdoor kitchen experience, you should have a nice counter-top, maybe a mini fridge, and perhaps even an entire Gazebo so you can cook and entertain without ending up with an odd-looking tan.
This type of kitchen is for the true cooking fanatics that love to entertain and feed their family and friends all year.
5. CHANGE UP YOUR EXISTING LANDSCAPE AND HARDSCAPE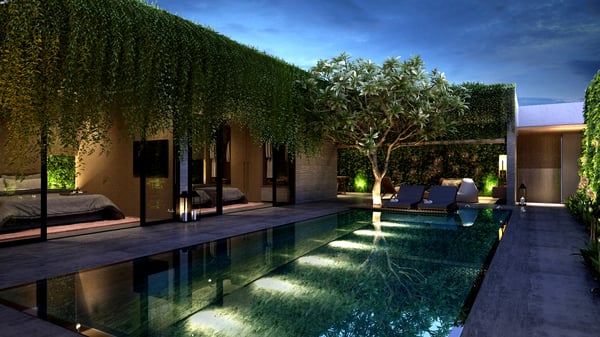 Finally, one of the best ways to create the perfect backyard for entertaining is to design it specifically for that! The beauty of updating or completely redesigning your yard is that you can design it in a way that is customizable to you and your lifestyle!
Hotels and parks offer the best inspiration for making an outdoor space so enjoyable that you want to stop and hang out there. Some of the main things we see that look great in backyards are walkways, fountains, mature trees, and specific and small garden areas, to name a few of them.
Walkways can lead guests around the yard and toward communal spaces. Fountains create a more formal look and attract birds throughout the year for a little bath, or general cool-down.
Specific garden areas are also a fun design to add to your yard to create more interest. Some popular gardens we see, and design, are desert gardens, herb gardens, rose gardens, and succulent gardens but the possibilities are endless.
Large trees filled with strong branches are always great in a backyard. Those branches can handle multiple swings (traditional AND tire varieties), forts, or a full-on tree house in the canopy!
KEEP BRAINSTORMING…
There are plenty of other ways to create a yard that is perfect for you, but these are some great ideas to consider and get you started!
Moon Valley Nurseries can help you get started with designing your landscape the way you want to live in it! Find out more here.