Top Trees, Palms, and Shrubs to Create the Perfect Staycation Design
Right now is the best time to plant and design your custom landscape. Moon Valley Nurseries is always ready to help our customers complete any project like the perfect yard for staycations! Our designers can help turn your yard into a custom dream vacation.
We are available for phone orders at every nursery and online where you can chat with a live nursery professional. They can walk you through the type of style you want for your new vacation landscape, help you pick out the best trees for your staycation goals, and have them tagged and delivered to your home with free planting. It's as simple as that!
There are many landscape styles to bring the vacation to you every day. Many customers love the vibes of far-away places, like a tropical vacation in the Hawaiian Islands. Some customers might like the comfort of privacy, like camping in secluded woods. Wherever it is, imagine your favorite place in the world and bring it to you today!
Create a yard that you love spending time in with friends, playing games, swimming all day with your kids, reading a book on the patio, and even taking some well-deserved naps. Not only will you have the best yard, but you'll also dramatically increase your home value, as high as 28 percent with JUST this home improvement.
The pros at Moon Valley Nurseries can bring your staycation to reality in one day. Ready to start designing a private paradise, a colorful garden, or a tropical oasis? Find out what our pros recommend for our region.
Design a Private Paradise with Hedges and Shade Trees
The best part of designing your perfect staycation backyard is being able to get outside for some fresh air in your own private space. With added shade trees and hedges around your home, you won't have to worry about any nosy neighbors being able to bother you or your family.
Our nursery pros recommended the best shade trees and hedge material, so you can enjoy your time at home in the ultimate bliss. Keep reading to pick out the best trees for your new secluded paradise.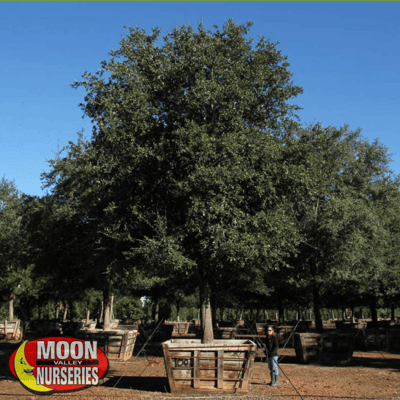 Live Oaks are hardy evergreen trees that thrive all year in our region. Their dense/gray-green foliage and wide-spreading canopy will create instant privacy and add way more shade to your home. These drought-tolerant trees thrive in the full sun and need very little care.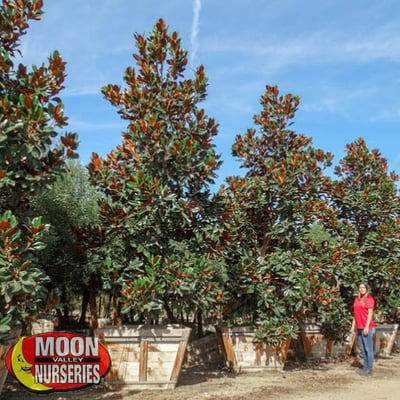 Magnolias are eye-catching trees with their striking foliage and large canopy that creates immediate privacy. They bloom showy flowers that can grow into large, cup-shaped blossoms throughout the entire canopy of the tree in spring and early summer.
Italian Cypress' are the most easily recognizable hedge plants in the world, which makes them ideal when you want to transform your yard into a new destination! They are perfect for backdrops, along borders, or mixed in with other hedge material.
Shumard Oaks are medium-to-large size trees that grow a thick, wide-spreading canopy with large dark green leaves and can grow up to eight inches long. Shumard Oaks are known for their classic look and the massive amount of shade they can give your home.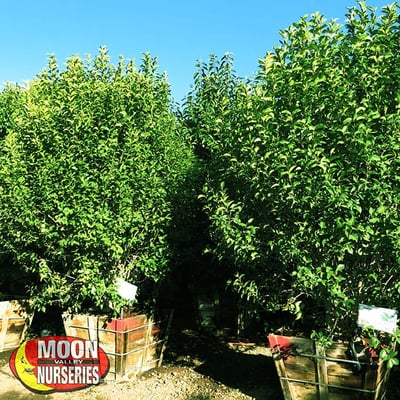 Japenese Privets are a great option for a low-maintenance evergreen hedge, perfect for creating a thick wall of privacy around your home. These fast-growing privets can be planted in rows for privacy or can be grown naturally to create more shade and privacy coverage around your yard. In spring, privets grow small, white flowers for a temporary accent color.
Create a Tropical Resort in Your Yard with Luxurious Palm Trees
At Moon Valley Nurseries, you will find hundreds of varieties of palm trees that can transform your yard into a private resort for your family. Below are a few traditional palms you often see at stunning high-end resorts. These palms will give your staycation that "wow" factor that will amaze your family, friends, and neighbors.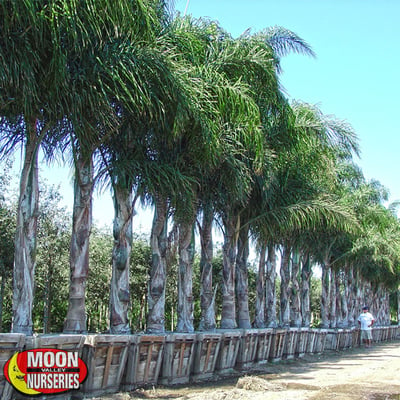 Our Choice Select! Piru Queen Palms are specially grown at our farms across the Southwest. Our custom Piru Queens produce hardier trunks, greener fronds, and fuller crowns than other varieties. These palms have a narrow trunk that can squeeze into tight spaces around your pool or into other snug areas in your landscape.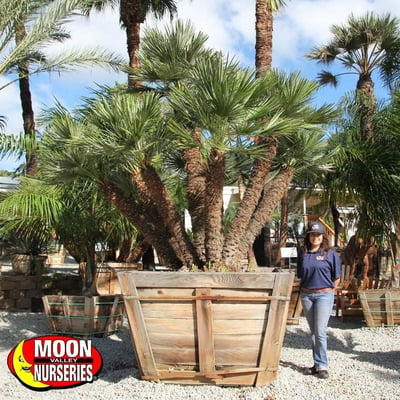 Mediterranean Fan Palm trees are great palms for our hot summers and cool winters. These slow-growing palm trees grow in multi-trunk form, adding a unique look to the landscape. They can also be planted in containers to bring a tropical element to your patio or garden areas.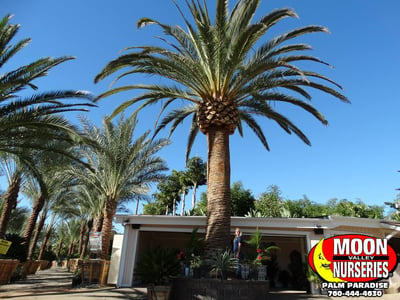 Pineapple Palm trees produce wide fronds to create more shade for your resort-style pool landscape. Pineapple Palms love the sun and are often planted around resorts and hotels. These palms will look amazing when planted alone or in a group planting with other palms to create a natural tropical look for your yard.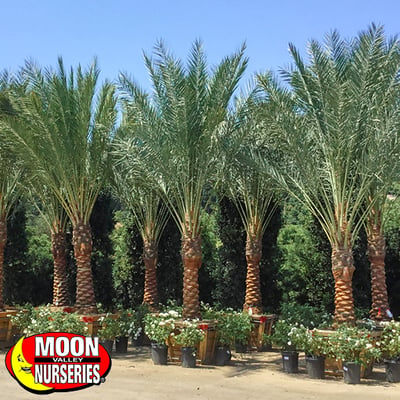 Date Palm trees are the ultimate pool palm tree thanks to how much shade they can bring to your yard. Their wide fronds create a fuller canopy that can cool down your pool or patio. These drought and heat-tolerant palms are often planted in rows or groupings around shopping centers, stadiums, and most resorts around the country!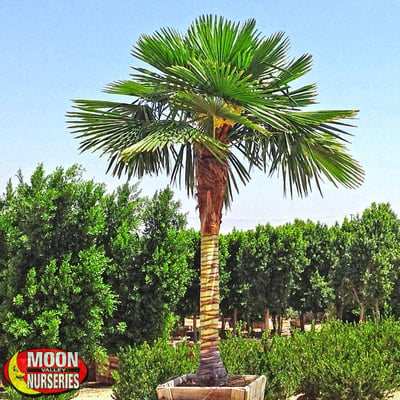 Windmill Palms are one of the most durable palms in the world and thrive in heat, drought, and cold weather. These tough palms are regularly used as a focal point around pools and patios. With their small-to-medium height, Windmill Palms can be planted near larger palms to create a fuller, natural look to the landscape.
Add Bright, New Colors to Your New Staycation Spot
Trees and Palms can instantly transform your yard into your custom staycation destination. To complete your new design, we recommend adding shrubs that will bring new color, depth, and texture to your landscape. Our nursery pros recommend some beautiful shrubs to add to your new favorite vacation spot.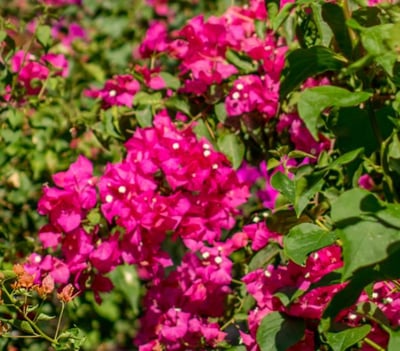 Bougainvilleas love the heat and become very drought-tolerant, once established into the soil. These heavy bloomers produce flowers from spring through fall, which brings an entertaining show of color to your yard all year.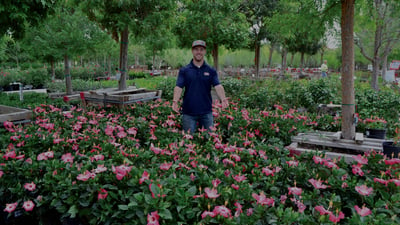 Hibiscus plant varieties produce flowers of various colors from red, white, pink, yellow, and orange! These tropical shrubs will stand out under a group of palms or planted in front of a hedge for a layered look.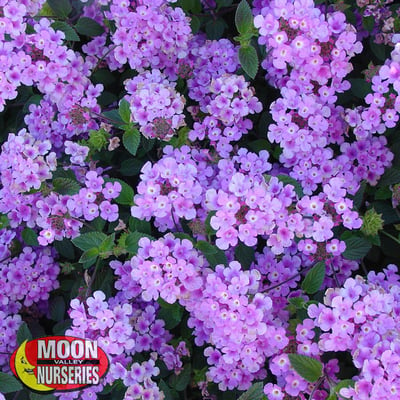 Lantana shrubs are one of the most colorful plants for our area. You can also find them in different varieties like our trailing Lantana, mounding Lantana, and bush Lantana to give you the exact look you want to create. They bloom from spring to fall, renewing your yard with each new bloom cycle.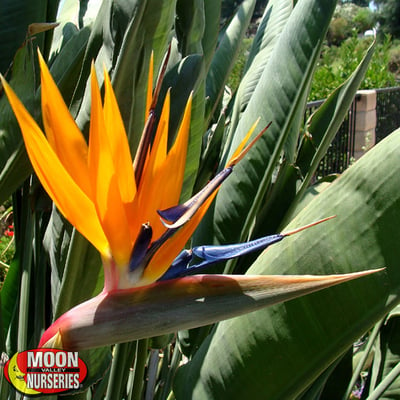 Tropical Birds of Paradise are sun-loving tropical shrubs that are perfect for filling out a landscape around palms and bringing that vacation right to you. Their large banana-shaped leaves and orange flowers filled with blue accents bring your tropical staycation to life.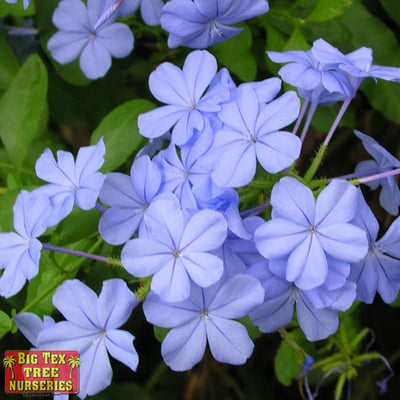 Plumbago is a remarkable shrub that produces sky blue flowers starting in spring through the fall season. This fast-growing shrub can be planted anywhere as ground cover, colorful filler, and even a low unique hedge!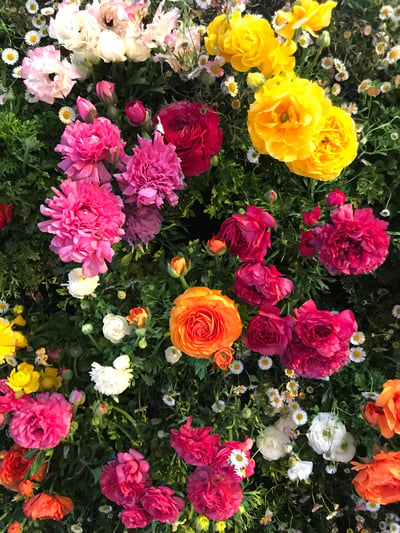 Roses perform exceptionally well in our region and can grow great in full sun environments. There are hundreds of varieties of roses to choose from, so you won't have trouble finding the perfect roses to make your home the perfect vacation destination.
In-Store and At-Home Landscape Design Consultations Available
Moon Valley Nurseries is open and ready to help you create a custom staycation landscape that you will never want to leave! Our experts have decades of experience and will be able to assist you with any and all projects. Click here to find a nursery near you today!