Nobody likes to feel like they're on display in their personal outdoor space. When you're feeling exposed to your neighbors, it can be a little hard to relax and enjoy your front yard. With the right evergreen trees, you can create a fortress that is pleasant, peaceful, and most of all, private.
The natural privacy solution is to use plants. Trees are much more colorful, add texture, form, and you can incorporate them into your landscape's design - all while still providing plenty of peaceful solitude and privacy.
Sure, we could install an expensive fence or build a wall made from brick, stone, or some other solid material. However, tall fences and walls can make us feel confined in our space, not to mention that there could be restrictions based on height, placement, and style. And, many fences and walls become an unsightly eyesore over time.
Some Benefits that Evergreen Trees Bring to the Front Yard
Create a natural yard boundary instead of, or in addition to, fences or walls
Block unwanted views or viewpoints from neighbors or street traffic
Can protect your property from high winds
Creates a natural sound barrier
Enhances the architectural design of your landscape design
Five Best Evergreens for Your Yard in Texas
Evergreen trees are an excellent choice for creating a private yard. They hold onto their leaves all year long so that their foliage can add wall-to-wall privacy year-round. They fit in perfectly as they mature, creating a consistent look for a privacy screen. Plus, evergreen trees help absorb ambient noise, too. Evergreens do a whole lot more than create privacy. Here are five of the best front yard landscape trees for Texas.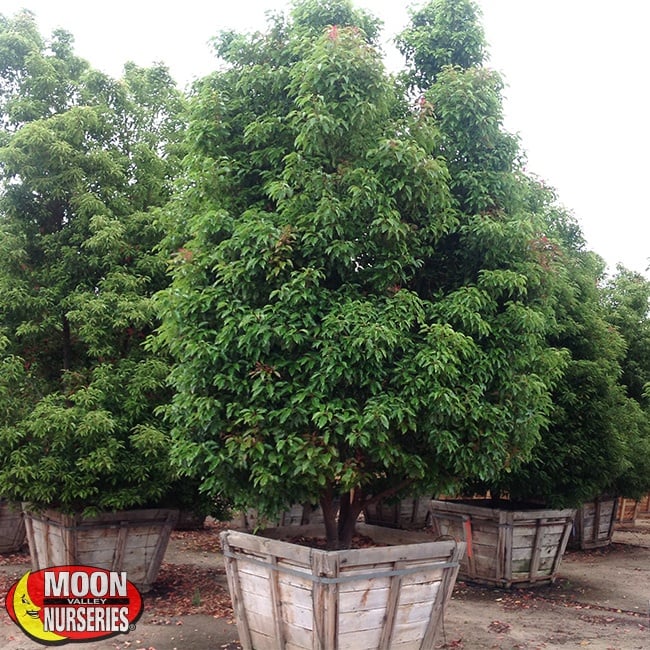 Camphor (Cinnamomum camphora): This evergreen tree grows fast and wide so that it can block unwanted views and make your yard private in no time at all! We like to plant them in rows along a property line to make a year-round privacy screen. It features glossy, dark green leaves and that creates plenty of shade, too. We also like to use Camphor trees to create a natural windbreak. The fragrant foliage is more than just a great provider of shade and privacy – crushing the leaves is said to have a therapeutic benefit. It can also repel insects so that you can keep enjoying your private yard all day and into the night.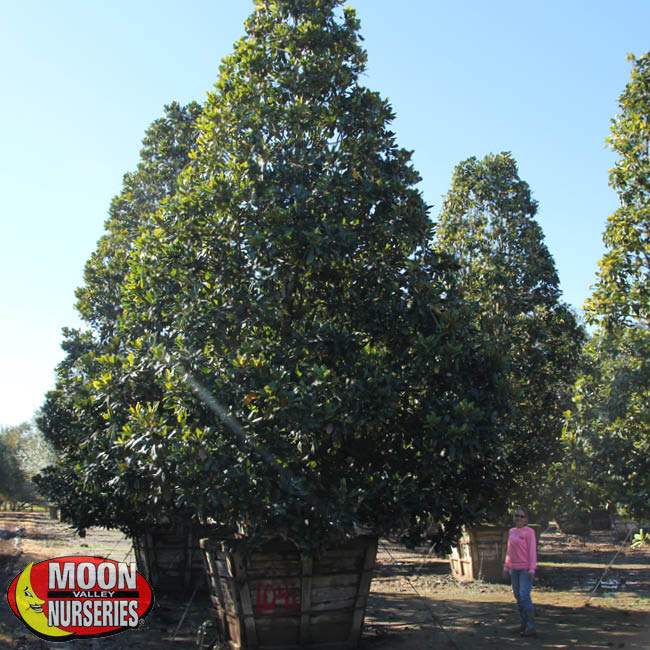 Magnolia (Magnolia grandiflora): The Southern Magnolia is a favorite evergreen in Texas. It features attractive, dark green leaves and blooms large, pleasingly aromatic, creamy-white flowers. These beautiful flowers appear throughout the summer and last into fall. The dense growth habit is what helps to make it one of the best evergreens to create a private front yard. Besides being able to create privacy and fill the air with a pleasant fragrance, Magnolia trees are also an excellent shade tree. These trees are tolerant of urban conditions, so they are a perfect choice for adding privacy features to any urban garden.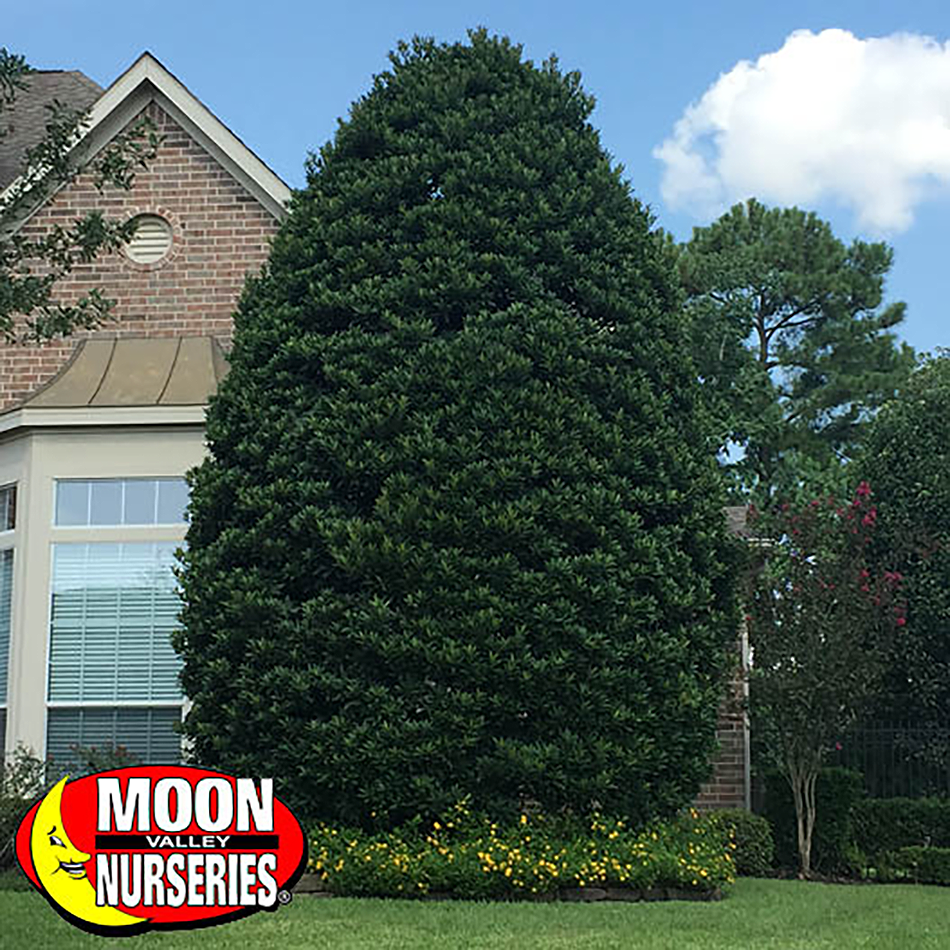 Japanese Blueberry (Elaeocarpus decipiens): This is one beautiful evergreen tree! It features glossy, green foliage and blooms fragrant white flowers in summer. It likes to have room to spread, so we want to plant them in larger landscapes. Plus, they can tolerate urban pollution, so they are a great choice for creating a private oasis in an urban garden. We also like to use Japanese Blueberry to create a natural windbreak. We can do this by lining them up in rows so that they can protect your home from high winds. If you are looking for a tree that brings year-round interest and privacy quickly, look no further than the Japanese Blueberry tree.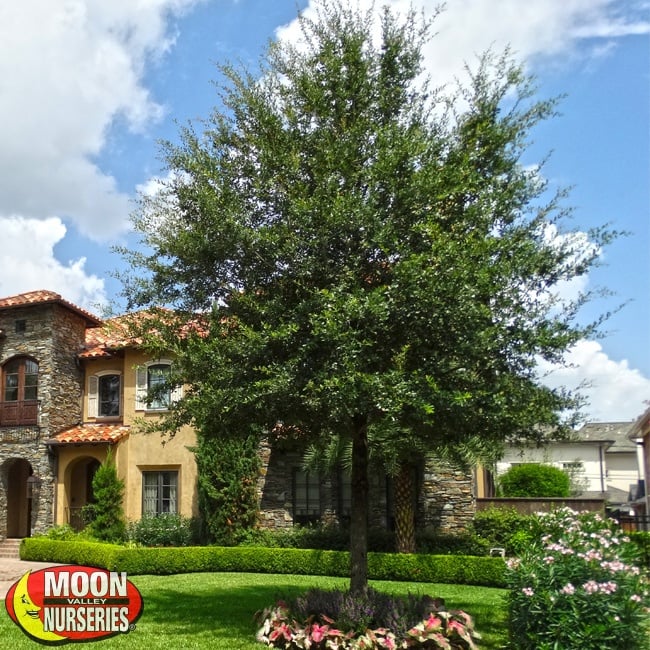 Live Oak (Quercus virginiana): This picturesque evergreen tree is a familiar sight in the Houston area. It is one of the most impressive shade trees featuring a spreading canopy that is capable of blocking sunlight. It works well as a street tree and grows in a rounded shape. We like to plant them in the front yard so that the glossy, dark green leaves can make your yard more private and beautiful. High winds are no match for this tree, and it can adapt to almost any type of soil. This classic tree of the south can live for centuries, so it can make shade and keep front yards private for generations to come!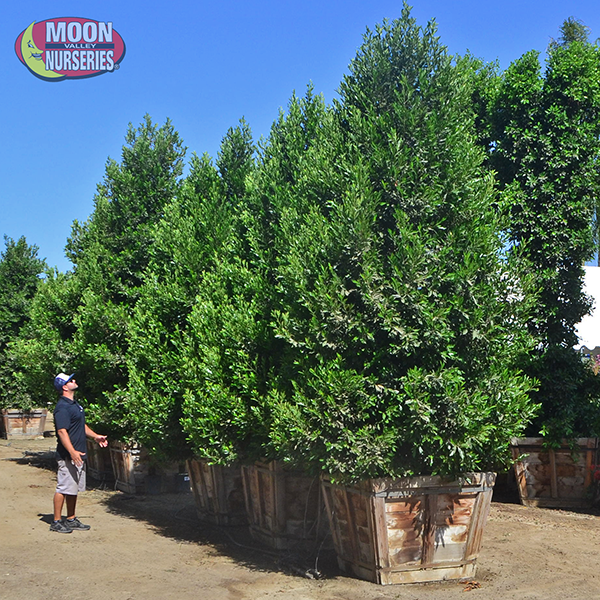 Carolina Cherry (Prunus caroliniana): Commonly called the Cherry Laurel, this evergreen tree makes an outstanding privacy screen. It features bright green foliage and small, fragrant, creamy white flowers that bloom in late winter to spring. We also like to line them up along a fence line and use them as a windbreak so that you can keep hanging out outdoors no matter how windy it gets. It has a dense, compact growth habit that is ideal for screening and helping to create a private front yard. Everyone loves their near-perfect shape and low maintenance requirements.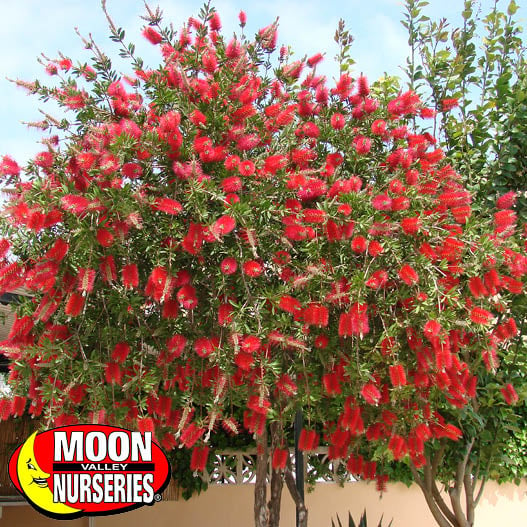 Bottlebrush (Callistemon): The headline may say the five best evergreen trees, but, we couldn't write a blog about privacy screens in the summer without mentioning Bottlebrush. These small trees bloom flowers in shades of red or crimson that lasts throughout the summer. Its green foliage provides the perfect backdrop for the beautiful red flowers. Plant them along a border or use them to block unwanted views in style. This evergreen attracts hummingbirds, too!
We Do the Work – Come Home to a Private and Beautiful New Yard!
Allow Moon Valley Nurseries to do all the work! Visit your nearest Houston area location and speak with our nursery pros. We grow the best-quality evergreens right here in Texas so that they will thrive in your landscape. Big or small yard, we can create a natural privacy solution. Sit with our landscape design specialists, and we'll be glad to show you the perfect evergreen trees that you'll enjoy for years to come. Sit back and relax on your front porch or play games in the yard with your children. Spend more quality time in your front yard – plant evergreen trees for privacy!