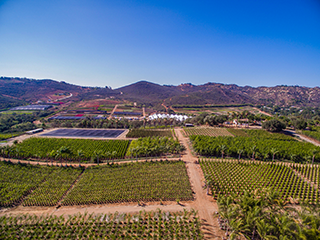 As we continue to celebrate our 25th anniversary of growing the best trees and designing thousands upon thousands of landscapes, we have to focus on our very own farms.
One fact that we are very proud of here at Moon Valley Nurseries is that we grow our own trees! We have been growing them since the very beginning and expanding ever since.
We have multiple farms in California, Arizona, and Texas growing almost every variety of tree that are in our nurseries. We spend a lot of time picking the right seeds to harvest and the right cuttings to grow to make sure we continue growing better and better trees.
MOON VALLEY NURSERIES TREE AND PLANT FARMS
Everything at Moon Valley Nurseries starts at our farms where we grow almost everything that you will find in our nurseries. Our farms are spread out across the southwestern states, giving us the opportunity to grow our trees in different climates and therefore continuously creating better and stronger trees.
We do a lot of things on our own, which makes our trees exceedingly better compared to other tree farmers in the country. All our farms use custom-mixed soils, custom-made planter boxes, and custom seed and grafting cultivation.
Our unique process from the soil to the nursery is something that only happens at Moon Valley Nurseries. This has helped turn our nursery into one of the best in the country with top-quality trees and top-quality standards.
Custom Planter Boxes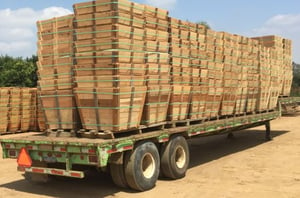 Unlike most other tree growers in the world, we build our own planter boxes to grow our trees. Using a custom-styled box allows us to manage and protect the root system of all our trees and plants that we grow from day one.
When constructing our boxes, we use only the best quality materials. This will ensure that our plants are not being contaminated by using poor quality, and sometimes even dangerous, materials.
Our growing methods let us monitor the plants more closely and it lets us know that each plant and root system is getting watered and fertilized evenly as it continues to mature.
Seed Cultivation
Our growers are always looking for the healthiest trees to harvest seeds with the highest potential of success. Most of our cultivation happens with the mature trees in our farms but we never stop searching for new tree varieties!
Once we identify the best mother trees, our expert tree growers harvest all the seeds we can and take them to be planted in our greenhouses.
Sometimes planting a seed is not always the best way to grow a tree, depending on the variety. Another process we use is planting a cutting. A cutting is a small piece of the mother tree that is placed in water. It will eventually develop a root and be grown in the same way as the seed process.
By always growing new trees with our best mother trees, we are constantly making our trees stronger, bigger, and better!
Growing Procedure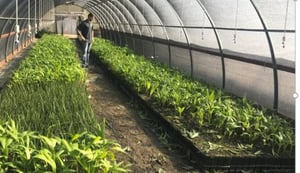 Moon Valley Nurseries has some of the strictest growing procedures in our industry. Our expert growers put hours of time into taking care of the tree through every growing stage and season.
They monitor and maintain every task including watering, trimming, and fertilizing to create consistent optimal health.
We grow at such a large scale and with such precision because our customers expect to have hundreds, sometimes even thousands, of matching trees that will grow great in their homes or commercial projects.
Delivery to Nurseries across the Southwest
Once our plants have matured, they go right to a nursery where they are given the same care as they were getting at the farms.
We carefully load our trees and other plant materials into our trucks and tarp them to be delivered directly to our wholesale projects or our retail nurseries. Once they arrive, they're carefully unloaded and placed in our inventory, so they are available to be hand-picked by our customers.
MOON VALLEY SPECIMEN TREES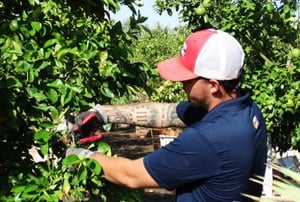 We have the largest and most beautiful trees in the country, all grown in our local climate so that they will thrive in your landscape. We have the biggest shade trees ready to plant and create shade in your yard right now.
With the sun staying out longer every day, your existing shade is starting to fade away. If you need some trees to block out the sun better, now is the best time to plant so that they have time to adapt to their new soil and location before it gets really hot!
WHAT HAPPENS ONCE OUR TREES ARE DELIVERED TO THE NURSERIES?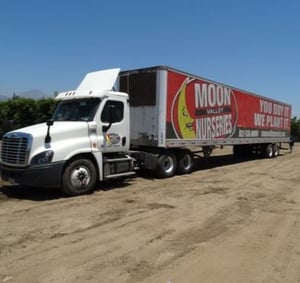 Once our trucks deliver our trees to the nurseries, they are unloaded and placed into a quality custom irrigation system in the nursery. Each tree and plant are taken care of exactly how they were being taken care of at our farm.
Landscape Design Consultations
Bring in your ideas and photos of your yard to any nursery and an expert landscape designer will be waiting to help bring those ideas to life. When you come in, you can spend some time chatting with your designer and then they will walk you around the nursery.
This will let you see the trees yourself, feel them, smell them, taste them (we only recommend this with our fruit trees), and just get an overall feel for their size and impact!
Once you find the trees and plants that you love, we will tag them for you, so they don't go walking away. After that part is done, we set up a delivery day that works best for you and get started on your new yard!
Want Us to Come to You?
We offer landscape consultations at your home as well! A designer can come out and get a fresh perspective on what you want and need for your yard. They can help answer your questions and walk the yard with you, flagging the locations of your new landscape materials.
Moon Valley Nurseries Featured Tree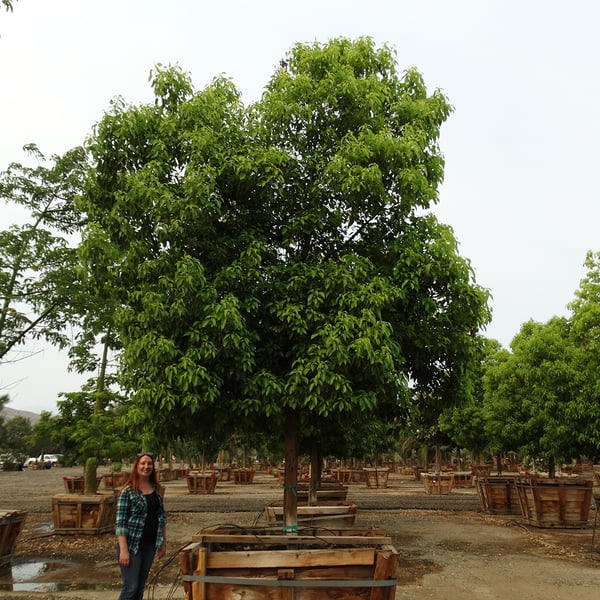 The Camphor tree is a common, large evergreen shade tree that looks fantastic when planted on lawns or as curbside planting. Native to Japan and China, Camphor thrives in full sun and will require low water once established.
Its drought tolerance makes it an excellent addition to any Southwestern landscape. In fact, this beauty thrives in humid areas such as southern Texas.
The Camphor tree also produces fragrant yellow flowers that bloom profusely in late spring to add a gorgeous contrast of colors between the foliage and flowers.
This low-maintenance tree is best for creating extra shade in your landscape and keeping the mosquitoes away!