Back to main Blog
Luke Kalawsky
Luke Kalawsky has a passion for all things trees, plants, and landscape design. He has designed numerous landscapes as the head designer in the Surprise, Arizona region until he became a manager of our Central Phoenix Nursery. He now dedicates his knowledge, expertise, and creative capabilities to help the masses discover how to design, plant, and maintain their landscapes with his writings.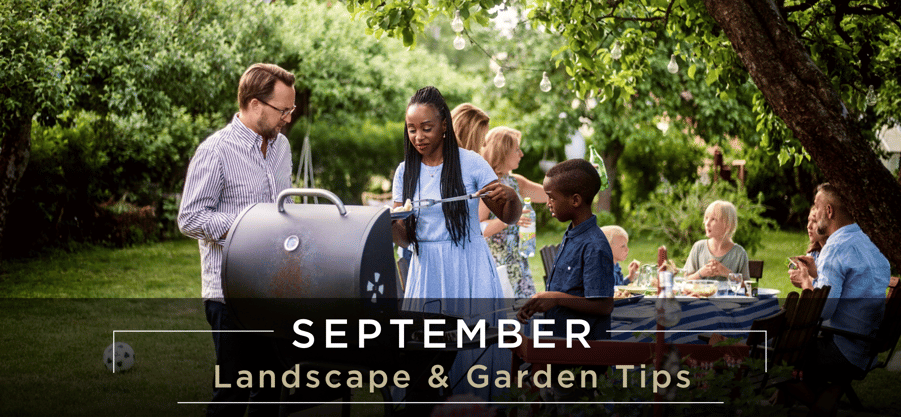 September marks the start of the fall growing season. The cooler evenings paired with warm fall days are the perfect combination to get your yard growing at its best!
Newly planted trees and plants also establish very quickly this time of year, making September a great month to start your next landscape project!
Our nursery pros have compiled all the best landscape and garden tips to get your yard ready for the fall growing season! Whether you are looking to give your landscape a boost or plant some new trees this autumn, these helpful tips and advice will equip you and your landscape for wonderful fall growth!
HYDRATE YOUR YARD: WATERING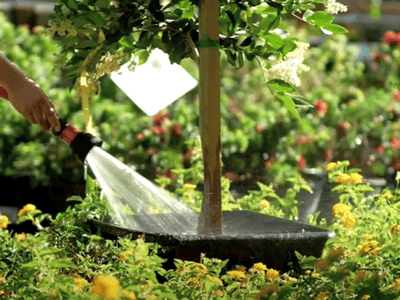 With the cooler nights and days arriving, it's important to change our watering routine. For fall, we need to water less often than we do during the summer. Typically, once our daytime temperatures reach 85-100 degrees, we move away from our summer watering schedule and move into the fall schedule.
There are some major factors that play into how much you need to water. The type of tree or plant, how mature it is, and its planted location can all change the watering requirements for your yard. Check out our watering guides to see what we recommend for many varieties of trees and plants this season. If you would like more help or information, don't hesitate to reach out to one of our nursery pros at your nearest Moon Valley Nursery location.
FEED YOUR PLANTS: FERTILIZING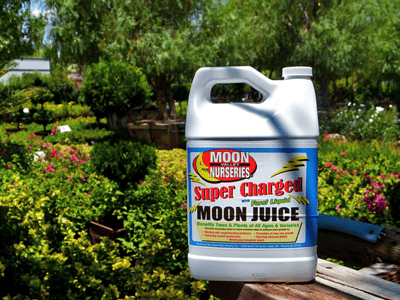 It's time to fertilize! Fertilizing helps your trees, palms, and other plants grow to their full potential. This is the perfect time to feed your trees and plants for additional help with the growing process. Fertilizers will allow trees and plants to intake more nutrients and water along with making preexisting nutrients in the soil more readily available.
Moon Valley Nurseries has a line of custom-developed fertilizers that can be used on a variety of landscape materials – turf, grass, palms, shade trees, privacy hedges, and so much more. Click here to see our fertilizers.
TREE CARE: TRIMMING AND PRUNING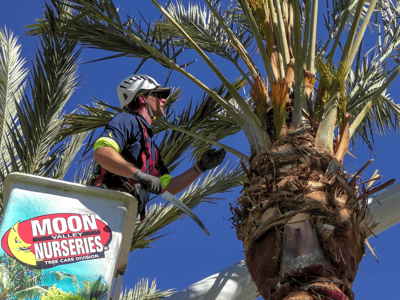 Make way for new growth! Trim off any dead or damaged branches so that healthy new branches and foliage have room to grow in. You can take full advantage of the fall season by practicing proper tree care. This ensures that your trees and plants are ready for all their beautiful new growth.
Don't forget to mulch! Add mulch around any of your trees and plants that receive direct sunlight. This helps to keep the soil cool and moist and helps with water retention to aid in proper deep watering practices.
As always, feel free to contact your local Moon Valley Nurseries location with any further questions. Our nursery pros are always happy to help you in keeping your landscape looking and growing its best!
BEST TREES TO PLANT IN SEPTEMBER
If you're looking to add some new plant material to your landscape this autumn season, here are some of our favorites for fall planting!
The Shumard Oak, or Red Oak, has quickly become one of the most popular Oak varieties for home and business landscapes across the western United States. These incredible trees boast a large canopy that grows in a pyramidal shape at younger ages and branches out to an expansive vase-like pattern at maturity. Shumard Oaks provide ample shade during the summer months from their lime-green foliage, while transitioning to a jaw-dropping bright red color in the fall.
This Oak variety works very well in a variety of landscapes due to its ability to quickly establish to a planting location. They are easy to care for and become drought-tolerant once established. This makes them water-wise, having only low to moderate water requirements.
Shumard Oaks are one of the fastest-growing trees in the Oak family, further contributing to their popularity. They grow to a medium to large size and have long lifespans, perfect for planting as a family estate tree!
To learn about more shade trees that develop incredible autumn foliage, check out our guide on fast-growing trees for vibrant fall color!
Crape Myrtle trees bring a lot to the table when it comes to augmenting your yard with year-round color. They are moderate to fast-growing trees that bloom enormous clusters of flowers in the spring. Crape Myrtle flowers can bloom in a variety of colors depending on the tree variety. These colors can include white, pink, red, lavender, and purple flowers and the Crape Myrtle will stay in bloom into the late summer.
The fall color of Crape Myrtle trees is nothing short of astonishing. If the idea of a landscape tree that provides autumn colors of yellow, gold, and orange-red sounds interesting to you, then Crape Myrtles will not disappoint! Their myriad of colorful fall foliage will highlight your landscape with year-round interest and when used as a street tree, bring loads of curb appeal.
They make a lovely shade tree as well, able to provide a healthy canopy of shade to areas of your home or landscape. They are cold-hardy and love to be planted in full sun exposures. Crape Myrtles also become drought tolerant once established and are easy to care for throughout the year.
The Carolina Cherry, sometimes known as Carolina Cherry Laurel, has become a popular choice due to its minimal maintenance needs, natural upright conical shape, and ability to tolerate heat, drought, and wind. These small to medium-sized evergreens with dark green, lustrous wavy-edged foliage provide one of the most attractive ways to add living screens to your backyard, front yard, or any other area of your landscape.
Carolina Cherry trees make great privacy hedges as they can be sheared into a tall screen or kept in their conical shape. You can also plant them in rows along a driveway or entry to create a lush living wall that also provides cooling shade.
Check out other trees and plants for privacy hedges in our ultimate guide to privacy hedges!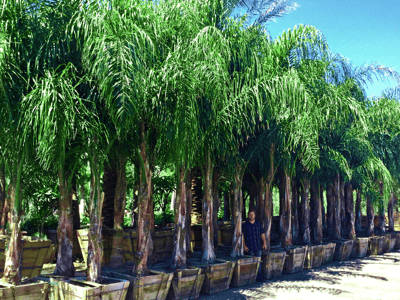 Our Piru King Palms are a Moon Valley Nurseries exclusive hybrid that features a thick, robust trunk, dense, green fronds, and a full, lush crown. These custom-grown palms thrive in full sun and are both heat and cold hardy.
Because our Piru King Palms are grown in our native soil and climate, they have low water requirements and can handle very cold temperatures much better than other palm varieties. This makes them ideal for anyone seeking a drought and resistant landscape.
Our Piru King Palms will bring the feel of world-famous resorts and the tropics straight to your yard. These beautiful palms can grow up to heights of 20-30 feet and can have 8-10 foot fronds, making them perfect to add shade around a pool area. You can also plant them in your front yard for a focal point and use nighttime lighting to pump up the curb appeal of your home!
You can read more about palm varieties that perform great around pools here!
YOUR RESOURCE FOR PROFESSIONAL LANDSCAPE DESIGN IN TEXAS
If you'd like any additional information on the best trees and plants to plant this fall or would like help putting together your perfect yard this season, our professional landscape designers offer free in-store design consultations at any of our local Moon Valley Nurseries locations.
Feel free to give your local landscape design professional a call today and explore planting your dream yard this fall season!
To learn more incredible yard care advice, design tips, and tree knowledge, check out our library of articles! We have a massive catalog of entertaining and informative articles written by our experienced nursery professionals to help you succeed with all of your landscaping goals. 
Updated on 8/22/2022