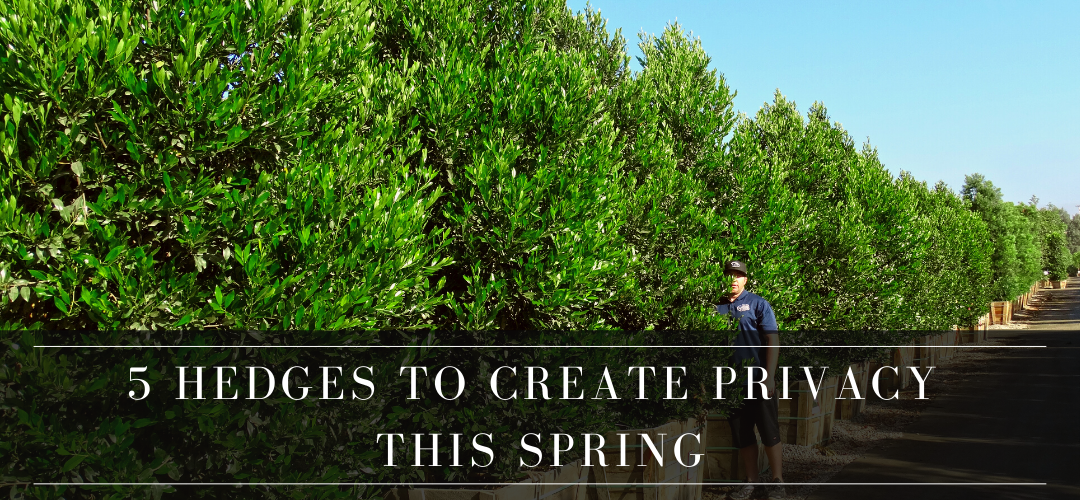 Privacy matters, so plant these hedges of spring! Keep spying neighbors from peeking over the fence. We can create a private area and increase property value at the same time. Sounds good, right?
Privacy Hedges for Yards in Texas
Privacy hedges build living walls that can be a sound barrier, too. These five hedges of spring bring lots of color and shade to the Texas landscape. If you are looking for a natural solution and an alternative to vinyl fencing, read about our top hedges for the Austin and Houston regions!
Below Are Our Top Texas Hedges for Spring Planting
These evergreens are excellent privacy screens. They feature glossy, olive-green foliage with a fragrance like bayberry candles. They grow fast in poor soil, so they are an excellent plant for the Houston and Austin areas.
They get bonus points for being resistant to deer and excellent heat tolerance. Homeowners love how easy they are to care for – they can almost take care of themselves. Wax Myrtles are fast-growing. You will not be waiting too long to enjoy the beauty, privacy, and shade coverage these plants provide.
Their ability to withstand heat and high wind makes them a top hedge for all of Texas. They feature bright-green foliage that can block unwanted views. These are excellent hedges that provide a solid privacy barrier. They are more than a compact shrub. When in bloom, creamy white flowers can fill the air with a pleasing aroma. They can be sheared into cones or columnar shapes!
They also have an outstanding ability to tolerate cold, heat, drought, and wind. Homeowners and landscapers alike rave about their near-perfect shape and low maintenance requirements.
These plants are valued for their clean evergreen appearance. They are also an excellent choice for creating a privacy hedge. We like their soft and lush green foliage and their non-invasive roots. Feel free to plant them near sidewalks, patios, and other structures.
Plant them along a fence and allow them to block unwanted views in style. They can provide plenty of shade, too! Homeowners living in the urban areas of Houston and Austin will be glad to know that these plants tolerate urban pollution. Enjoy the year-round interest that Podocarpus offer.
People rave about the broad, glossy, dark green leaves that bring natural beauty to all kinds of landscapes. It is an evergreen, so it keeps its beautiful appearance all year long.
They are heat tolerant and cold hardy, so they are ideal for growing in all regions of Texas. They are an excellent shade tree for smaller yards, too! Plus, they make a great privacy screen to block unwanted views in style. Bonus points for their superb windbreak features.
Add privacy to your yard with this charming evergreen! This exotic-looking beauty is heat tolerant and cold hardy so that it can thrive in Texas. It has an elegant look. Lush evergreen foliage is a large part of its appeal. Adding to its appeal are the ornamental bluish/black fruit that creates a beautiful contrast with the foliage.
If you want to create privacy, we recommend planting them along a fence or property line. They establish quickly, and their dense growth habit helps to provide the thick shade coverage we want in Texas. Privacy, shade, beauty – you get all that and more with Japanese Blueberry!
Our professional designers love to create landscape designs with privacy hedges, and we have thousands of hedges for sale at all our nursery locations. If you would like to have some expert help in creating the home paradise of your dreams, feel free to reach out to incredible designers. They will create a private retreat in your yard while making the process easy so you will be able to simply enjoy your new landscape in solitude!
To learn more incredible yard care advice, design tips, and tree knowledge, check out our library of articles! We have a massive catalog of entertaining and informative articles written by our experienced nursery professionals to help you succeed with all of your landscaping goals.