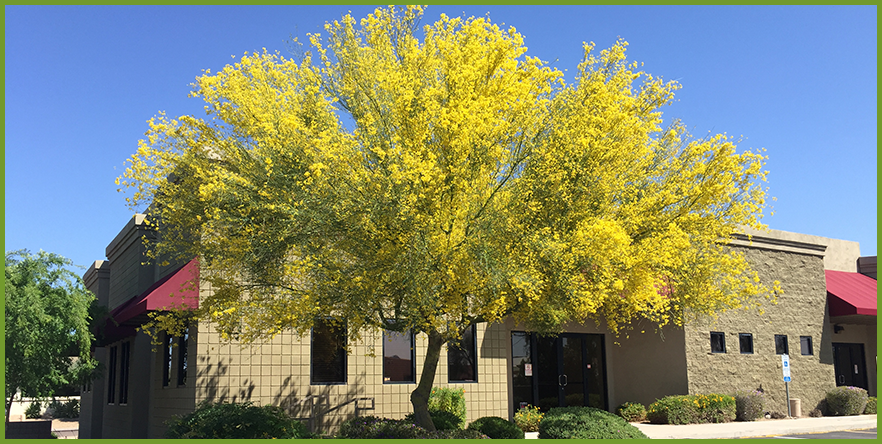 Yellow flowering trees can add plenty of interest to our landscape. We can add some leafy eye candy to our space that is sure to attract all the right attention. We have got the right-sized specimens that can flower up a storm of bright yellow!
We are lucky to live where we live because of the many colorful choices that can brighten up our garden. These yellow flowering trees can also provide the right amount of shade, too! Springtime is the best time to plant. We have got the perfect trees, whether there is still plenty of rain or drought. We have got you covered from the coast to the desert!
Our Best Yellow Flowering Trees for Your Landscape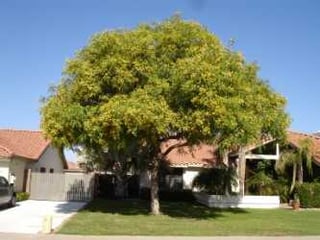 Tipu (Tipuana tipu): One of the best shade trees you can plant, is also one that can produce a coat of golden blooms in the spring. This showy tree attracts butterflies and features feathery, bright bluish-green foliage that can enhance the look of any landscape. Plant a Tipu tree wherever a high canopy is desired. Kick back and relax under the shade coverage and enjoy the vibrant bloom. A useful tree for a wide range of landscape designs!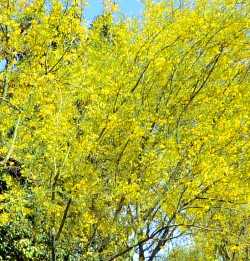 Palo Verde (Cercidium-parkinsonia hybrid and Cercidium floridum): We have the two incredible Palo Verde varieties that are known for transforming yards with their beautiful color and form. Both are drought tolerant once established. The Museum Palo Verde is a hybrid version of the classic Palo Verde, with the bonus of having thornless trunks. This hybrid version looks like a piece of art too, thanks to their vibrant yellow flower display and bright green trunks! The Blue Palo Verde can bloom fragrant yellow flowers and can attract butterflies to your garden. Its interesting sculptural trunks make it an excellent candidate for night lighting. Bring the wow factor to your landscape day or night!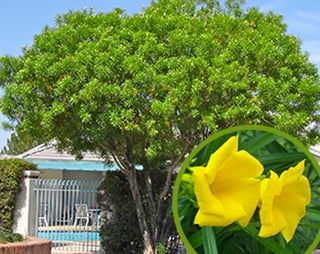 Thevetia (Thevetia peruviana): Also known as Yellow Oleander, this beauty thrives in the heat. In the spring, fragrant, large yellow blooms can appear, where they can add some much-needed color to arid landscapes. They feature attractive green foliage that helps to lend a tropical effect wherever they are planted. Specimen sized trees can establish a large umbrella-shaped canopy that can provide shade. njoy the bloom and the sight of hummingbirds enjoying the fragrant bloom!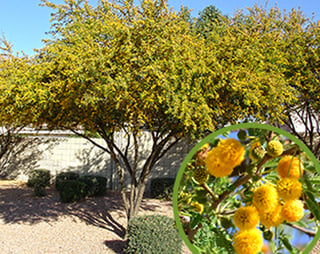 Sweet Acacia (Acacia smallii): These drought tolerant trees can produce fragrant golden-yellow puffball flowers that hold onto the tree for a long time. Their dark green foliage adds a beautiful contrast with the bright flowers. Plant a couple of specimen sized trees and enjoy the cooling shade they can provide. This versatile tree is an excellent choice for a wide range of landscape styles. We also like to use them as a focal landscape tree that can attract all the right attention.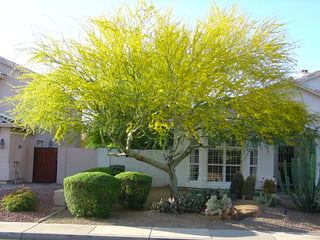 Palo Brea (Cercidium praecox): These are very showy trees that can create curb appeal. Springtime sees the arrival of bright yellow blooms that lend an attractive contract with its green foliage and apple-green bark. They feature graceful, interwoven branches that create an interesting sculptural quality. We like to plant them in front yards and light them up with lighting for added wow factor!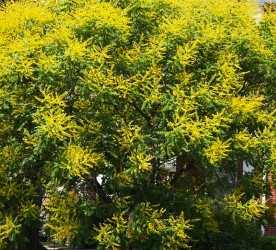 Goldenrain Tree (CA only): This flowering shade tree is an excellent choice for Southern California. They can tolerate drought conditions and many of the most common air pollutants. Yellow blooms can emerge to transform the look of any landscape. In the summer, the blooms develop seed capsules that can resemble small Chinese lanterns!
Speak with a Landscape Design Specialist!
Visit your nearest Moon Valley Nurseries location to witness these flowering trees for yourself. We offer free landscape design consultations. Our landscape design specialists will be glad to help you create your dream landscape with the best quality trees on earth! Free professional planting of specimen sized trees makes it easier than ever to achieve your landscape goals.