Design the Best Yard for Your New Home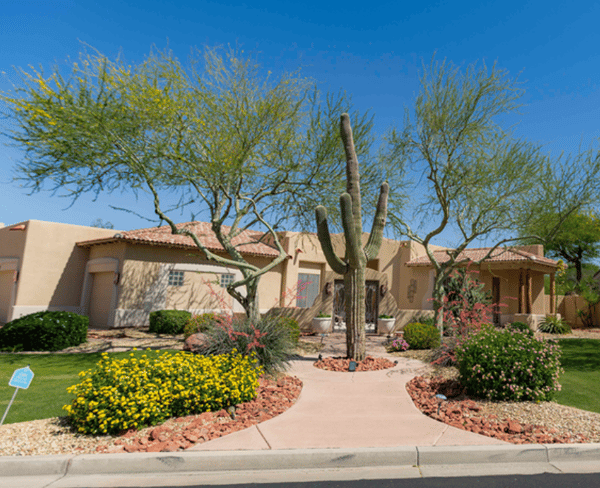 So, you just bought a house; congratulations! We can relate to the time, work, and frustration that comes with buying a home and starting a huge investment. From the moment you make the decision, the process starts at full speed! You might find yourself driving through neighborhoods looking for possible options or spending all your lunch breaks and evenings searching through online listings. This could last weeks or months, and it only gets more stressful.
Once you narrowed a few homes down, you could finally start going and seeing them in person to see if it is the perfect fit for your family and their needs. You finally walked into one house that felt like home, and your mind was set. The floorplan was exactly what you wanted for your growing family. It was perfect.
The Perfect Home Doesn't Equal the Perfect Yard…Yet
Sometimes when you find your dream home, it doesn't always come with a matching dream yard. Luckily, creating your new yard to go to with your new home is not as hard as you might think! When you come to Moon Valley Nurseries to complete your yard, we make it as easy as 1-2-3 for you, AND we do all the work! Keep reading to learn how to get started on your design.
MOON VALLEY DESIGN PROCESS
Whether you need large shade trees, privacy hedges, or flowering shrubs that will bring your property to life, our team can help you find any plant material for your region to create your dream yard.
Design Online with Backyard Builder
Our nursery has created a designer app that has helped our customers envision their goals clearer and faster. The Backyard Builder lets you see the vision for your yard in moments flat. And even better? You can create multiple designs!
You can upload picture after picture and use a plethora of digital copies of our plants and trees to lay around your yard! Always wondered what a Ficus Indian Laurel tree would look like next to the wall blocking the greenbelt over your west wall? Drag and drop into the picture, and now you don't have to imagine. You can see it clear as day!
You can easily create your account so you can save each design. After saving your images, you are already at the front of the line to have a designer contact you to bring your dreams to life!
Click here to get started with Backyard Builder.
Free In-Store Consultations
Every Moon Valley Nurseries location has expert landscape designers and nursery professionals that will help you create the best design for your yard. We recommend that you schedule a consultation with your nearest nursery. An appointment will guarantee that you are helped as soon as you arrive!
*At-Home Consultations are also available with a small fee. Ask your nearest nursery about availability. *
Click your state below to schedule a consultation with an expert designer today.
Learn More from Moon Valley Nurseries
Click here to get design ideas that will instantly upgrade your yard.
Click here to see how to pick the perfect trees for your yard when you come to the nursery!
Click here to find out if a xeriscape design is perfect for your home or property.