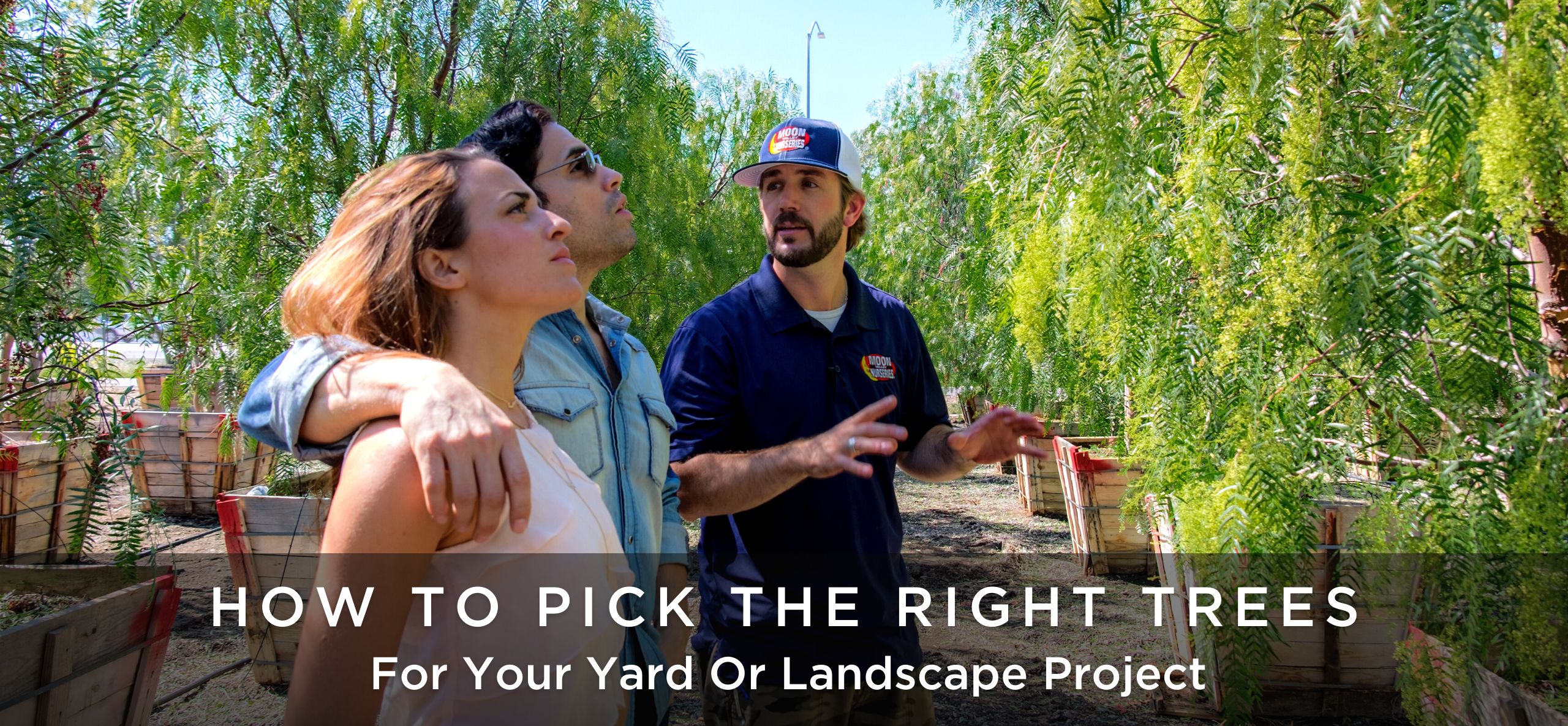 Decisions, Decisions...
In life, we are met with many decisions. From the big questions like which neighborhood you should buy your next home in and whether or not you should pursue this business deal to the little things such as what shirt or shoes to wear today. Throughout history, humans have developed methods to help make the right decisions and choices easily.
Maybe you have a list of things you look for when choosing a new car, or perhaps you've discovered
the secrets to selecting a great-tasting watermelon. These decisions surround us daily, and the quality of our lives can be significantly influenced by how we choose the products we invite into our life.
In this article, the pros at Moon Valley Nurseries will share with you the things to look for when choosing the best trees for your yard. These are tricks of the trade in the nursery industry, and today we're going to share them and help equip you with the knowledge to select the right trees for your landscape.
Does This Tree Meet Your Needs?
Does this tree variety fulfill the required goal for this part of your yard? If you need shade, does the tree you are considering offer good shade coverage as a mature tree? Are the plants you are wanting to use as a privacy hedge dense enough to accomplish true privacy?
One of the first factors you need to consider when choosing trees and plants for your landscape is if the type of tree or plant you're interested in will do what you intend for it to do in your yard.
How Mature Should My Trees Be When I Plant?
There's an ancient Chinese proverb that says, "The best time to plant a tree was 20 years ago. The second best time is now." Trees take time to grow, and some trees grow faster than others. When deciding on trees to plant in your yard, you should ask yourself how long you're willing to wait for shade, privacy, or even for your new trees to actually look like trees. Many homeowners buy and plant young trees to cover their home with cooling shade or to fill in an open gap in the backyard and create privacy, only to be disappointed that they won't have true shade or privacy for several, or even many, more years.
At Moon Valley Nurseries, we have trees of every age. If you decide that you'd like to wait 5-10 years for your trees to grow in, we've got you covered. If you don't want to wait another day to obtain your desired landscape, we've got you covered there too! We have a huge range of trees that we've been growing for over 20, 30, and 40 years, and even longer, all ready to be planted in your yard!
Location - Space & Water Requirements
The next thing to consider is the location you intend to plant your trees in your landscape. You'll want to ensure the variety of trees you are considering will fit into the space or fill in the area nicely.
You'll also want to make sure the water requirements for that species will coordinate well with any other plants you have in the vicinity or want to plant there in the future. If you are unsure of the growth pattern or what the water needs of the tree you are interested in are, double-check with your nursery pro before making a final decision.
Structure & Health
When selecting your exact trees, look for consistent, healthy branching structure. On single-trunk trees, you'll want to avoid trees with primary limbs that cross over each other within close proximity. This creates a weaker canopy that may become damaged during high winds. Limb crossover is far less important of a consideration in multi-trunk varieties. You'll also want to keep an eye out for any sunburn on the trunks, as this can lead to health issues down the road.
Cleanliness -
Deciduous
&
Evergreen
Trees
All trees drop something. Some drop more than others, but the dropping of leaves, flowers, fruit, or seeds is a tree's natural process of reproducing and shedding old leaves in favor of new growth and foliage.
One of these processes is how the tree molts. Evergreen trees have leaves on them year-round but also molt throughout the year, while deciduous trees will only shed their leaves during the colder months, meaning a one-time cleanup.
This hands the choice of cleanliness over to you. Do you prefer having leaves on your tree all year but also having leaves drop year-round, or do you like the idea of having cleanup only once a year?
Seasonality & Fall Color
The issue of tree cleanliness also leads to the question of seasonality. If you need your trees to have leaves throughout the year, such as in the case of a privacy hedge, then deciduous trees may not be the best option.
However, a deciduous shade tree has the advantage of providing low-litter shade during the hotter months, while the bare canopy during the winter allows some warmth on the home when it's coldest outside. Plus, you'll be able to enjoy the wonderful heralding of fall as the leaves display their seasonal color.
Choose From a Beautiful Selection of Trees & Plants
We grow all our trees and plants to rigorous standards to ensure you are choosing from only the highest quality specimens. Selecting plants and trees for your yard is easy at Moon Valley Nurseries. Our nursery pros are well-trained and have a deep passion for making sure that you have the perfect trees for your yard. We are always ready to help you plant the landscape you've always dreamed of! Stop by your local Moon Valley Nurseries location today to pick out the perfect trees for your yard!
To learn more incredible yard care advice, design tips, and tree knowledge, check out our library of articles! We have a massive catalog of entertaining and informative articles written by our experienced nursery professionals to help you succeed with all of your landscaping goals.