Moon Valley Nurseries Yard To-Do List
It is kind of hard to believe that it is already March, especially since Texas was just hit with lots of rain and might be getting more in the next few days! Despite what our surprise weather is doing, spring is just a few weeks away and warm days are, in fact, on the way. This is usually the time of the year where we recommend putting in a bit more effort toward your yard now. We are especially excited because the rain that dropped on our yards is an amazing bonus for helping our yards succeed sooner and stronger.
(As we recommend using our SuperCharged Moon Juice after some rain, I personally can't wait to use it in my yard! Anybody else excited? You will be! More on Moon Juice later in the post.)
Below are a few tips and tricks every yard can benefit from this month…
Landscape Clean-Up
Weeding
While you may not have seen too many weeds growing in your yard during the winter, the warmer weather (and all that rain) will give them the boost they need to pop out of your soil and grow inches overnight.
When weeds are young, it is a smart idea to remove them before they become established. Once they have grown, they can start dropping seeds and that leads to more weeds! Most people do NOT want to pull weeds ever, but I am sure they would rather pull them now, while it is still cool outside, than later.
When you pull all the visible weeds in your yard, using pre-emergent products will help keep your yard weed-free. Consistently using pre-emergent herbicides will make your yard a piece of cake to take care of, which you will be thankful for as the temperatures hit triple digits.
Every Moon Valley Nursery has pre-emergent products available for you to purchase and nursery pros that can help you pick the right products for your specific needs.
Pruning/Trimming
This time of the year is the best time to prune your trees for shape and shade before they experience spring growth. Pruning not only helps develop strong crowns but also promotes strong root growth. After pruning, be sure to fertilize with Moon Juice to get much-needed nutrients into the tree as it recovers from its haircut.
Landscape Prep
Fertilizing
Fertilize your landscape to give your trees and shrubs a boost and capitalize on the spring growing season. I am sure you have already started to notice the changes in your yard, or you will be seeing them very soon!
Moon Valley Nursery has developed highly specialized blends of fertilizer like SuperCharged Moon Juice and Super Palm Juice which are designed to trigger growth responses and supplement the essential micro and macro nutrients that plants need to thrive in the Western United States.
Check out all our fertilizer products here and learn more about which ones are right for your yard.
Planting
With all the rain that has fallen from Houston to Austin and everywhere else in Texas, it is a great time to plant new trees and shrubs. The soil is hydrated and enriched from the recent rains, which makes planting easier. It also creates a calmer transition and less shock for your plants as it grows accustom to its new home and becomes established in your soil.
Landscape Maintenance
Watering
This time of the year usually kicks off the start of longer and warmer days. It is important to keep an eye on your current watering schedule and start to transition from winter to spring as everything on your landscape will probably need more water soon, if not already!
For specific information on watering schedules, click here to learn more about the watering needs for your new and mature trees.
Lawn Care Tips for your Yard
If you let your grass go dormant through winter, you have probably noticed it is slowly coming back. If you haven't seen any new growth, there is still time! If you planted winter grass, you might be noticing that it is starting to die away and that is okay! The transition in your lawn is starting, whether its visible yet or not, and the little things we do now will make a big difference (and save you lots of work later) in the long run. It will also give you more time to enjoy your yard and entertain more this year. We have put together a few tips to help you focus some attention on your lawn this month.
Removing and preventing weeds from your lawn is the first step to bringing it back to perfect health.
Remove any thatch on your lawn that you can see to help get water and nutrients deeper in the soil and grass roots.
Aerate your grass to loosen the soil and allow for water, nutrients, additional grass seed, and fertilizer to get all the way to the roots.
Fertilize your lawn with our Moon Royale Turf Fertilizer to bring back that healthy green lawn that has been lying dormant all winter.
Water your lawn, as needed for your yard. Be sure to start paying attention to your lawn this time of year so you can adjust the watering schedule depending on how quickly the weather starts to change.
Suggestions for Trees to Plant Now
This tree features a spreading canopy that can produce dense shade in the summer to help keep you cool during the hot months. This oak tree has a long lifespan, so generations of families can enjoy it!
The bigger tree you plant, the sooner you can start creating memories!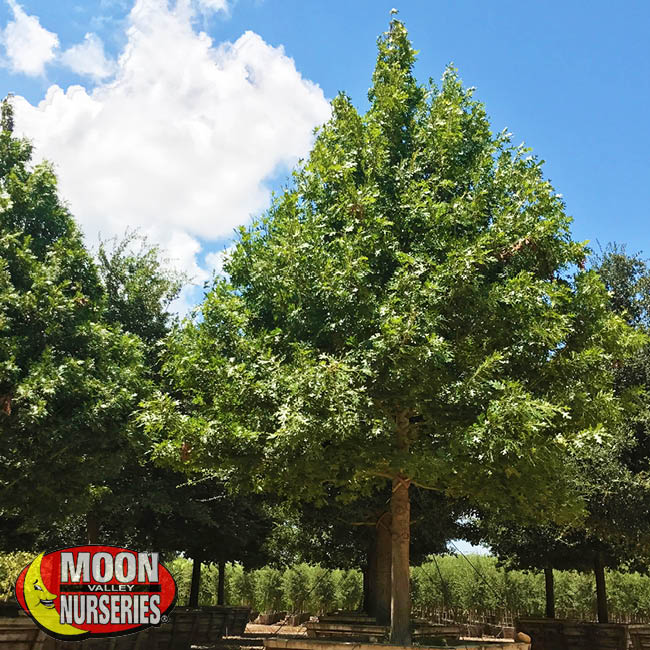 The Shumard Oak features a canopy that is capable of blocking sunlight in the summer and creating plenty of shade, which is always an important trait when you are looking to plant in Houston.
The Shumard Oak will instantly create curb appeal to your home, add value to your property, and create a more inviting outdoor space.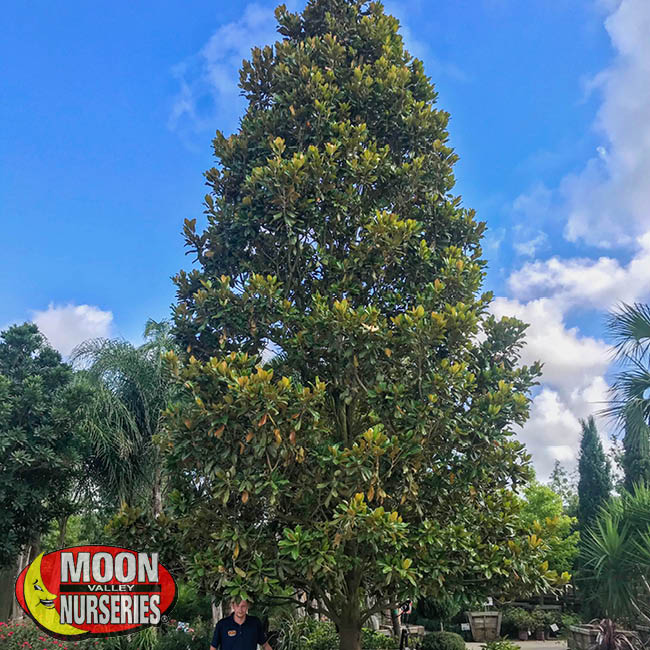 The Magnolia tree is a perfect option that will add classic beauty to your landscape. This tree is eye-catching due to its striking foliage and large spreading canopy. They also produce showy white flowers that bloom and give off a beautiful scent from fall through winter.
This tree produces long-lasting blooms of rosy-pink flowers that arrive in early spring. The blooms will stay for a few weeks in full color offering an amazing contrast with everything else around it. Their horizontal branching pattern adds architectural interest, especially with landscape lighting placed on it. Its modest size makes them ideal for large yards or small gardens.
The Texas Mountain Laurel is a small to medium tree that can be planted almost anywhere thanks to its size. It produces jaw-dropping flowers that will have neighbors stopping by to check out the unique color show. The flowers show up in early spring, but this evergreen tree stays looking great all year long!
THE MOON VALLEY DIFFERENCE
We love that we can offer our customers a one-of-a-kind experience at our nurseries. We truly do it all from growing the trees to helping you create the best landscape to making sure that landscape stays in perfect shape for you to enjoy for years to come.

Visit us this weekend to check out all the trees we have to offer and find the best fit for you.

The Magnolia tree is a perfect option that will add classic beauty to your landscape. This tree is eye-catching due to its striking foliage and large spreading canopy.