Design the Right Hedge for Your Yard
In our modern times, privacy is one of the main features people want when designing a yard. Increased population and home builders trying to build more homes on their lot has reduced yard sizes in some areas and made privacy that much more important.
Many tree and shrub options work amazingly here in our hot climate, but before you can choose them, you need to consider a few things before you start.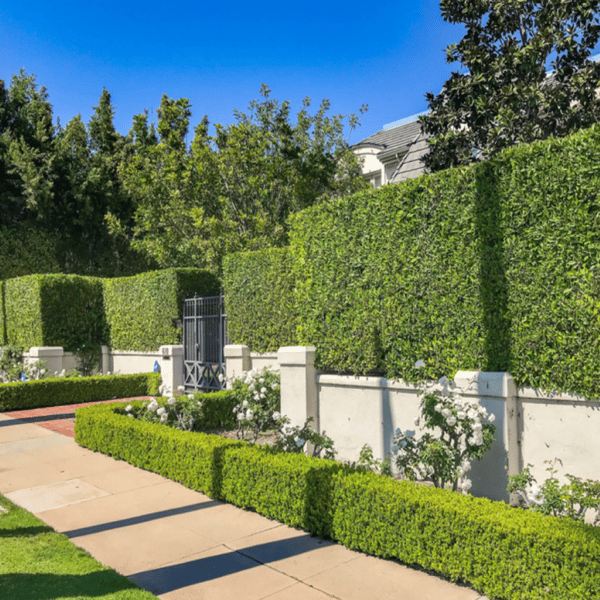 How much Space Needs to be Covered?
First, what is going to be the overall length and height of the area that needs to be covered to give the maximum privacy? You can easily do this with a tape measure, google earth, or even the measuring app on your phone.
How Many Hedges Can I Plant in my Yard?
Once you've decided on your height, you will need to think about your spacing. We recommend that hedges be planted nearly box to box or about three feet apart from each other. If you have 100 feet of space you'd like to cover with a hedge, you could use as many as 30 plants.
This distance could be pushed to as far as five feet apart, or 20 plants, if you'd like to reduce the number of plants purchased and you are willing to wait sometime for your privacy. You can also determine your budget based on the age of plants you'd like to purchase as well.
Privacy Hedge Options
Once you have the height of your hedge and how many hedges you will need for your project, you can decide on the tree or shrub you will use. For hedges 10 foot and over, I would recommend using Ficus Columns or standard Oleanders.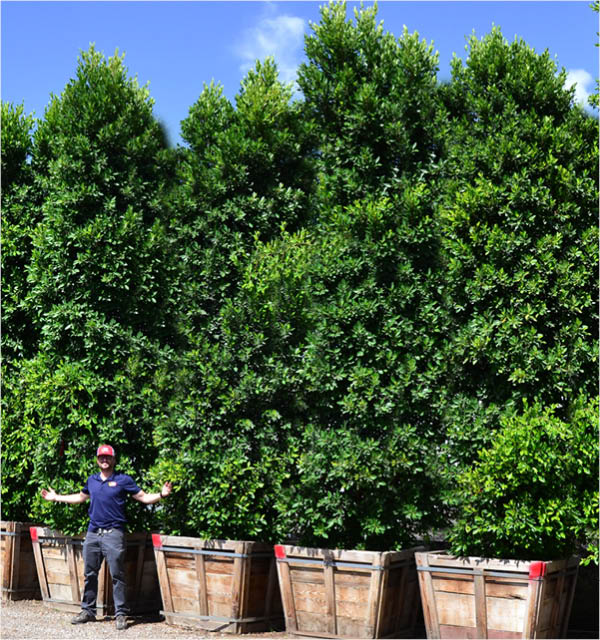 Ficus Columns will be the absolute evergreen trees that will give you the fastest growth and greenest foliage possible. This is our highest performing hedge and is our number one seller. We have planted these hedges in many high-profile celebrities' homes. They can easily be spotted by the "wall of green" it provides.
Ficus Columns can be maintained as low as six feet high and can grow as tall as 40 feet. Now don't let the height scare you because these trees can be maintained at whatever height you'd like to keep them at for your privacy needs. Ficus columns are one of the cleanest options for your property and will be a gorgeous focal point of your landscape for years to come.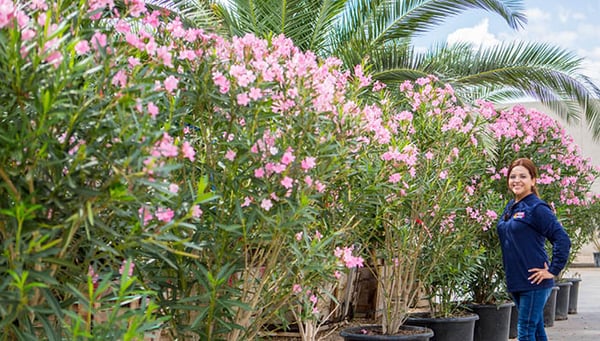 Oleanders will provide you with beautiful colors, and they come in multiple colors, including white, red, pink, light pink, and magenta. Our clients love these trees due to frequent blooming, fast growth, and outstanding hardiness. Oleanders top out around 15-25 feet tall and display lush green leaves accompanied by their signature blossoms.
Just like the Ficus Columns, these can be maintained at any height you would like. For frequent blooms, we do recommend fertilizing oleanders with our Moon Dust to help the push the most colorful flowers throughout the year.
An instant hedge is ideal; however, there are different sizes of trees and spacing for all hedge projects to work within your budget. Just ask your Moon Valley Nursery Professional to show you the best options!
More about Hedges from Moon Valley Nurseries
Click here to watch a video of one of our nursery professionals explain why hedges might be the ideal design for your new yard.
Click here to learn more about three hedges that can add instant privacy to your property today.
Click here to find out the benefits of designing a hedge for your home.