While most places in the world cannot even think about planting anything until mid-late spring, Arizona is quite different. Our awesome weather gives us the opportunity to plant almost any time of the year. With the weather being colder this time of year, it's important to make sure you are planting trees and plants that can handle that cold and still thrive. Moon Valley Nursery experts have put a list of the best hedges, shade trees, flowering trees, and palms to plant in late winter so keep reading to learn more!

Hedges are great additions to your landscape for several reasons:
They help to reduce noise from roads or loud neighbors,
They block the view of two-story homes & high-rise buildings,
They help reduce dust and litter from blowing into your yard,
Some of the larger ones can offer several feet of thick shade.
This privet is an evergreen hedge, so it keeps its beautiful appearance all year long. They are heat-tolerant and cold-hardy. They also make a great privacy screen to block unwanted views or as a wind barrier to block heavy weather conditions.
Unmistakable with their lush green foliage and tall, narrow upright form, these long living specimens are well suited for modern to Mediterranean landscape styles. Their natural ability to thrive in sunny climates on a minimal amount of water makes them a popular choice for just about any landscape. The Italian Cypress is also a clean tree that requires little maintenance upkeep!
If you're looking for a smaller hedge option, check out our Indian Hawthorn shrubs. They are versatile evergreens that can handle being planted in almost any location, full sun or not, and bloom clusters of bright pink flowers in spring. They are small to medium shrubs that create a unique look when planted in rows. They are also a great choice when you are wanting to create a double hedge design in your landscape.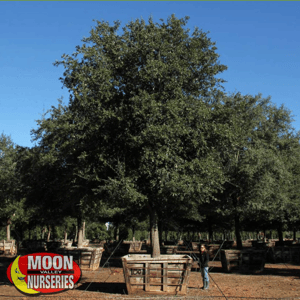 Shade trees have so many beneficial qualities such as lowering electric bills, increasing your property value, and adding stunning beauty to your yard. As the winter is coming to an end, many of our customers at Moon Valley Nurseries are already planning to fight the heat and we have so many great shade trees to choose from such as the trees listed below.
When it comes to shade, this is the ideal tree for the Phoenix valley. If you're looking for a large canopy to provide shade for entertaining or to just escape the afternoon sun you will not be disappointed in the Majestic Ash tree. This formal-looking tree with upright growth and glossy large leaves is perfect for planting as a focal point or in rows for even more shade!
The Chinese Elm is a beautiful tree that has become a very popular choice for our customers due to its dark green foliage. The umbrella-shaped canopy creates massive shade for your yard. This tree thrives in hot and sunny environments. In very mild winters, they can even retain their leaves.
Hardy and adaptable to most environments, the Brazilian Pepper tree is an attractive evergreen that is known for its compound leaves and shiny red berries. It provides year-round shade and privacy with its thick foliage and spreading canopy of branches that support its finely toothed and dark green foliage.
When you want to add lots of shade and beauty, you cannot go wrong with a Live Oak tree! They produce dark green foliage and offer a wide-spreading crown that can provide a refreshing shady spot in your landscape. We recommend planting our specimen-sized Live Oaks so that you can enjoy them immediately.

The sight of flowering trees in a yard can brighten up any neighborhood and add plenty of curb appeal to your property. Flowering trees can also give height and scale to your landscape. Some can even fill the air with a sweet fragrance. Consider these flowering trees below to start planting now!
This tree produces a profusion of showy light pink flowers in spring and features exceptional dark purple foliage that helps make it an ideal small, color accent tree. These ornamental trees can make a bold and beautiful color statement no matter how we choose to plant them!
You might not think of planting a stone fruit when considering adding colorful flowers to you landscape but you would be missing out on some great tree options! Our stone fruit trees not only bring you amazingly delicious fruit such as peach, apricot, apple, and plum, but they also produce white eye-catching flowers every spring!

Right now is great time to start planting palms trees. Getting them planted now will give them time to acclimate and ensure continued growth through the summer. Palm trees offer the most variety of any tree when it comes to designing your landscape. They can range in size from a few feet to more than 60 feet tall. Check out the best palms to plant now!
The Mediterranean Fan Palm is a popular choice for an outdoor oasis because of its compact size, ability to thrive in the hot summer months, minimal water needs compared to most palm trees, and its ability to handle the winter months. This palm is often used as focal points around swimming pools to create a tropical look.
Queen palms are the height of tropical beauty and bring resort-style vibes to just about any landscape. Our Piru Queen Palm variety is custom grown to be durable for tougher growing climates. This palm features wider trunks, thicker crowns, and greener fronds than other palm varieties! The Queen palm creates quite a statement when planted in rows or clusters.
It's smaller size and slow growth make it an ideal choice for any landscape around your pool. The Sago Palm is easy to maintain and is cold hardy. It can grow in partial to full sun and grows a tad faster when planted in areas with more shade. Because they grow slow, the Sago Palm is a great choice for planting in pots around your pool or entryways.

Symbols of the Southwestern desert, cacti love hot conditions. They are ideal for sunny gardens and they're fuss-free and hardy. They are perfect for most landscapes and can bring interesting look and texture to your yard.
These Sticks on Fire have an interesting and unique coral structure. They can explode with colors of bright fiery red/orange and go back to a lighter green hue from winter to summer. We like to use them in rock gardens and as a beautiful addition to beds and borders.
Planting Season is Starting at Moon Valley
While you can't plant everything right now, it's still perfect conditions for a lot of trees and plants we
carry in all our Moon Valley Nurseries.
Don't miss out on our great winter deals going on right now at every location! Start planting what you can now and be ready to relax by summer!